It's time for another mortgage match-up, with the latest in the series pitting the lesser known deed in lieu of foreclosure vs. the popular short sale.
Nowadays, there are plenty of options to get rid of your home and avoid foreclosure, even if you owe more than the property is currently worth.
By avoiding a full-blown foreclosure, you can reduce the negative impact to your credit score and ensure the lender won't come after you for any deficiency balance.
Additionally, you may be able to qualify for a mortgage much sooner if you go with one of these foreclosure alternatives.
What Is a Deed in Lieu of Foreclosure?
In short, a deed in lieu of foreclosure is exactly what it sounds like. Instead of foreclosure, you agree to voluntarily deed your property to the lender.
In exchange for this transfer of ownership, the lender will release the associated lien (mortgage), allowing you to move on with your life.
However, banks will only agree to a deed in lieu if you keep the property in good shape and meet some sort of hardship requirements.
The tradeoff is that the bank gets a property free from damages typically associated with foreclosure, and they don't need to deal with costly foreclosure proceedings.
Of course, with home prices much lower now than they once were, properties are often being dumped for less than what is owed on the mortgage.
As a result, the lender may be able to come after you for the deficiency balance, or the shortfall between the current property value and the loan balance.
If this is the case, you may be on the hook for all or part of the shortfall, which clearly isn't ideal if you can't even afford your mortgage payments.
This is why it's imperative that you negotiate with the lender to forgive any deficiency balance before agreeing to the deed in lieu.
You must also do this with any junior liens, or second mortgages (or thirds). If you don't, they too can come after you for any shortfall in certain situations.
Why Choose a Deed in Lieu?
Aside from avoiding an outright foreclosure, a deed in lieu may be the quickest option.
Instead of being tasked with selling your home and waiting for the bank to accept the short sale offer, you can have the bank take care of it.
However, the bank may still ask that you list the property for a period of time before agreeing to a deed in lieu.
Also, a deed in lieu isn't nearly as bad as a foreclosure with regard to your credit score. It will still hurt your credit, but the impact will be less, assuming there is no deficiency balance.
Check out the credit score impact of a deed in lieu as opposed to a foreclosure, according to FICO: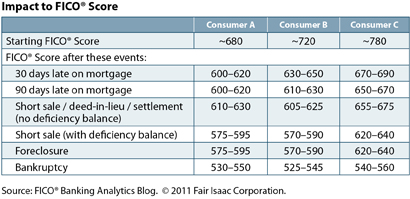 It's still not great, but it won't do as much damage as a foreclosure.
On top of that, you'll be able to qualify for a new home loan in a shorter period of time.
Instead of waiting up to seven years after a foreclosure, you may only need to wait as few as two years if you have extenuating circumstances.
Lastly, you may be able to stay in your home with a deed in lieu if the lender offers a "Deed-for-Lease" option, as Fannie Mae and Freddie Mac now do (along with Bank of America). Or you may receive some spending money for relocation costs.
What About a Short Sale?
I've already written extensively about short sales, which are probably the most popular foreclosure alternative available today.
Put simply, you must convince the lender to allow you to sell your property for less than the associated mortgage balance.
The downside is that you must list your home for sale, which obviously takes work, results in people tracking mud through your home, dealing with annoying real estate agents, and can take many (many) months to finalize.
First off, you need the bank to approve the sale, and secondly, you need to close the deal. It's a lot more difficult to sell homes these days, so it can be quite a pain.
However, new rules have sped up short sales, and now that they're so commonplace, the process can be a lot more effortless.
The result is similar to a deed in lieu in that you are released from the loan once the home is sold, and you avoid foreclosure.
Again, you must ensure that there isn't a deficiency balance to avoid owing any money after the deal is done.
And if there are second or third liens, they must also be dealt with.
Tip: If you complete a short sale or deed in lieu via the Home Affordable Foreclosure Alternatives (HAFA) program, the deficiency balance must be waived.
The advantages of a short sale are like a deed in lieu in that you can reduce the credit score impact and get a new mortgage sooner. You may also be offered a financial incentive to short sell.
The drawback is that a short sale may be more time consuming and tedious. However, banks are probably more willing to approve a short sale than they are a deed in lieu, especially if there is another mortgage involved.
Though beginning in March, Fannie and Freddie will allow borrowers with illness or the need to relocate for a job apply for a deed in lieu, even if current on their mortgages. This just so happens to be taking place when home prices are on the rise…
In either a short sale or deed in lieu, there are also potential tax consequences, so consult a CPA and/or a lawyer before deciding which choice is best for you, if either.
Read more: Foreclosure vs. short sale