Another edition of mortgage match-ups: "FHA loan vs. conventional loan."
Our latest mortgage match-up pits FHA loans against conventional loans, both of which are popular options for homeowners these days.
In recent years, FHA loans surged in popularity, largely because subprime lending (and Alt-A) was all but extinguished as a result of the ongoing mortgage crisis. Simply put, the FHA stepped in to fill the void after private lenders closed up shop.
Some even claim FHA loans are the "new subprime," mainly because of the low down payment and credit score requirements, despite originally being designed for low and moderate-income borrowers.
But you don't have to be a subprime borrower to take advantage of an FHA loan. In fact, some borrowers may have excellent credit and still go the FHA route.
FHA Loans Are a Great Low Down Payment Option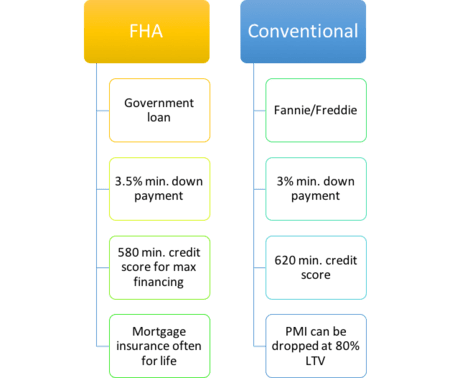 As noted, these government-backed home loans have become insanely popular. The main selling point of an FHA loan is the 3.5% minimum down payment requirement coupled with the low credit score requirement.
However, in order to qualify for the flagship low down payment option, you need a minimum credit score of 580.
But 580 is just the FHA's guideline – individual banks and mortgage lenders still need to agree to offer such loans.  So there's a very good chance you'll need an even higher credit score with many lenders. Of course, a 580 credit score is pretty dismal…and you should certainly strive for better.
[How to get a mortgage with a low credit score.]
Along with that, an eligible donor can provide gift funds for 100% of the borrower's closing costs and down payment.  And no reserves are required if it's a 1-2 unit property.  In other words, you don't need much if any cash to finance your home purchase.
Update: You can now get a conventional loan with just 3% down thanks to new guidelines issued by Fannie Mae and Freddie Mac. That means the FHA is no longer winning in the down payment category if you ignore credit score.
FHA Loans Good for Those with Poor Credit

The screenshot above details when FHA wins out over conventional lending, and it tends to happen if credit scores fall below 680. The orange shaded sections show when FHA financing is the better deal.
The other major selling point to an FHA loan is that the minimum credit score is 500. Again, this is subject to lenders actually offering programs for scores this low. And scores between 500 and 579 require a higher minimum down payment of 10%.
But FHA loans can be a good option for those with poor credit and little set aside for down payment who are determined to get a mortgage.
Are FHA mortgage rates lower than conventional?
Speaking of rates, FHA loans tend to come with slightly lower interest rates, though one has to consider the entire payment (with mortgage insurance included) to determine what's the better deal.
The box above assumes an interest rate of 4% for an FHA loan and 4.29% for a similar conventional one. But throw in the mortgage insurance and the picture can change quite a bit.
FHA Loans Subject to Mortgage Insurance
We've talked about some benefits of FHA loans, but there are drawbacks as well.
The major one is the mortgage insurance requirement. Those who opt for FHA loans are subject to both upfront and annual mortgage insurance premiums.
The upfront mortgage insurance requirement is unavoidable, and the annual premium can only be avoided if you have 22 percent or more home equity and a loan term of 15 years or less.
All other borrowers must pay the annual mortgage insurance premium for a minimum of five years, which will clearly increase the cost of the mortgage.
[Note that FHA insurance premiums are also slated to increase!]
Keep in mind that FHA loan offerings are also pretty basic. They offer both purchase money mortgages and refinance loans, but the choices are slim.
In other words, you'll most likely be stuck with a 30-year or 15-year fixed, or a 5/1 adjustable-rate mortgage. So if you're looking for something a little different, the FHA probably isn't for you.
Update: Many FHA loans now require mortgage insurance for life, making them a lot less attractive and expensive long-term!
However, the FHA lowered annual mortgage insurance premiums by 50 basis points, which could make FHA loans a cheaper option in many cases.
Conventional Loans Offer Many More Options and Just 3% Down!

Now let's discuss conventional loans, an alternative to FHA loans that tend to offer a lot more variety.
With a conventional loan, which includes both conforming and non-conforming loans, you can get your hands on pretty much anything from a 1-month ARM to a 30-year fixed, and everything in between.
So if you want a 10-year fixed mortgage, or a 7-year ARM, a conventional loan will be the way to go.
And now you can get a conventional loan with just 3% down, which actually beats the FHA's requirement slightly!
Another benefit of going with a conventional loan vs. an FHA loan is the higher loan limit, which can be as high as $636,150 in certain parts of the nation.
This can be a real lifesaver for those living in high-cost regions of the country (or even expensive areas in a given metro). With an FHA loan, you might be stuck with a maximum loan amount below $300,000.
Anything above these loan limits is considered a jumbo loan, and will often come with a higher mortgage rate and tougher underwriting criteria.
However, jumbos are still technically considered conventional mortgages because they aren't government loans. And more importantly, they aren't capped at a certain loan limit because they live outside the requirements of Fannie Mae and Freddie Mac.
As such, they are known as non-conforming loans. For those who need a true jumbo loan, a conventional mortgage will be the only way to obtain financing.
Are Fannie Mae and FHA the same thing?
People seem to confuse these two, so let's put it to rest. The answer is NO. Fannie Mae is one of the two government-sponsored enterprises (a quasi-public company) along with Freddie Mac that issues conforming mortgages, whereas FHA stands for Federal Housing Administration, a government housing agency that insures mortgages.
They have a similar mission to promote homeownership and compete with one another, but they are two completely different groups.
No Mortgage Insurance Requirement on Conventional Loans
Additionally, you won't be subject to mortgage insurance premiums if you go with a conventional loan, assuming you put 20% down, or have at least 20% equity when refinancing.
Even if you're unable to put 20% down, there are low down payment programs that don't require mortgage insurance to be paid out of pocket.
In fact, the Fannie Mae Homepath program only requires a three percent down payment and does not require mortgage insurance (the DP requirement has since been increased to 5%).
However, there are select lender programs that offer 3% down with no MI, so in some cases you can put down even less than an FHA loan without being subject to that pesky mortgage insurance.
Of course, you can argue that the PMI is built into the rate when putting down less than 20%, even if it isn't paid separately. So you might get stuck with a higher interest rate if you make a small down payment and don't have to pay PMI.
As noted, conventional mortgages require a down payment as low as three percent, so low down payment borrowers with good credit may want to consider conventional loans first.
You Can Get Conventional Loans Anywhere
Another plus to conventional mortgages is that they're available at pretty much every bank and lender in the nation.  That means you can use any bank you wish and/or shop your rate quite a bit more.  Not all lenders offer FHA products, so you might be limited in that respect.
Additionally, conventional loans can be used to finance just about any property, whereas some condo complexes (and some houses) aren't approved for FHA financing.
The FHA has minimum property standards that must be met, so even if you're a great borrower, the property itself could hold you back from obtaining financing.  In other words, you might have no choice but to go the conventional route.
The same goes for second homes and non-owner investment properties. If you don't intend to occupy the property, you will have no choice but to go with a conventional loan.
The FHA is only good for owner-occupied properties!
Final Word: Is an FHA Loan Better than Conventional?

These days, both FHA loans and conventional loans could make sense depending on your unique loan scenario. You can't really say one is better than the other without knowing all the particulars.
Both offer competitive mortgage rates and closing costs, and flexible underwriting guidelines, so you'll really have to do the math to determine which is best for your particular situation.
Even with mortgage insurance factored in, it may be cheaper to go with an FHA loan if you receive a lender credit or a lower mortgage rate as a result.
Conversely, a slightly higher mortgage rate on a conventional loan may make sense to avoid the costly mortgage insurance tied to FHA loans.
Generally speaking, those with low credit scores and little set aside for down payment may do better with an FHA loan, whereas those with higher credit scores and more sizable down payments could save money with a conventional loan.
Also consider the long term picture. While an FHA loan might be cheaper early on, you could be stuck paying the mortgage insurance for life. With a conventional loan, you'll eventually be able to drop the PMI and save some dough.
What a lot of folks do is start with an FHA loan, build some equity (typically through home price appreciation), and then refinance to a conventional loan. In that sense, both products could serve one borrower over time.
Your loan officer or mortgage broker will be able to tell if you qualify for both types of loans, and determine which will cost less both short and long-term.  Ask for a side-by-side cost analysis, but also make sure you understand why one is better than the other. Don't just take their word for it! They might be inclined to sell you one over the other…
Lastly, be sure to consider the property as well, as both types of financing may not even be an option.
FHA Loan Pros
Low down payment requirement
Lower credit score needed (580 for max financing)
Lower mortgage rates
May be easier to qualify for than a conventional loan (higher DTIs allowed)
Shorter waiting period to get approved after foreclosure, short sale, etc.
No asset reserve requirement (for 1-2 unit properties)
Gift funds can cover 100% of closing costs and down payment
Streamlined FHA refinances are fast, cheap, and easy
FHA Loan Cons
Slightly higher minimum down payment requirement (3.5%)
Subject to mortgage insurance (for full term of mortgage in many cases)
Must pay upfront and monthly mortgage insurance premiums
Mortgage insurance harder to cancel
Fewer loan type options than conventional loans
Only available on owner-occupied properties
Many condominium complexes aren't approved for FHA financing
Loan limits are lower in more affordable regions of the country
Generally only allowed to have one FHA loan at a time
Conventional Loan Pros
Lower minimum down payment requirement (3%)
No mortgage insurance requirement if 80% LTV or lower
Can cancel existing mortgage insurance at 80% LTV
Can be used on all property and occupancy types
Many more loan program options
Can hold numerous conventional loans
No maximum loan limit and conforming limit higher than the FHA floor
More lenders to choose from (nearly every bank offers conventional loans)
Might be able to close your loan faster
Conventional Loan Cons
Higher credit score requirements (minimum 620 credit score)
Higher mortgage rates
May be more difficult to qualify than FHA loan
Mortgage insurance still required for loans above 80% LTV
Reserves may be required to qualify
Possible prepayment penalty (not common these days)