Watch about Zillow…your Zestimate now has company.
Today, Redfin announced the availability of the so-called "Redfin Estimate," which is the online real estate brokerage's answer to the Zestimate.
Similar to the Zestimate, the Redfin Estimate is an automated home-value estimate that is displayed on home listing pages throughout Redfin.
When viewing homes on Redfin, it will be listed next to the last-sold price for homes not on the market and below the list price for those currently on the market.
Redfin Estimate Has Lowest Error Rate

Redfin claims its new home value estimate has the lowest published error rate of any of its competitors because it's driven by more data.
That error rate is 1.96% for homes that are currently for sale and 6.23% for off-market homes.
In other words, the Redfin Estimate will be within 1.96% of the actual sales price half of the time for a listed home and within 6.23% of the eventual sales price of non-listed homes.
It's more accurate for homes that are listed because more data is available on such homes.
And while it might be the lowest, it can still be way off, as their own error rates above clearly show.
The Redfin Estimate factors in more than 500 data points about the property, the neighborhood, and the real estate market to come up with the end result.
Additionally, because Redfin has 100% access to Multiple Listing Services (MLSs), it can dig a little deeper into the property and determine things like if the property is located on a busy street, or if it has a water view.
This, combined with "today's best cloud technology," gives users a better home estimate, though still no substitute for a proper home appraisal.
Redfin Estimate Shows You Comps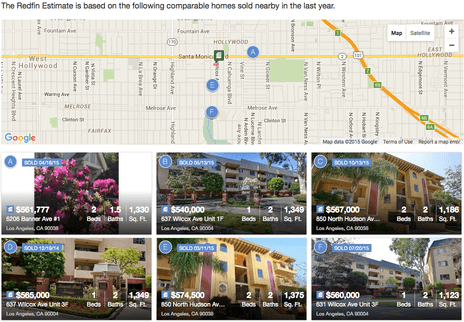 While the estimates are still fishy at best, based on my own searches, they do provide the comps used to come up with the estimate, which is nice.
At the top of any property page on Redfin that contains a Redfin Estimate (more than 40 million homes in 35 markets), you can click on the newly added Redfin Estimate tab.
It will take you to a page dedicated to the property's estimated value that displays six comparable properties that sold nearby recently.
This will give you real insight into how they actually come up with your home's value. However, I've seen some outliers in the comps so it's still powered by a machine susceptible to making mistakes.
In other words, take the estimates with a grain of salt as you would other automated estimates. If you have concerns about their estimate, there's also a link to a feedback form below the comps.
The comps are apparently chosen using a blend of proximity, similarity, and how recently they sold.
Redfin Estimates are updated daily for homes that are currently listed for sale, and weekly for off-market properties.
Changes will likely be more frequent in fast-paced markets where new comp sales are generated more quickly.
Don't See a Redfin Estimate?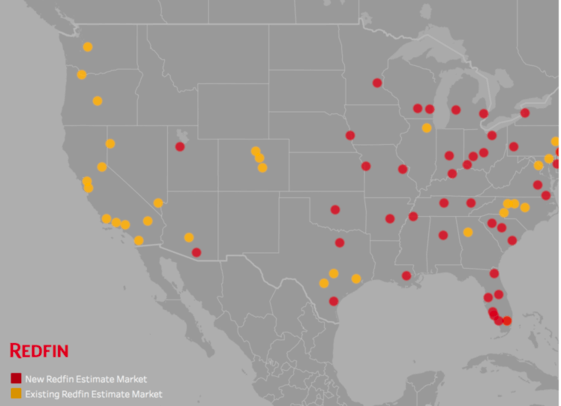 In some cases, you may not see a Redfin Estimate on the property page. This could be due to limited data for the property in question, or if the city itself isn't covered.
For example, if not enough similar properties sold next to yours in the past year, an estimate might not be generated.
Perhaps more interesting is the fact that Redfin agents can remove Redfin Estimates for properties on the market at the owner's request.
So if an owner doesn't want the public to see it, maybe it's lower than they'd like, they can opt out of displaying valuations for the home.
The agent simply deselects the "Allow Automated Valuations" option within the Multiple Listing Service.
The Redfin Estimate recently went live in Dallas, Detroit, and Minneapolis.
Is It Accurate?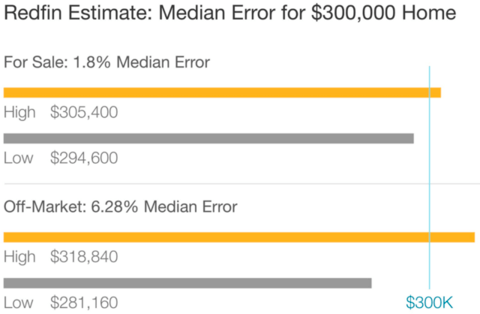 Now the million-dollar question. Is the Redfin Estimate accurate?
While they say they have the lowest published error rate, they also admit that, "there will always be estimates for individual homes that are not accurate."
I took the new tool for a spin and compared it to Zestimates for the same properties.
What I found in my initial testing was that the Redfin Estimate was sometimes higher and sometimes lower than Zillow's Zestimate.
And often by a significant amount; we're talking more than $100,000 on a sub-million dollar home. In fact, I couldn't find any properties that had similar estimated values between the two websites.
If anything, this might just lead to more confusion from both prospective home buyers and home sellers. But what can you do.
My guess is sellers will point to whichever estimate is higher, while buyers will point out the lower estimate. Fun times ensue.
Update: An updated version of the Redfin Estimate released on October 2st, 2016 is apparently 9.7% more accurate for on-market homes and 7.8% more accurate for off-market homes compared to the original version.
Homes for sale will be within 1.8% of their expected sales price half of the time, while off-market homes will be within 6.28% of the sales price (if listed) half the time.