Do you know how long it takes for the space shuttle to reach orbit? Apparently it takes just eight minutes, the same amount of time it will take borrowers to get a full mortgage approval online via the new "Rocket Mortgage" from Quicken Loans.
At least, this is the powerful claim the company is touting via a new online mortgage approval engine that promises to shakeup the age-old home loan process.
The company launched (no pun intended, honest!) the "end-to-end online product" in late 2015 in what appeared to be a direct response to the many online mortgage startups now in existence.
The nascent space is still in its infancy, but there are already multiple players Quicken needs to keep its eye on, including the likes of Lenda, Sindeo, SoFi, LendingHome, and many others.
Most of the startups above consider themselves online mortgage lenders that cut out the middleman (the loan officer), while promising to make home buying a lot easier than it has traditionally been.
Quicken seem to have taken notice with their latest move, referring to themselves in the press release as the nation's "leading FinTech mortgage lender."
Short for financial technology, "FinTech" is the latest buzzword taking Silicon Valley by storm. It basically describes any financial company harnessing the power of the Internet to conduct business more efficiently.
Quicken Loans claims it took more than 500 Detroit-based developers and various other employees some three years "to completely redesign the highly complex mortgage process."
That seems hard to believe, but they are one of the nation's largest mortgage lenders, with ambitions to become the biggest out there. And they might already be the top online mortgage lender thanks to their technology.
What Is Rocket Mortgage?
I took Rocket Mortgage for a spin this morning but only made it so far before I was asked to enter my social security number. That's when I closed the browser and gave up, for obvious reasons.
But it's basically a very involved online mortgage application that asks all the important questions to determine if you're eligible for a mortgage. You can also complete the process via smartphone.
This differs from some online mortgage lead forms that just ask basic questions and then follow those up with a call from a mortgage broker or loan officer to see if you truly qualify for a mortgage.
It seems Quicken wants to get you approved for a mortgage completely online, and will actually make it happen with an e-signature to seal the deal.
But first you need to sign up with Quicken Loans to access the online questionnaire.
Then you're asked to answer many, many questions, including queries about the subject property (like the home value) and details about yourself, such as what you do for a living, what assets you have, and so on. It's pretty much a full-fledged mortgage application.
At the end of the application process, they run your credit and then let you know if you're approved for a mortgage with Quicken Loans. You'll be able to see all three of your credit scores and your three-bureau credit report online.
Find Out If You're Approved in Minutes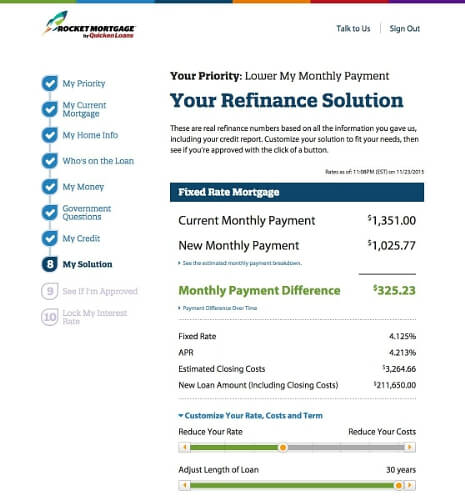 Based on your answers, they'll provide you with a "solution" for either your refinance or purchase application.
If it's a refinance, they will display your current monthly payment, which you provided, and calculate your monthly mortgage payment based on that solution.
It will show the interest rate, APR, difference in mortgage payment, and closing costs. You can also use a slider to reduce your out-of-pocket costs in exchange for a higher interest rate or vice versa.
Home buyers should take note that the payment listed doesn't include property tax or homeowners insurance.
You also have the ability to change the mortgage term if you want something longer or shorter. This may incorporate their YOURgage product that lets you choose a specific mortgage term.
Import Documentation Online and Lock Your Rate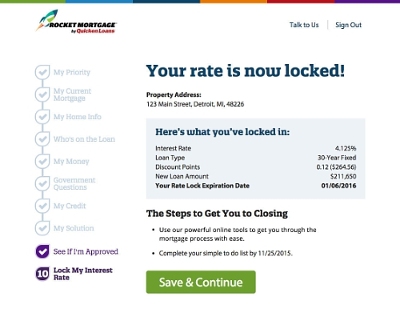 From there, you'll also be able to lock in your mortgage rate so it's guaranteed. Then simply complete a "to do list" by a certain date and you'll be all set.
Rocket Mortgage also allows you to import asset, income, and property information online thanks to "numerous partners and databases throughout the country."
It sounds kind of like Turbo Tax where you can sign in to certain accounts and have the information imported directly into the mortgage application.
This should reduce the headaches of incomplete paperwork and missing pages that often need to be re-sent over and over again.
You'll also be able to view all your loan details and documentation online or on your mobile device to keep track of your progress.
All in all, it appears that Quicken wants to keep up with all the tech-minded debutants entering the mortgage space, while also appealing to a new generation that demands instant gratification and doesn't want to talk to anyone.
However, I think there will always be a place for traditional face-to-face correspondence in the mortgage world seeing how important and complex it is for most folks.
And like other tech-based solutions, Quicken Loans Rocket Mortgage will only be successful if borrowers' answers are honest and accurate, much like a standard home loan application.
At the end of the day, it's recommended that you still shop around as opposed to taking the easiest route to a mortgage. While the application process might be faster, savings thousands for even a few hours more work seems like a no-brainer.
Ultimately, while convenience is great, a lower mortgage rate with fewer fees is much better, even if it takes a little more time and legwork. And other lenders are catching up, so you might be able to get a similar experience and snag a lower mortgage payment.
Update: You can now make a Rocket Mortgage payment via Amazon Alexa thanks to the new Rocket Mortgage skill.
You simply say, "Alexa, tell Rocket Mortgage to pay my mortgage," and you're done. The new Alexa skill can also tell you your outstanding loan balance, payment due date, and current mortgage interest rates for all Quicken Loans mortgage programs.
Quicken Rocket Mortgage FAQ
Can I really get a mortgage in 8 minutes?
No, but you can get approved in that amount of time, supposedly. It still takes several weeks to process and close your mortgage as it would anywhere else because items like an appraisal need to be ordered.
So how is Rocket Mortgage different?
Quicken says the process is unique because it's conducted entirely online, which differs from the typical mortgage process that requires in-person or phone communication.
Are Rocket Mortgages fully underwritten?
Yes, with information verified by trusted partners as opposed to collecting paperwork from the borrower. Loans are underwritten to agency guidelines.
Does this make Rocket Mortgage more accurate?
Quicken says Rocket Mortgage is more accurate because all the underlying borrower information is verified/shared in real time and imported direct from the source, as opposed to relying on estimates or documents from the borrower that aren't up-to-date.
Are Rocket Mortgage rates lower than the competition?
That I don't know and it will always vary. The best way to find out is to shop around and compare Quicken Loans mortgage rates to those of other lenders. I looked up Rocket mortgage rates the other day and saw they were offering a rate of 3.875% on a 30-year fixed whereas Bank of America had an advertised rate of 4%. So they might beat out the other big retail banks slightly, but some smaller direct mortgage lenders were offering rates as low as 3.75% on the same day. So it's possible you might pay more for the brand name.
Is it easier to qualify for a Rocket Mortgage?
Probably not. The process might be quicker, but if you don't qualify for a mortgage normally, you probably won't qualify for a Rocket Mortgage either because the same guidelines are used.
Do I get an account rep if I apply via Rocket Mortgage?
You can do everything online on your own, but if you wish to contact someone at Quicken you can speak with a "Home Loan Expert" via phone or online chat.
What happens after I'm approved for a Rocket Mortgage?
You submit the necessary documentation via Quicken's online tool, known as MyQL, using a document upload feature to avoid faxing and mailing items.
Can you get a jumbo loan via Rocket Mortgage?
No, only conforming loans, including FHA loans and VA loans.
How does Rocket Mortgage calculate your loan amount?
Once you input all your information, it asks how much of your verified assets you're willing to use for the home purchase to determine the max loan amount. This can be adjusted up or down depending on how much you want to borrow.
Is Rocket Mortgage safe?
Quicken claims it's secure because they use bank-level encryption and 24/7 security monitoring. Just keep your username and password to yourself.
How much has Quicken funded via Rocket Mortgage so far?
Quicken said it did $7 billion of its record-breaking $96 billion in 2016 loan volume through Rocket Mortgage. Expect that share to rise over time.
(photo: Stuart)