Whoa. In an unexpected turn of events, online real estate brokerage Redfin has launched a new mortgage service called, you guessed it, "Redfin Mortgage."
Well, maybe it wasn't so unexpected, seeing that the mortgage trend is decidedly moving from refinances to purchases. Just ask Motto Mortgage…
So it's a very smart move for Redfin to get their hands on all that mortgage business, while also gaining more control of the many moving parts involved in the typical home purchase.
In announcing the news, and the new website, the company noted that Redfin Mortgage "is the next step in our mission to put customers first."
Redfin Agents and Redfin the Lender Will Work Together
The goal seems to be harmony, and also savings, something Redfin introduced as an online real estate brokerage many years ago.
They only charge a 1.5% commission to sellers, which they refer to as "half the usual listing fee." Might be a little less as 2.5% is a typical fee these days, but still, they don't charge as much as a full-service brokerage.
And with many, if not all, home buyers using Redfin to peruse homes for sale, Redfin-listed properties get prominence as they're always found at the top of the list. That doesn't mean they'll sell faster or for more, just that they'll get plenty of exposure.
Redfin Mortgage Will Begin as a Purchase-Only Home Loan Lender
Initially, Redfin Mortgage will only dole out mortgages to help customers purchase homes, with refinances perhaps coming later, depending on how things go.
Redfin Mortgage will also only originate mortgages for those home buyers represented by a Redfin agent. By the way, Redfin credits back some of their commission for buyer's closing costs too, which can make the mortgage process run a bit smoother (and cheaper).
While Redfin Mortgage will work exclusively with Redfin agents, it will not bar its people from continuing to work with other mortgage lenders or brokers that they have relationships with.
And I'm sure the buyer can always use whichever broker or lender they choose – this is simply another option.
Redfin hired Jason Bateman, no not that guy from Juno and Arrested Development, but the former executive vice president of mortgage operations at BBVA Compass, to spearhead the operation.
Bateman will run Redfin Mortgage out of a new Dallas-based office, with software engineers providing support from up in Seattle.
A Streamlined, Tech-Heavy Digital Operation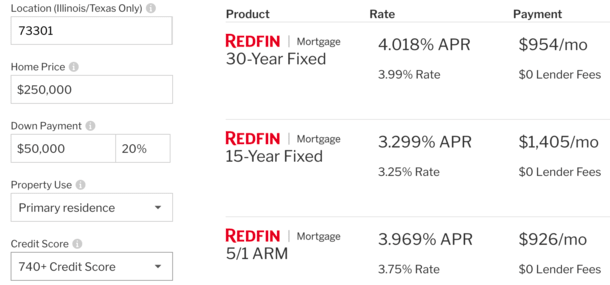 They expect a streamlined operation thanks to a "single system" that can be accessed by Redfin Mortgage advisors, real estate agents, title companies, and the customer.
This, they hope, will lead to on-time closings, something that is paramount in the home purchase world of lending.
The portal will notify all parties when something comes up, such as a low appraisal, so time isn't wasted sending emails and making phone calls to get everyone in the loop.
Automating the process should also lower costs, which could allow Redfin Mortgage to offer more competitive mortgage rates.
Seen above is a screenshot of a sample scenario from October 16th, 2017 to give you an idea of what rate might be offered by the company.
It's a hypothetical home purchase with 20% down on a primary home valued at $250,000 with excellent credit. Basically a vanilla scenario. Rates seem to be quite competitive, especially with the lack of lender fees.
Also, their mortgage advisors will not be paid a commission for offering a certain loan product or rate because they'll be paid based on customer reviews.
This is similar to newer mortgage startups like Sindeo and Clara, perhaps an emerging industry trend.
Additionally, Redfin real estate agents won't receive any incentives for recommending a Redfin loan over outside options.
At the moment, Redfin Mortgage is only available to customers in Texas and Illinois. They plan to expand to Virginia by the end of 2017, and roll out to new markets in 2018.
Should be interesting…
Redfin Mortgage Highlights
Will offer purchase mortgages only
 Initially only available to buyers represented by Redfin real estate agents
 No incentive to agents whose buyers work with Redfin Mortgage
Totally digital, online process with expected quick closings
Single portal for lender, agent, title company, and customer
Mortgage advisors paid on customer reviews, not commission
Low rates thanks to savings related to streamlined technology
Goal to save buyers money and close on time