Wondering when the best time to buy a home is? Well, thanks to data science, we no longer have to guess.
The very best time is late summer, namely August and September, this according to a new study from real estate listing website Zillow.
Apparently prospective home buyers will find the most inventory and a greater number of price cuts during these temperature-hot months.
Inventory Remains a Problem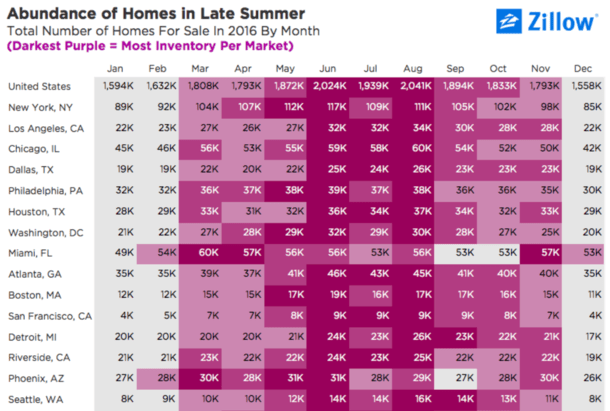 As you probably know (if you've been house hunting), inventory is scarce. It's slim pickings out there and hasn't gotten any better, despite predictions telling us otherwise. They were wrong about mortgage rates going up too…
Overall, inventory is off 5.3% from a year ago, meaning you'll have to buckle your seatbelt and prepare for another tough year if you're in the market to buy.
Conversely, if you're a seller, you don't even have to clean your house or mow your lawn – it's already sold!
Okay, maybe you should do those things to fetch a higher price, but the seemingly endless seller's market persists.
However, there are some house hacks (pardon the awful, awful buzzword) to increase your chances of landing your dream home.
Zillow found out that in most major metros, the month of August featured more for-sale listings than any other month during the year.
For example, last year in Los Angeles there were about 8,000 more homes for sale in August than in April. The total number of homes for sale increased from 26,000 to 34,000, a major 31% increase.
The same trend was found in many other metros, though not all of them.
However, it wasn't just inventory that improved. Competition also went down in late summer, so even if fewer homes were on the market, there were fewer buyers chasing them.
Conventional logic tells us that many would-be buyers want to get situated well before summer ends to ensure they can get their kids enrolled in the new school. They may also be taking family vacations during late summer.
It's also just plain hot in some parts of the country, which might affect buyer traffic and seller motivation.
Price Cuts Most Common in Late Summer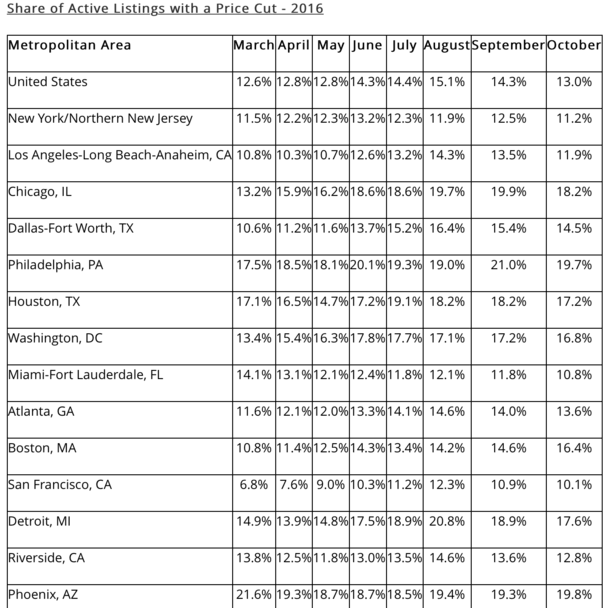 With more homes and fewer prospective buyers comes price cuts. After all, supply and demand dictate price, and if fewer people are chasing more homes, the price must down come.
Zillow discovered that 15.1% of active listings had a price cut in August, significantly higher than the 12.8% of homes in April.
That increases your chances of finding a home on sale, assuming the starting points were relatively similar. September was also a good month to find a deal, with 14.3% of homes on sale, so to speak.
By the way, if you're wondering when it's the best time to sell a home, it's supposedly early May, per Zillow, though Redfin argued winter was the best back in 2013.
The Best Time to Buy Is a Moving Target
Like anything else, the best time to buy (or sell) is really dependent on a number of factors that can't be summed up by one datapoint.
The old adage says real estate is local. Today, you can add hyper to the front of local. One neighborhood might be cold while a nearby pocket or street is on fire.
There's also the practicality of timing a buy, or even a sale.
For home buyers, the process is a long one that isn't just decided on one night. You can't say, "Honey, we should buy a home this August."
Nope, it takes lots of time and research, touring, open houses, ups and downs, close calls, and more to finally snag that right property.
Zillow even says the average buyer spends more than four months shopping for a home, and makes at least two offers along the way.
I feel like it's pretty rare to make one offer on one home and have that be the end of the story. Sure, it may depend on the market (and the buyer), but nowadays it seems you have to strike out once or twice before getting a hit.
Sometimes that could be walking away during the inspection period, while other times you might get outbid or be unwilling to offer more.
Whatever the case, odds are good that the home buying process will take many, many months, if not years. So if you happen to buy in August or September, great! You may have found a property with a price cut.
But telling your significant other that it's prudent to wait until later this year probably won't fly.
On top of all this, there's a good chance Zillow will tell us that the best time to buy is a different month after more data is analyzed next year. So it's probably best to chalk this one up to interesting, but not words to live by.
Be Proactive to Get a Better Price
A smarter move might be focusing on your finances to land a better mortgage rate, which can lower your homeowner costs at any price point.
For example, instead of worrying what month it is, worry about your three credit scores. Make sure they're all in tip-top shape to avoid unnecessary pricing adjustments.
Also take the time to shop mortgage rates with different lenders instead of going to one bank, broker, or credit union.
These two steps alone can make a huge difference in what you pay each month to own your home.
While you're at it, choosing the right real estate agent is also key. Find one who knows the art of negotiating to ensure you get a good deal no matter what the month.
Some agents are afraid to make lowball offers, while others are willing to take chances when they see opportunities.
Along those same lines, it's important to get pre-approved beforehand and show the sellers you're a serious candidate.
It's not unheard of to show them you've got assets available for a large down payment to get your offer accepted, even if there's a slightly higher offer already submitted.
Using these common-sense tips, you can get a good deal on a home during any month of the year, even in a red-hot market.