When to List Your Home
It used to be common belief that the best time to sell a home was in mid-March or mid-April, around the beginning of spring.
Speaking of spring, it's coming up on Sunday March 20th. This is the traditional beginning of the home buying season, seeing that many areas of the country emerge from winter around this time.
It doesn't matter in places like Florida, Arizona, or California, where it's generally always warm, but in the Northeast it may be more practical to wait until spring to ensure you attract the most buyers.
Anyway, Zillow's initial analysis found that homes listed in this period sold the quickest and fetched the highest price. So it was a no-brainer to list during this time.
Low Supply Pushes Optimal Date into May
But times have changed (literally) thanks to the low supply of homes on the market. Because would-be buyers will have more trouble finding that magical property to purchase, their home search might span several months nowadays.
And as it gets later in the calendar year, they may (no pun intended) get increasingly desperate in order to get settled before worrying about the next school year beginning.
So instead of listing now or next month, you can actually wait until the first half of May to list your property if you want to sell it as fast as possible and for the best price.
Zillow says May 1st through May 15th is the "magic listing window" in the nation's top 25 metro areas.
Apparently homes sold between these dates sell 18.5 days faster and for one percent more than the average home listing, which equates to a premium of $1,700 for the average seller.
It's a little confusing because they say homes sold during this period, but homes don't sell the day they are listed. But at least this gives us a ballpark to aim for.
Best Time to List Feature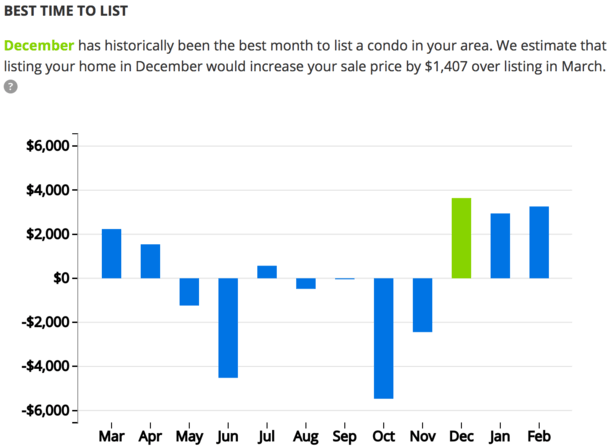 This week, Zillow also launched the "Best Time to List" feature for some 71 million homes nationwide.
In a nutshell, it tells property owners how much more money they can make if they change their listing date.
If you're a registered Zillow user, simply scroll down on your home's details page and you'll see a date range along with a chart, as pictured above.
This particular condo is evidently bucking the trend of listing in May. Zillow thinks the owner should sell in December instead.
The property is in Southern California so weather certainly isn't an issue most of the time.
You might expect to see a similar recommendation in a place like Phoenix, Arizona where it gets much too hot in late spring and summer for home shoppers.
However, I'd like to add that you shouldn't wait to list your home just because someone else (or a computer) says so.
Imagine a homeowner who waits until next December, only to see home prices go down as a result of increased supply.
This is merely an algorithm that analyzes seasonal patterns in home sales for like properties based on the month they were first listed on Zillow.
Just like Zestimates, accuracy will always be an issue. And this new feature is actually based on the price-to-Zestimate ratio, which is essentially how much more (or less) a home sells for relative to its Zestimate.
Read more: Why you should buy a home near Trader Joe's or Whole Foods.