In case you hadn't heard, Capital One purchased ING Direct from Dutch bank ING about a year ago.
And just last month, ING Direct formally became "Capital One 360," a rebranding of sorts to ditch the ubiquitous orange ball for good old red, white, and blue.
Among their offerings, aside from checking and savings accounts, are home loans.
That's right. Capital One is also in the mortgage game, like fellow credit card issuer (and bank) Discover.
Of course, they were involved in mortgages leading up to the housing crisis as well, but things didn't work out too well.
Capital One purchased wholesale mortgage lender GreenPoint Mortgage back in December 2006, only to shutter it less than a year later.
The defunct company focused on Alt-A and non-conforming mortgages, which quickly led to their downfall.
Update: Capital One is no longer offering mortgages of home equity loans/lines as of November 2017. It's unclear if and when they'll return to the business.
What Does Capital One 360 Home Loans Offer?
That was then, and this is now. Capital One 360 Home Loans isn't nearly as aggressive as GreenPoint, though they do have some jumbo offerings.
There are three categories of home loans available via Capital One 360, including fixed mortgages, adjustable-rate mortgages, and home equity lines.
Note: They don't appear to offer government loans, such as hugely popular FHA loans and VA loans.
In the fixed-rate department, you can obtain either a 30-year or 15-year loan. The maximum loan-to-value (LTV) appears to be 80%, and the bank highlights the lack of a prepayment penalty.
In the adjustable-rate mortgage department, you can go with a 5/1 ARM or a 7/1 ARM, again, at up to 80% LTV.
The mortgage caps on ARMs are 5/2/5, meaning the first adjustment cannot move the rate up or down more than 5%, the annual adjustment can only move 2%, and the lifetime adjustment cannot exceed 5%.
Pretty standard stuff here, although they lack some popular ARM options, such as the 10/1 ARM, the one-year ARM, and so forth.
For home equity lines, the max loan amount is $250,000. The term is 25 years, with a 10-year draw period followed by a 15-year repayment period. Standard.
The combined loan-to-value (CLTV) for home equity lines is 75%, which means you'll need to have plenty of home equity if you want to draw upon it. Gone are the days of cash out at 100% LTV…
The interest rates on HELOCs are as low as a variable 4% (prime + .75%), and they can be converted to fixed home equity loans free of charge.
How Do Capital One Mortgage Rates Look?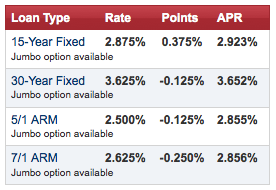 Speaking of mortgage rates, how does Capital One 360 fare? Well, for a traditional, conforming 30-year fixed, their advertised rate as of March 19, 2013 was 3.625% (3.652% APR).
They actually give you an eighth of a mortgage point back on the 30-year option.
This compares to Wells Fargo's advertised rate of 3.625% (3.799% APR) on the same day, which requires a 1% loan origination fee.
Capital One's 15-year is offered at 2.875% (2.923% APR) as of March 19, higher than the 2.75% rate over at Wells Fargo, but still cheaper in terms of APR.
They also offer conforming jumbo loans, those between $417,001 and $625,000, along with straight up jumbo loans as high as $2.5 million.
The rates look pretty competitive on the jumbos, with advertised rates of 3.5% on the 15-year fixed and 3.875% on the 30-year, as of March 19.
Closing Costs Lower at Capital One 360
Capital One 360 Home Loans doesn't seem to charge much in the closing cost department either.
They claim their mortgage closing costs are 41% below the national average for a $200,000 loan cited in Bankrate's annual survey.
It looks like they accomplish this by waiving loan origination fees and points, and keeping junk charges to a minimum.
They also offer a free 60-day rate lock to ensure your interest rate won't change, even if it takes months to actually close your loan.
Capital One refers to it as a "rate guarantee," and essentially locks your rate at the time you accept your mortgage offer.
It's unclear if you can float your rate instead, but I'm assuming you can if you don't like where rates are when applying.
You need to provide a credit card to accept your mortgage offer, and if you back out of the deal after Capital One begins incurring charges to process your mortgage, you'll be subject to a $450 charge (which is basically the appraisal fee).
Capital One estimates that it will take anywhere from 30 to 45 days to close a refinance, and between 45 and 60 days to close a purchase.
Not too good if you have a 30-day escrow, so beware. You may want to call ahead.
Like other major lenders, you can apply for a mortgage online with Capital One 360 and keep tabs on your loan status via the website.
If you're refinancing, you can close online, and once your loan closes, you can set up an Automatic Payment Plan to have payments regularly deducted from an associated account.
They refer to it as the "Pajama Guarantee," meaning you can do everything from home while sitting in your pajamas, assuming you have an Internet connection (and pajamas).
It'll be interesting to see if Capital One makes a big push in the mortgage space and tries to enter the top 10, or just continues to lay low. I certainly haven't seen them advertising much.
Read more: Mortgage brokers vs. banks.