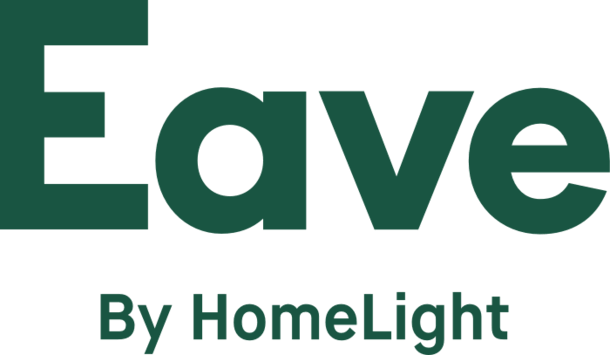 If you haven't heard of them, know that Eave is one of several new digital mortgage startups to emerge on the scene in recent years, joining the likes of Better Mortgage and Quicken's Rocket Mortgage.
Like others before them, their goal is to modernize the archaic mortgage industry, which in some cases still relies on stacks of paper documents, fax machines, and gruelingly long turn times.
Eave Mortgage's proprietary software platform automates some 70% of the home loan process so borrowers can speed through and boost their chances of landing their dream home.
Aside from streamlining the often arduous process through technology to make it easier on borrowers, Eave also aims to make home loans cheaper by eliminating lender fees.
Let's learn more about this company to determine if they could be a good fit for your next mortgage.
Eave Is About Speed
Borrowers can complete a full loan application in 30 minutes
Underwriters can decision loans in 24 hours (1 business day)
Eave can close a home purchase loan in 21 days or less
And even offer a money-back guarantee if they fail to do so
Perhaps Eave's biggest claim to fame is how quickly they can underwrite a mortgage.
They say borrowers can receive a full underwrite in just 24 hours (one business day), compared to waiting days or weeks with other lenders.
And the full mortgage application (not just a mortgage pre-approval) apparently only takes 30 minutes to complete.
In terms of actually closing the loan, they have a guaranteed 21-day close on purchase transactions, which is also pretty fast if you consider the average time it takes to close a mortgage.
If you don't close on time, they'll reimburse up to $100,000 of lost earnest money assuming you hold up your end of the bargain by completing things in a timely fashion.
For the record, they say they've never missed a closing date.
Eave also offers so-called "contingency removal support," whereby they'll allow you to waive certain contingencies to better compete with all-cash buyers.
They know home sellers are more likely to accept an all-cash offer, which is also why companies like BoardRE were launched.
The way it works is relatively simple – each borrower's loan application is evaluated and assigned a "Certainty Assessment Ranking."
Those with a "High Certainty Assessment" will be eligible to remove contingencies, and again Eave will reimburse up to $100,000 in lost earnest money should the loan not close if all conditions are met.
Thanks to some of these features, Eave claims that 90% of their clients have won the first offer on the home they made a bid on.
What Eave Offers
Only offers home purchase loans at the moment
Plans to offer mortgage refinances in the future
Can get a fixed-rate loan or an ARM
Available to home buyers in select Western states and Pennsylvania
At the moment, they only offer home purchase mortgages, with plans to offer refinance mortgages at some point soon.
They list a 30-year fixed, a 5/1 ARM, and a 7/1 ARM. It's unclear if they offer loan options beyond those, such as the common 15-year fixed.
As noted, they offer a variety of perks to those purchasing a home with a mortgage to better compete with other buyers, including those making all-cash offers.
However, they only operate in the states of California, Colorado, Oregon, Pennsylvania, Texas, and Washington.
Once you close your loan, they typically transfer the servicing to a bank or financial company within roughly two weeks.
So you'll be making your monthly mortgage payments to a different institution, which is a common setup.
But they say they spend an average of six months evaluating these servicing partners to ensure they are top notch.
Eave Mortgage Rates and Fees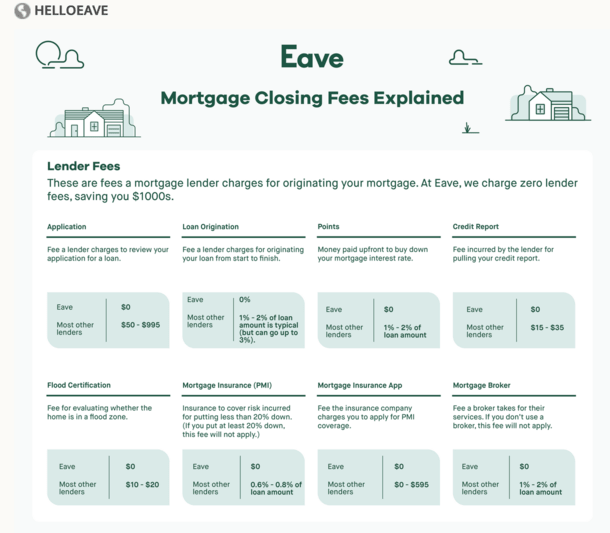 One great thing about Eave is their transparency. They list their mortgage rates right on their website for all to see.
In terms of pricing, their interest rates seem to be pretty competitive and in-line with other online mortgage lenders.
And remember, Eave doesn't charge lender fees like application, underwriting, and loan origination, so it's possible to obtain a low rate with no fees.
Just note that typical third-party fees like appraisal, title/escrow, and prepaid items like property taxes and homeowners insurance will apply per usual.
You can also use their pricing engine to quickly generate your own loan scenario to see how it affects pricing.
Based on some tinkering around, they appear to offer jumbo loans, including those with less than 20% down.
Eave Acquired by HomeLight, Creating HomeLight Home Loans
Eave was acquired by HomeLight in mid-2019
The merger created HomeLight Home Loans
Should create synergy between real estate agent partners and mortgage lender
To improve turn times, loan approval odds, and chances of winning a bid on a dream home
In early July 2019, Eave was acquired by real estate startup HomeLight, which relies on data crunching to determine which real estate agent or company will get you top dollar for your property (if you're selling).
Eave will act as the mortgage lender behind the newly formed "HomeLight Home Loans" division.
It will be available to home buyers in the states of California, Colorado, Oregon, Pennsylvania, Texas, and Washington.
They plan to expand to more states in the near future if all goes well.
There will also be some expected synergy between HomeLight real estate agents and Eave borrowers, with prospective buyers fully underwritten before they start the home buying process.
This should eliminate unwanted surprises and make it easier for agents to shop for properties the borrowers truly qualify for.
Lastly, Eave has a social mission, and has partnered with a crowdfunding nonprofit by the name of Milaap to help mothers in need in India.
With each closed loan, Eave donates $500-800 to a family, which can then put the cash to work by building or buying a home.
All in all, Eave sounds like a good choice for those looking to purchase a home with a mortgage.
With low rates and no lender fees, and lots of technology, they could make the process relatively painless and cheaper.