Another mortgage-minded fintech company by the name of Sindeo is looking to shake up the dusty old mortgage industry by providing loan pre-qualifications in under five minutes.
Like other companies in its class, you can apply for a mortgage on your computer, tablet, or mobile phone and get an answer in minutes, all without speaking to another human, something Millennials are quite fond of these days.
It works like other mortgage quoting systems in that you enter pertinent details such as property location, transaction type (purchase or refi), loan amount, credit score, and so on.
Additional questions include how long you plan to stay in the home, which I feel is helpful in narrowing down the loan options for borrowers.
Sindeo Offers Over 1,000 Mortgage Products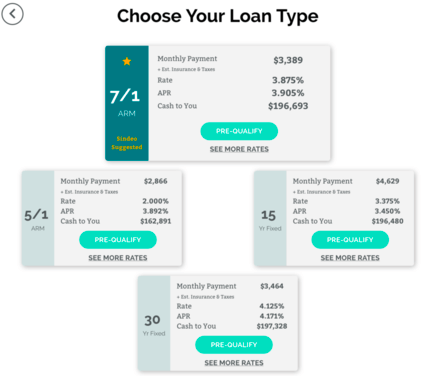 From there, you'll be presented with a "Sindeo Suggested" loan product from one of over 1,000 loan products in the Sindeo mortgage marketplace.
Apparently they work with over 45 lenders at the moment, so the choices are quite bountiful.
They refer to themselves as a "lender-paid mortgage originator," which sounds an awful lot like a mortgage broker to me, especially since they say they've got access to wholesale rates.
That means they get paid a certain percentage of the loan amount in exchange for providing the lender business and guiding the client during the loan process.
I decided to give the pricing engine a whirl and it actually took me under a minute to get my quotes (I literally timed it). Watch out Rocket Mortgage…
You're presented with a cluster of loan programs (pictured above), including the usual suspects like the 30-year fixed, 15-year fixed, and some common ARMs such as the 5/1 and 7/1, assuming you tell the company you're okay with an ARM during the information gathering process.
At that point you can click on a given product and compare different rates and fees, depending on how much or little you'd like to pay out of pocket in the way of closing costs and discount points.
If you hit pre-qualify, you'll be asked to sign up with Sindeo and fill out an online application that will conclude with them running your credit.
As you fill out the application, you receive tips on the right sidebar that explain why such questions are being asked. This can be helpful if borrowers wonder why they're being asked about their job history, housing history, and so on.
Once complete, the information will be sent through Fannie Mae's DU (automated underwriting) to quickly underwrite the loan and spit out a pre-qual.
Assuming all is good, you can start uploading necessary documents to continue on with the process.
You can also print/download a pre-qual letter to send to your real estate agent if need be. This could be helpful for someone who needs that letter quickly to make a qualified offer on a home.
Sindeo Can Save You $20,000 on Average and Close in 15 Days?
I was reading through Sindeo's FAQ page and they mention they can save the average borrower $20,000 on their loan. Digging in a bit more, the say their clients can snag lower interest rates and save some $32,802 over the life of the loan.
Additionally, their "internal technology" allows them to close mortgages a lot faster than the brick and mortar shops.
In fact, Sindeo may be able to close a loan in a few as 15 days, which certainly beats the 90-day turn times at some other big commercial banks.
Of course, results may vary and it will depend on how complicated (or not) your loan turns out to be.
Sindeo Mortgage Advisors Get Paid on Customer Satisfaction
Another interesting aspect of the company is the way their mortgage advisors get paid. These folks are basically loan officers or Account Executives that guide you through the loan process.
Instead of earning a commission based on the loan amount, which can clearly muddle service between low loan amount borrowers and high, they are paid on customer satisfaction.
Aside from earning a flat fee for each closed loan, Sindeo mortgage advisors also earn a quarterly bonus based strictly on customer satisfaction.
Borrowers are asked to complete surveys and the corresponding scores are used to determine the amount of the quarterly bonus between 6% and 10% of their annual salary.
So that should ensure your advisor is on top of their game and in constant contact, and not avoiding you like the plague.
Sindeo is currently serving the states of Arizona, California, Colorado, the District of Columbia, Florida, Oregon, Tennessee, Texas, and Washington.
They plan to get licensed in other states and expect to expand into new regions in the near future.
Check out some other fintech mortgage lenders, such as Clara and Lenda.
Update: Sindeo has shut its doors, marking perhaps the first fintech mortgage startup to fail. As a result, a number of employees will lose their jobs.
Update 2: Sindeo is back in business, after closing in late June 2017. Looks like the closure only lasted about 3 weeks. Hopefully good news for the employees involved.