Just like the 2018 conforming loan limits, the FHA will see its 2018 loan limits increase as well, which is welcome news for home buyers in more expensive areas of the country.
For FHA case numbers assigned on or after January 1st, 2018, the new loan limit floor for FHA loans will increase to $294,515 from $275,665.
The floor, which is the FHA's minimum loan limit, is set at 65 percent of the national conforming loan limit of $453,100, which is a requirement under the Housing and Economic Recovery Act of 2008 (HERA).
It applies in regions of the country where 115 percent of the median home price is less than the floor limit.
FHA Loan Limit Ceiling Rising to $679,650
Additionally, the FHA's loan limit ceiling, which is the max loan amount the FHA will insure, will increase to $679,650 from $636,150, in line with the high-cost conforming loan limit.
There are several dozen metros that will enjoy these new, higher limits, including places like Los Angeles, San Francisco, New York City, Breckenridge, CO, areas in Virginia, and Washington D.C.
While the FHA isn't really geared toward high-income borrowers, it can still be a solution for some who lack a large down payment and/or decent credit score.
But one of the drawbacks to FHA loans is that the max loan limit can be quite low compared to a conforming loan backed by Fannie Mae or Freddie Mac.
Interestingly, fewer counties will be at the ceiling next year, but that doesn't mean homeowners will be more restricted from obtaining FHA financing.
In reality, a lot of loan limits are going up from last year, but remaining at the higher 2018 floor.
Cities That Will See Higher FHA Loan Limits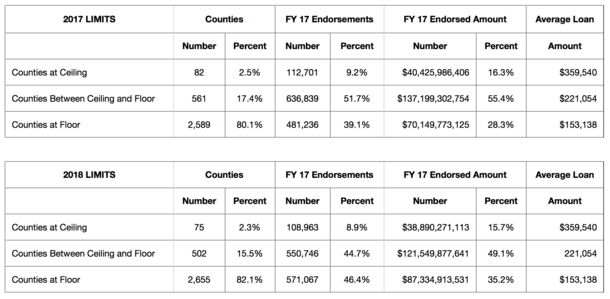 To give you a specific example or two, properties in Phoenix, Arizona will enjoy a slightly higher maximum FHA loan limit next year.
This limit is currently $279,450, but it will rise to $294,515 for a one-unit property thanks to the increase in the floor.
It actually exceeds the 2017 floor of $275,665 at the moment, albeit narrowly, but will be at the higher floor of $294,515 in 2018.
Clearly there are a lot of expensive homes in the Phoenix metro area, so this means more home buyers can rely on FHA financing to purchase a property there, even if it's now at the floor.
Then there's the red-hot Denver metro area, where the current FHA loan limit is $493,350, and will rise to $529,000 next year. That should help some Millennials secure financing on a new home or condo there.
The en vogue Portland metro is also getting a big bump from $408,250, which is below the current conforming limit of $424,100, to $448,500 next year.
Dallas will also get a nice boost from $362,250 to $386,400, while nearby Austin will rise from $361,100 to $384,100.
Homes in Corpus Christi will remain at the floor again next year, but that means home buyers there can enjoy limits of $294,515 instead of the current $275,665.
Meanwhile, places like Miami and Chicago will see their limits go nowhere at all, remaining at $345,000 and $365,700, respectively.
You can take a look at all the loan limits here if you're curious where your own metro stands. The increase might just be enough to help you buy a home using an FHA loan.
Of course, you may want to weigh the pros and cons of FHA vs. conventional because a lot has changed over the past few years.
In fact, conventional loans now require a slightly smaller down payment, just 3% vs. the 3.5% needed for an FHA loan. And the mortgage insurance for life that is required on many FHA loans is a big turnoff as well.
As always, take the time to do the math and compare all your options so you can sleep at night knowing you secured the best deal.