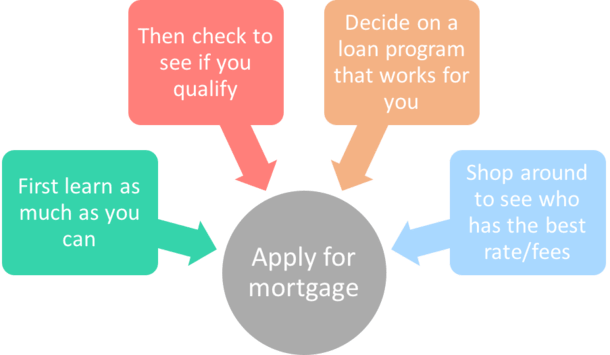 Mortgage Q&A: "How to get a mortgage?"
If you already know what a mortgage is, you may be wondering how to obtain one. To refresh your memory, a mortgage is just another way of saying a home loan.
Of course, mortgages serve different purposes – some are used to purchase a home and others are used to refinance an existing mortgage.
You may even open a second mortgage behind an existing first mortgage to tap into the equity of your home (home equity line of credit).
It's important to have a basic understanding of mortgages before you set out to get one, just like anything else you might shop for.
If you're more knowledgeable on the subject, chances are you'll secure a lower rate and choose a more suitable loan product that fits your needs.
Let's discuss what the process might look it.
First Educate Yourself on Mortgages
Always start by educating yourself on the topic at hand
This includes understanding how real estate works and if it's right for you
Far too many people rush into homeownership without grasping the basics
Take the time to research both mortgages and real estate before diving in
I've made this plea countless times because I feel like not enough time is devoted to education on personal finance.
If you're putting in hours to research a new big screen TV, don't you think a mortgage decision deserves days, if not weeks of research?
The interest rate you receive on your home loan will affect your pocketbook month after month, potentially for decades to come. So a little extra time is absolutely warranted.
Research will also help guide you to the right loan product based on your unique situation.
Also determine if homeownership is right for you before making the move from renting. It's not as wonderful as it appears, and it requires a lot of work.
Tip: Conduct this discovery process before speaking to interested parties like lenders and real estate agents who may dictate your behavior.
Then Determine If You're Able to Get a Mortgage
The second step is to determine home loan eligibility
You can do this on your own using online tools for a ballpark estimate
Then speak with a lender or broker about a more accurate pre-qual or pre-approval
Or you can have them walk you through it all from day one
Regardless of loan type, the next step to successfully getting a mortgage is figuring out how much mortgage you can afford, or if you even qualify.
Mortgages are a privilege, not a right. So before you begin to shop around, you need to determine if you're actually eligible.
This way you won't waste your time, or anyone else's. For example, it's probably best not to attend open houses and/or hire a real estate agent if you're not even sure you can get a mortgage.
The best way to accomplish this is by figuring out a rough idea of your debt to income ratio, or going a step further and running the actual numbers through a mortgage affordability calculator.
At the same time, you'll want to organize all your assets to ensure you have money for a down payment and closing costs, and take a hard look at your credit score to make sure it's in good shape.
[Credit score needed for a mortgage.]
Employment history is also key so make sure you've got a couple years under your belt in the same position or line of work before attempting to fill out a mortgage application.
Once you've done all your homework, you can start looking for a a bank, mortgage lender, credit union, or mortgage broker to work with.
They can take a look at all those numbers and get you pre-qualified to help determine how much you can borrow and at what interest rate, at least a ballpark figure.
If the mortgage is for a purchase, you'll also need to get pre-approved to show the home seller (and their real estate agent) that you're a serious candidate (pre-qualification vs pre-approval). They surely won't want to waste their time with ineligible borrowers.
Where to Get Your Mortgage (10 Options to Consider)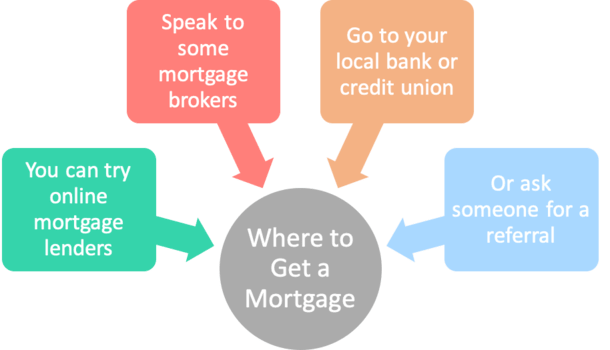 Contact a mortgage broker (can give you quotes from multiple lenders)
Check out an online mortgage lender or two
Visit a local mortgage lender/banker
Visit a local retail bank
Visit a local credit union (often have good deals)
Zillow's Mortgage Marketplace (compare quotes)
Contact your investment bank (sometimes they have special rates)
Speak to a state housing counseling agency if you need help qualifying
Ask your real estate agent who they recommend but vet that person
Ask a friend for a referral but do your due diligence
There are a lot of options here, and no one-size-fits-all solution. Which route you choose will depend on a number of factors, including your own preferences.
One important thing to note is that you don't have to use the same bank, broker, or lender who provided you with the pre-approval. You are free to change your mind after the fact and go with someone else.
For example, you may have been pre-approved with your real estate agent's contact, but later decided to use your own bank to get the mortgage instead. That's perfectly acceptable, regardless of what they may tell you.
These days, there are lenders that cater to all types of people. If you're not the social type, you might be able to go through much of the process online, or via email and text.
Those who are tech-savvy might find working with a fintech mortgage lender, like SoFi or Clara, to be more convenient.
If you're the type who likes to meet face-to-face, there's an option for that as well. Search around to find the right fit based on your needs and your personality. There's something for everyone.
Using Your Existing Bank to Get a Mortgage

The bank you already do business with could be a good choice
But they could also be a horrible one if their rates/fees are high
Take the time to shop around and research other options
Definitely get multiple quotes to pit lenders against one another to uncover the best deal
I'd guess that most prospective and current homeowners seeking a mortgage would go to their bank or credit union first.
After all, if you keep your money with them, there must be a certain level of trust and some kind of relationship.
That relationship could equate to savings and special deals on a mortgage, and perhaps a streamlined process.
If they already have information about you, they may be able to assess your borrowing profile more easily, and get you an answer sooner.
[What is a streamline refinance?]
However, a bank or credit union is only as good as the loan programs it offers. In other words, you're stuck with whatever they're selling.
This might mean you can only get a fixed-rate mortgage, or the loan-to-value may be capped at 80 percent.
Same goes for their interest rates. They might not be that competitive in the mortgage space, or simply charge more than the other guys.
Look Beyond Your Bank for More Options and Possibly Better Pricing
Your mortgage search shouldn't end with your bank
If you don't get more than one quote you could be doing yourself a disservice
As research shows those who get multiple quotes save money
There are plenty of options these days that make it easy to shop your mortgage
If you want more options, consider a mortgage broker. They work as middlemen between banks and borrowers, and can offer loan programs from an infinite number of lenders.
For example, a mortgage broker may be able to get you mortgage rate quotes from Bank of America, Wells Fargo, Chase, and many others, all at the same time. Then you can compare them side by side.
To ensure you don't miss out on anything, you can speak with both your local bank/credit union and a mortgage broker (or two).
And grab a quote or two online while you're at it. That way you can compare mortgage rates, programs, closing costs, and more to determine which is best for you.
If you're buying a home, chances are your real estate agent will "know someone."  Just take their recommendation with a grain of salt, because it's likely referral business, and not necessarily in your best interest.
However, their recommendations tend to carry a lot of weight. Something like half of home buyers go with the lender their real estate agent recommends, for better or worse.
As a courtesy, you can call their bank or lender just to get pricing and avoid ruffling any feathers. But I wouldn't stop there. It should be one of many quotes and opinions you receive.
Ultimately, you can speak to a variety of different lenders and then make your decision after that point.
If you're a first-time home buyer, you can also visit a local housing counselor to discuss your options and ideally get some education on the home-buying process while you're at it.
There is data that says those who receive some level of pre-purchase counseling tend to be better borrowers, so it might come in handy over the long-term as well.
The Process of Obtaining a Mortgage Loan

Research mortgages and determine affordability/eligibility
Contact banks, lenders, brokers for a pre-qual or pre-approval
Get pricing from a variety of companies, compare interest rates and closing costs
Decide who you would like to use and formally apply for your mortgage online or in-person
Provide income and asset documentation to get your loan underwritten
Home appraisal is ordered by the lender on your behalf
Provide additional necessary paperwork and wait for appraisal completion
If all conditions are successfully met you can sign loan docs with a notary public
Lender funds your mortgage
Rejoice!
[Check out my in-depth step-by-step refinance guide for more on the process and what to expect.]
Once you're actually ready to apply for a loan, the bank or mortgage broker will pull your credit and ask you to provide documentation for the loan.
This can also happen during the pre-approval stage if it's a robust process.
In return, they are required to provide you with a Loan Estimate (LE) disclosure within three days of loan application.
This is essentially a loan summary and an estimate of the charges you'll incur upon settlement of your loan.
You can use this Loan Estimate to compare offers from different banks, as the terms of the deal, such as mortgage rate, APR, and closing costs, will be spelled out fairly clearly.
After everything is submitted, it will take anywhere from a few days to a couple weeks to get an underwriting decision on your home loan.
Generally, it doesn't take too long, but ever since the mortgage crisis things have gotten a little backed up.
Assuming you get approved, you'll be issued a conditional loan approval with a list of items that must be provided before loan documents are released.
While this is happening, an appraisal will be ordered on your behalf to determine the value of the subject property.
You will also need to lock your mortgage rate before docs are drawn to ensure your desired rate doesn't change once you're happy with a certain price.
After you satisfy these conditions and receive your loan documents, they must be signed and a list of funding conditions must also be met, if applicable.
Once those are satisfied, your mortgage will fund. Yes, it sounds like a lot, and it is, but mortgages aren't a trivial matter. They typically involve hundreds of thousands of dollars or more.
If for some reason your home loan application is declined, you can make an appeal with the bank that denied you or simply apply elsewhere.
In some cases, you may need to restructure the loan or wait until your credit/asset/employment outlook improves.
Unfortunately, not everyone is eligible for a mortgage…but if you put in the time and research upfront, you can avoid most surprises and set yourself up for success.
Read more: What mortgage rate can I expect?