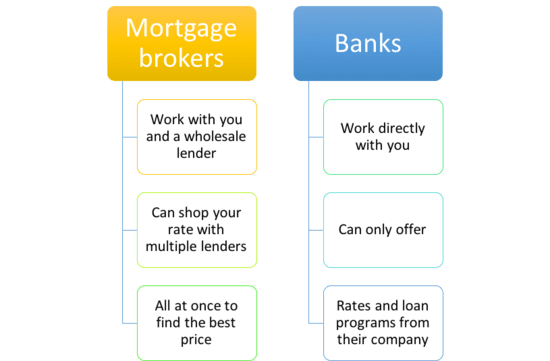 There are a variety of different ways to obtain a mortgage, but let's focus on two specific channels, "mortgage brokers versus banks."
There are mortgage brokers, who work as middlemen between banks/mortgage lenders and borrowers on the wholesale end to secure financing for homeowners. And there are banks/lenders that work directly with homeowners to provide financing on the retail level.
Mortgage brokers are a big part of the mortgage business, accounting for more than 10 percent of all home loan originations, give or take.
In fact, their share of the mortgage pie was as high as 30 percent during the mortgage boom, but fell precipitously after the mortgage crisis ensued.
But brokers still serve a valuable role in the industry, and can be quite beneficial for both prospective homeowners and those looking to refinance a mortgage.
There Are Pros and Cons to Both
Both can be a good choice for homeowners
But it depends on your loan scenario
And your individual needs
Compare the two to ensure you receive the lowest rate and fees
There are pros and cons to both, and sometimes you will have little choice between the two if you have poor credit or a tricky loan scenario.
The majority of homeowners turn to banks or large mortgage lenders when it comes time to get a mortgage. They are the most obvious choice, mainly because home loan services are usually offered at the customer's primary banking institution.
This provides for one-stop shopping, not to mention some level of trust and ongoing engagement. In short, it's the easy answer for someone looking to submit a mortgage application.
However, borrowers who have trouble qualifying for a mortgage or need to finance tricky deals will often get turned away at the big banks that don't necessarily specialize in home mortgages. So for these people, using a mortgage broker is often the next best option.
Brokers typically have access to far more loan products and types of loans than a large-scale bank, whether it's FHA loans, VA loans, jumbo loans, a USDA loan, or simply a borrower with bad credit.
Meanwhile, an institution like Bank of America might only offer conventional mortgages, such as those backed by Fannie Mae and Freddie Mac.
If you go with a broker, you might wind up with a more personalized loan experience, where they can carve out solutions to your problems, whether it's a low down payment, limited credit history, or the desire to limit closing costs and/or avoid mortgage insurance.
You might feel a bit more involved in the mortgage process versus using one of the big financial institutions out there, though not everyone wants to speak to a human being, or see them face to face.
There are plenty of mortgage companies and online mortgage lenders that pride themselves on doing things remotely, via email or even text. No phones required! Well, smartphones yes, actually dialing them no.
We're already seeing this trend with companies like Quicken Loans and their Rocket Mortgage. Some of the biggest and best mortgage lenders are even trying to digitize the entire mortgage process.
The application processes might also be quite different. A big bank might just tell you that your credit score is too low, whereas a broker may explain how credit scoring works, then make recommendations like paying off some credit cards or student loans to make you eligible in the future.
The takeaway is that a big bank probably won't go the extra mile for you, whereas the broker might find solutions if/when any roadblocks present themselves. And part of that is because a broker can turn to different lending partners, whereas a single bank is at the mercy of its single suite of loan programs.
So for someone who might need a helping hand, or simply wants more attention, perhaps a first-time home buyer, the latter might be the better option.
Conversely, if you know what you're doing and have obtained a home mortgage in the past, and have a pretty straightforward loan, online mortgage lenders might be the best route, at least in terms of pricing.
What About the Interest Rates?
Broker rates can be cheaper
But not in all cases
Compare retail and wholesale interest rates
To ensure you don't pay too much for your home loan
Of course, pricing with mortgage brokers can be just as competitive as a bank, as long as the broker doesn't take too much off the top. Wholesale rates can actually be much cheaper than retail interest rates you'll get with banks, meaning a lower monthly mortgage payment.
For example, I know a mortgage consultant who works at a Wells Fargo retail bank branch (example of using a bank directly), and her mortgage rates are much higher than Wells Fargo's wholesale division.  And the only way you can access their wholesale rates is through a mortgage broker.
Of course, most borrowers will attempt to secure financing with their local bank or credit union before turning to a mortgage broker. Banks are seemingly the more trusted and familiar choice, and often provide borrowers with discounts based on a pre-established relationship.
Because the bank already knows a good deal of information about the client, such as the balance of the borrower's checking and savings accounts, qualifying can be easier and may result in a lower rate.
A broker will only be able to verify such information with the borrower's cooperation, and may choose not to provide certain information to the lender. This lack of information (stated income loan) could lead to a higher interest rate.
Pros of working directly with a bank:
– Build off existing relationship (discounts if you have a checking/saving account)
– You already know the banker who will handle your mortgage
– Perhaps more trustworthy, more accountable than a smaller shop
– Lower interest rates in some cases
– Ability to add mortgage to existing banking profile and make automatic payments from linked accounts
Cons of working with a bank:
– Conservative loan programs
– Do not disclose the yield-spread premium
– Lengthy process, very bureaucratic
– False promises
– They make mistakes (some loan officers are very green)
– May overcharge you (commission doesn't need to be disclosed)
– Incompetence (poorly educated about the home loan process in some cases if they're just general bankers or customer service types)
Pros of working with a mortgage broker:
– They do all the legwork for you, working on your behalf with the lender
– They compare wholesale mortgage rates from a large number of banks and lenders all at once
– Wholesale interest rates can be lower than retail (bank branch) interest rates
– You get more loan options because they work with numerous banks and lenders
– Brokers can finance tricky deals because of their knowledge and various lending partners
– Are typically easier to get in contact with, less bureaucratic
Cons of working with a mortgage broker:
– They make mistakes like anyone else
– May overcharge you (how mortgage brokers make money)
– False promises to get your business
– Incompetence (poorly educated about the home loan process in some cases if newbies)
– May not have access to programs with select banks (approval varies considerably)
Your Experience May Vary…

Banks and brokers can differ considerably
In both service and in price
With a broker you get one individual
Who may come highly recommended
With a large bank with tons of employees
Your experience may largely depend on the employee
All that said, your experience can really vary based on who you choose to work with, as some banks and mortgage companies may overcharge you and give you the run-around, while a mortgage broker may do an excellent job and secure a lower mortgage rate for you. And vice versa.
It really depends on your situation and the specific bank or broker you ultimately work with, so be sure to shop around and ask for references first. Speaking of, real estate agents will typically refer you to their preferred bank, broker, or loan officer. You are under no obligation to use them, though they can be helpful to quickly get through the mortgage pre-approval process.
Not all mortgage brokers are good or bad, and the same is true with banks. However, one benefit of using a broker is that the experience is probably a lot more consistent because it's just one person (and their team), as opposed to a large bank with thousands of employees.
Yes, results can vary even within the same bank. That's why you see mixed reviews when you check out their past results. Some love them, some don't love them…
Many brokers are mom-and-pop shops, so it's easy to get someone on the phone or speak in person if you so desire.
Most of them provide personal service, meaning you'll have a direct phone number to reach them, and can even visit them in their office if you have questions. You might not find the same level of service at the big banks…
So if you want someone to guide you through the loan process, perhaps it's your first time buying real estate, a mortgage broker may be a good choice for you. They also tend to hustle a bit more with their commission on the line.
To sum it up, mortgage brokers can be a good option if you're shopping for a loan, but you should always compare their rates and service to those at your local bank and credit union, just to be sure.
Read more: How to get the best mortgage rate.