What Is an FHA Loan?
"FHA loans" are mortgages insured by the Federal Housing Administration (FHA), which can be issued by any FHA-approved lender in the United States.
Congress established the FHA in 1934 to help lower income borrowers obtain a mortgage who otherwise would have trouble qualifying. In 1965, the FHA became part of the Department of Housing and Urban Development's (HUD) Office of Housing.
Before the FHA was created, it was common for homeowners to put down a staggering 50% of the value of the property as a down payment on short-term balloon mortgages, which clearly wasn't practical going forward.
Jump to FHA loan topics:
– FHA Loan Requirements
– FHA Mortgage Rates
– Types of FHA Loans
– Do FHA Loans Require Mortgage Insurance?
– Are FHA Loans Assumable?
– FHA Loan Credit Score Requirements
– Are DACA recipients eligible?
Unlike conventional home loans, FHA loans are government-backed, which protects lenders against defaults, making it possible to for them to offer prospective borrowers more competitive interest rates on traditionally more risky loans.
An FHA home loan works like any other mortgage in that you borrow a certain amount of money from a lender and pay it back, typically over 30 years via fixed mortgages.
The main distinction is that FHA loans charge both upfront and monthly mortgage insurance premiums, often for the life of the loan.
However, they also come with low down payment and credit score requirements, making them one of the easier home loans to qualify for. Oh, and FHA interest rates are some of the lowest around!
Let's explore some of the finer details to give you a better understanding of these common loans to see if one is right for you.

FHA Loan Requirements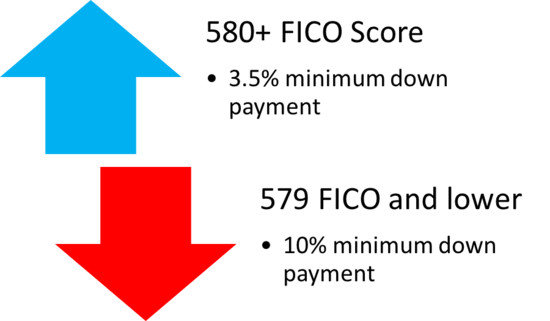 Because FHA loans are insured by the government, they have easier credit qualifying guidelines than most other loans, as well as relatively low closing costs and down payment requirements.
What is the minimum down payment on an FHA loan?
Wondering how much do you need down for an FHA loan? Your down payment can be as low as 3.5% of the purchase price, assuming you have at least a 580 credit score.  And closing costs can be bundled with the loan. In other words, you don't need much cash to close.
In fact, gift funds can be used for 100% of the borrower's closing costs and down payment, making them a truly affordable option for an individual with little cash on hand. However, you cannot use a credit card or unsecured loan to fund the down payment or closing costs.
You can get an FHA loan with zero down?
Technically no, you still need to provide 3.5% down.  But if the 3.5% is gifted by an acceptable donor, it's effectively zero down for the borrower.
For a rate and term refinance, you can get a loan-to-value (LTV) as high as 97.75% of the appraised value (plus the upfront mortgage insurance premium.)
However, it's important to note that while the FHA has relatively lax guidelines for its loans, individual banks and lenders will always set their own FHA underwriting guidelines on top of those, known as lender overlays.
And keep in mind that the FHA doesn't actually lend money to borrowers, nor does the agency set the interest rates on FHA loans, it simply insures the loans.
What is the max loan amount for an FHA loan?
The max loan amount (national loan limit ceiling) for FHA loans for one-unit properties is $1,089,300, with the exception of some Hawaiian counties that go as high as $1,633,950.
Additionally, the loan limits are higher for 2-4 unit properties nationwide.
However, many counties, even large metros, have loan limits at or very close to the national floor, which is set at a much lower $472,030.
The FHA floor is 65% of the national conforming limit, which for 2023 is $726,200. And the high-cost area mortgage limits are 150% of that $726,200.
For example, Phoenix, Arizona only allows FHA loan amounts up to $530,150 because home prices aren't as high there.
There are other counties that have a max loan amount in between the floor and ceiling, such as San Diego, CA, where the max is set at $977,500.
The same goes for Miami ($557,750), though it's not much higher than the national floor.
In other words, you really gotta check your county before assuming your loan amount will work with the FHA.
What are the 2023 FHA loan limits?
In 2023, the max loan amount in high-cost areas will increase to $1,089,300 from $970,800, while the floor in lower-cost areas will rise to $472,030 from $420,680.
Loan amounts above the ceiling are considered jumbo loans, and thus are not eligible for FHA financing.
What are the FHA loan income requirements?
Despite some misconceptions, there is no minimum or maximum income required for an FHA loan. This means both low-income and wealthy home buyers can take advantage of the program if they so choose.
However, there are DTI limits that the applicant must abide by, like any other mortgage, though the FHA is relatively liberal in this department.
It should be noted that some state housing finance agencies do have income limits for their own FHA-based loan programs.
Do I need to be a first-time home buyer to get an FHA loan?
Nope. The program can be used by both first-time home buyers and repeat buyers, but it's definitely more popular with the former because it's geared toward individuals with limited down payment funds.
For example, move-up buyers probably won't use an FHA loan because the proceeds from their existing home sale can be used as a down payment on their new property.
And there are some limitations in terms of how many FHA loans you can have, which I explain in detail below.
Do you need reserves for an FHA loan?
No, reserves are not required on FHA loans if it's a 1-2 unit property.  For 3-4 unit properties, you'll need three months of PITI payments.  And the reserves cannot be gifted nor can they be proceeds from the transaction.
What banks do FHA home loans?
If you're wondering how to get an FHA loan, pretty much any bank or lender (or mortgage broker) that originates mortgages will also offer FHA loans.
While the FHA insures these loans on behalf of the government, private companies like Rocket Mortgage and Wells Fargo are the ones that actually make them.
My guess is that more than nine out of 10 lenders offer them, so you should have no trouble finding a participating lender. Check out my list of the top FHA lenders.
Who are the best FHA loan lenders?
The best FHA lender is the one who can competently close your loan and do so without charging you a lot of money, or giving you a higher-than-market rate.
There is no one lender that is better than the rest all of the time. Results will vary based on your loan scenario and who you happen to work with. Your experience can even differ within the same bank among different employees.

FHA Mortgage Rates Are Typically the Lowest Available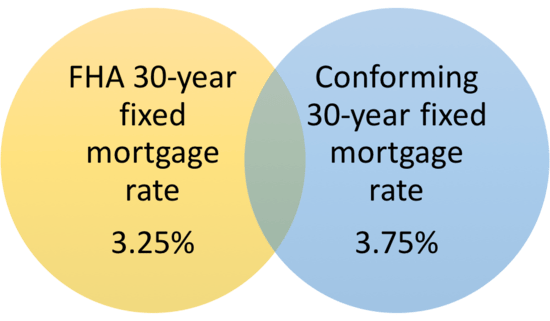 One of the biggest draws of FHA loans is the low mortgage rates. They happen to be some of the most competitive around, though you do have to consider the fact that you'll have to pay mortgage insurance.
That will obviously increase your overall housing payment, so be sure to look beyond the rate itself.
In general, you might find that a 30-year fixed FHA mortgage rate is priced about 0.25% to 0.50% below a comparable conforming loan (those backed by Fannie Mae and Freddie Mac).
So if the non-FHA loan mortgage rate is 3.75%, the FHA mortgage rate could be as low as 3.25%. Of course, it depends on the lender. The difference could be as little as an .125% or a .25% as well.
This interest rate advantage makes FHA loans competitive, even if you have to pay both upfront and monthly mortgage insurance (often for the life of the loan!).
The low rate also makes it easier to qualify for an FHA loan, as any reduction in monthly payment could be just enough to get your DTI to where it needs to be.
But if you compare the APR of an FHA loan to a conforming loan, you might find that it's higher. This explains why many individuals refinance out of the FHA once they have sufficient equity to do so.

Types of FHA Loans
FHA loans are primarily used for home purchases (for the low 3.5% down payment)
But their streamline refinance program is also popular when mortgage rates drop
You can get a fixed-rate home loan or an adjustable-rate mortgage
Though most FHA borrowers tend to go with a 30-year fixed
The FHA has a variety of loan programs geared toward first-time home buyers, along with reverse mortgages for senior citizens, and has insured more than 34 million mortgages since inception.
FHA loans are available for both purchases and refinances, including cash out refinances.
But their 3.5% down home purchase is probably the most popular reason people choose an FHA loan.
For those with existing FHA loans looking to refinance to another FHA loan, the streamline refinance program is a quick and easy option.
The program provides a ton of flexibility, even for those who lack home equity.
If you're looking to tap equity, know that the max LTV for a cash-out FHA loan is currently 80% (instituted in September 2019).
It had been as high as 95% before the mortgage crisis took place, but was later lowered to 85% due to a "weakening housing market."
Als note that mortgages with fewer than six months of payment history are not eligible for an FHA cash out refinance.
And the borrower must have made all mortgage payments on time in the preceding six to 12 months to be eligible.
Does the FHA offer ARM loans?
Yes, FHA loans can be either adjustable-rate mortgages or fixed-rate mortgages. The FHA 30-year fixed loan is certainly the most common.
However, many FHA lenders offer both a 5/1 ARM and a 3/1 ARM. If the interest rate is adjustable, it will be based on the 1-Year Constant Maturity Treasury Index, which is the most widely used mortgage index.
Does the FHA offer 15-year loans?
Absolutely! You can get a variety of different fixed-rate FHA products, including a 15-year fixed from most lenders, though the higher monthly payments would probably serve as a barrier to most first-time home buyers. Some may even offer a 10-year fixed product, a 20-year fixed, or even a 25-year fixed.
Does the FHA offer home equity loans?
No. The FHA does not offer home equity loans or home equity lines of credit (HELOCS). These products must be obtained via a conventional lender.
Can I get a second mortgage behind an FHA loan?
It's possible, though most FHA loans have very high LTV ratios, and most home equity loans limit the CLTV (combined LTV) to around 85%-95%, so you'll need some equity before taking out a second mortgage such as a HELOC.
A second mortgage may also come into play when getting down payment assistance during a home purchase, whereby the loan is subordinate to the FHA loan.
Can you use boarder income to qualify for an FHA loan?
Yes, but only if you have a two-year history of receiving boarder income, as evidenced by tax returns. And you must provide a copy of the current lease.
If being used for a home purchase, you will need to show documentation of the boarder history and the expectation for it to continue on the new subject property.
Can you use ADU rental income to qualify for an FHA loan?
Yes, up to 75% of the estimated ADU rental income as determined by the lesser of the actual rent or the fair market rent reported by the appraiser can be added to the borrower's gross income for qualification purposes.
Does FHA do construction loans?
Yep. They have a construction program called a 203k loan that allows FHA borrowers to renovate their homes while also financing the purchase at the same time.
Fun fact – the standard FHA loan program is technically known as the "FHA 203b" in case you're wondering where that name comes from.
There are also one-time close construction-to-permanent loans (FHA OTC loan) that allow FHA borrowers to combine construction and permanent financing into a single loan.
This means you only need to qualify once for an FHA loan while obtaining a fixed interest rate that won't change.
Can FHA loans be used on 2-4 unit properties?
FHA loans can be used to finance 1-4 unit residential properties, including condominiums, manufactured homes and mobile homes (provided it is on a permanent foundation), along with multifamily properties.
However, FHA loans are generally only reserved for borrowers who intend to occupy their properties.
Does FHA have to be owner occupied?
Yes, the property you are purchasing with an FHA loan has to be owner-occupied, meaning you intend to live in it shortly after purchase (within 60 days of closing). You are also expected to live in it for at least a year. However, that doesn't mean you can't eventually turn your primary residence into a rental.
Can FHA financing be used for an investment property?
The FHA's single family loan program is limited to owner-occupied principal residences only, meaning investment properties aren't eligible. But as noted above, 1-4 units are permitted and those additional units can be rented out if you occupy one of the other units. And it may be possible to rent the property in the future.
Can you rent out a house with an FHA loan?
Generally, yes, but the FHA requires a borrower to establish "bona fide occupancy" within 60 days of closing and continued occupancy for at least one year. After that time, it's basically fair game to rent it out though the FHA does say it will not insure a mortgage if it's determined that the loan was used as a vehicle for obtaining investment properties.
Can I have more than one FHA loan?
Tip: Technically, you may only hold one FHA loan at any given time. The FHA limits the number of FHA loans borrowers may possess to reduce the chances of default. And simply because the program isn't geared toward investors.
For example, they don't want one individual to purchase multiple investment properties all financed by the FHA, as it would put more risk on the agency. But there are certain exceptions that allow borrowers to have multiple FHA loans at the same time.
Can I get an FHA loan on a second home?
A co-borrower with an FHA loan may be able to get another FHA loan if going through a divorce, and a borrower who outgrows their existing home may be able to get another FHA loan on a larger home, and maintain the old FHA loan on what would become their investment property.
It's also possible to get a second FHA loan if relocating for work, whereby you purchase a second property as a primary residence and keep the old property as well.
Lastly, if you are a non-occupying co-borrower on an existing FHA loan, it's possible to get another FHA loan for a property you intend to occupy.
But you'll need to provide supporting evidence in order for it to work.
Can I get an FHA loan if I already own a home?
Yes, but you might run into some roadblocks if your existing home has FHA financing, as noted above.
If your existing home is free and clear or financed with a non-FHA mortgage, you should be good to go as long as the subject property will be your primary residence.

Do FHA Loans Require Mortgage Insurance?
FHA loans impose both an upfront and annual insurance premium
This is one of the major downsides to FHA financing
And it can't be avoided anymore regardless of loan type or down payment
Nor can it be cancelled in most cases for the entire loan term
One downside to FHA loans as opposed to conventional mortgages is that the borrower must pay mortgage insurance both upfront and annually, regardless of the LTV ratio.
This differs from privately insured mortgages, which only require mortgage insurance if the LTV is greater than 80%.
The upfront mortgage insurance premium:
FHA loans have a hefty upfront mortgage insurance premium equal to 1.75% of the loan amount. This is typically bundled into the loan amount and paid off throughout the life of the loan.
For example, if you were to purchase a $100,000 property and put down the minimum 3.5%, you'd be subject to an upfront MIP of $1,688.75, which would be added to the $96,500 base loan amount, creating a total loan amount of $98,188.75.
And no, the upfront MIP is not rounded up to the nearest dollar. Use a mortgage calculator to figure out the premium and final loan amount.
However, your LTV would still be considered 96.5%, despite the addition of the upfront MIP.
The annual mortgage insurance premium: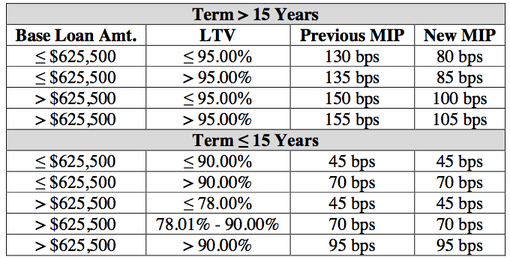 But wait, there's more!  You must also pay an annual mortgage insurance premium (paid monthly) if you take out an FHA loan, which varies based on the attributes of the loan.
Beginning January 26th, 2015, if the loan-to-value is less than or equal to 95%, you will have to pay an annual mortgage insurance premium of 0.80% of the loan amount.  For FHA loans with an LTV above 95%, the annual insurance premium is 0.85%. And it's even higher if the loan amount exceeds $625,500.
For loan terms of 15 years or shorter, the annual mortgage insurance premiums are significantly lower (see charts above).
Additionally, how long you pay the annual MIP depends on the LTV of the loan at the time of origination.
For FHA case numbers endorsed on or after March 20, 2023, the lower annual MIP pricing pictured in the table below applies.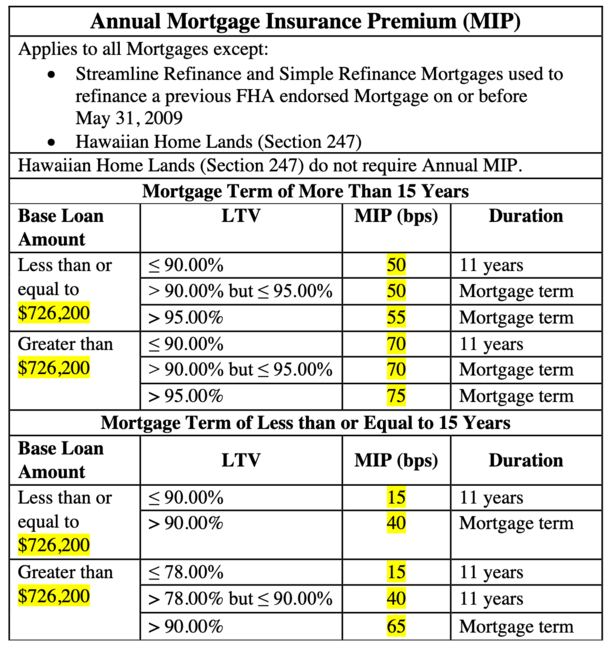 The annual MIP has been reduced by 30 basis points across all different LTVs and loan terms.
Most FHA borrowers will pay 0.55% in MIP annually because they tend to take out 30-year fixed mortgages and put down just 3.5% (96.5% LTV).
How do you calculate the annual MIP on an FHA loan?
To calculate the annual MIP, you use the annual average outstanding loan balance based on the original amortization schedule. An easy way to ballpark the cost is to simply multiply the loan amount by the MIP rate and divide by 12.
For example, a $200,000 loan amount multiplied by 0.0085% equals $1,700. That's $141.67 per month that is added to the base mortgage payment.
In year two, it is recalculated and will go down slightly because the average outstanding loan balance will be lower.
And every 12 months thereafter the cost of the MIP will go down as the loan balance is reduced (a mortgage calculator may help here).
However, paying down the loan balance early does not affect the MIP calculation because it's based on the original amortization regardless of any extra payments you may make.
Note: The FHA has increased mortgage insurance premiums several times as a result of higher default rates, and borrowers should not be surprised if premiums rise again in the future.
Do FHA Loans Have Prepayment Penalties?
They do not have prepayment penalties
But there is a caveat
Depending on when you pay off your FHA loan
You may pay a full month's interest
The good news is FHA do NOT have prepayment penalties, meaning you can pay off your FHA loan whenever you feel like it without being assessed a penalty.
Prepayment penalties aren't very common these days, though they were quite prevalent on conventional loans during the housing boom in the early 2000s.
There is a caveat…
However, there is one thing you should watch out for. Though FHA loans don't allow for prepayment penalties, you may be required to pay the full month's interest in which you refinance or pay off your loan because the FHA requires full-month interest payoffs.
In other words, if you refinance your FHA loan on January 10th, you might have to pay interest for the remaining 21 days, even if the loan is technically "paid off."
It's kind of a backdoor prepay penalty, and one that will probably be revised (removed) soon for future FHA borrowers.  If you're a current FHA loan holder, you may want to sell or refinance at the end of the month to avoid this extra interest expense.
Update: As expected, they eliminated the collection of post-settlement interest. For FHA loans closed on or after January 21st, 2015, interest will only be collected through the date the loan closes, as opposed to the end of the month. Legacy loans will still be affected by the old policy if/when they are paid off early.

Are FHA Loans Assumable?
An FHA loan can be assumed by another person
Which is one advantage to choosing this type of loan
But how often this option is actually exercised is unclear
My guess is that it doesn't happen frequently though it might with mortgage rates now much higher
Another benefit to FHA loans is that they are assumable loans, meaning someone with an FHA loan can pass it on to you if the interest rate is favorable relative to current market rates.
For example, if someone took out an FHA loan at a rate of 3.5% and rates have since risen to 6%, it could be a great move to assume the seller's loan.
It's also another incentive the seller can throw into the mix to make their home more attractive to prospective buyers looking for a deal.
Just note that the individual assuming the FHA loan must qualify under the same underwriting guidelines that apply to new loans.

FHA Loan Credit Score Requirements

Can I get an FHA loan with bad credit?
Borrowers with credit scores of 580 and above are eligible for maximum financing, or just 3.5% down. This is the low-down payment loan program the FHA is famous for.
And a 580 credit score is what I would define as "bad," so the answer to that question is yes.
What if my credit score is below 580?
If your credit score is between 500 and 579, your FHA loan is limited to 90% loan-to-value (LTV), meaning you must put down at least 10%. This is why you'll probably want to aim higher.
If your credit score is below 500, you are not eligible for an FHA loan. All that said, the FHA has some of the most liberal minimum credit scores around.
I can't find a lender willing to give me an FHA loan with a 500 credit score.
As noted earlier, these are just FHA guidelines – individual banks and mortgage lenders will likely have higher minimum credit score requirements, so don't be surprised if your 580 FICO score isn't sufficient (at least one lender now goes as low as 500).
Can I get an FHA loan with no credit score?
Surprisingly, yes! The FHA makes exceptions for those with non-traditional credit and those with no credit scores whatsoever. You can even get maximum financing (3.5% down) as long as you meet certain requirements.
The FHA is a little tougher on this type of borrower, imposing lower maximum DTI ratios, requiring two months of cash reserves, and they do not permit the use of a non-occupant co-borrower.
If you have rental history, it needs to be clean. If not, you still need to create a 12-month credit history using Group I credit references (rent, utilities, etc.) or Group II references (insurance, tuition, cell phone, rent-to-own contracts, child care payments, etc.).
You are allowed no more than one 30-day late on a credit obligation over the past 12 months, and no major derogatory events like collections/court records filed in the past 12 months (other than medical).
Assuming you can muster all that, it is possible to get an FHA loan without a credit score. Of course, it's probably a lot easier if you have a credit score (and a good one at that!).
Since the mortgage crisis struck, FHA loans have become increasingly popular, essentially replacing subprime lending, largely because of their relatively easy underwriting requirements and government guarantee.
But make sure you compare FHA loans with conventional loans as well. There will be cases when the benefit of one outweighs the other. Be sure to use a payment calculator to factor in all monthly costs.
FHA loans are not guaranteed to be a better deal than other mortgages, so take the time to shop around. And watch out for unscrupulous FHA-qualified lenders who may attempt to misinform you.
Sometimes certain types of loan benefit them more than you, so knowing which is best for you before you speak to an interested party might be the best way to go.

Are DACA Recipients Eligible for FHA loans?
Yes. After some years of confusion (and politics), HUD officially announced that effective January 19th, 2021, individuals classified under the "Deferred Action for Childhood Arrivals" program (DACA) are eligible to apply for mortgages backed by the FHA.
Prior to the announcement (FHA INFO #21-04), there was a lot of uncertainty regarding the latter because the FHA handbook stated, "Non-US citizens without lawful residency in the U.S. are not eligible for FHA-insured mortgages."
That entire subsection has now been removed from the handbook to avoid confusion and provide clarity.
The one caveat is that they must also be legally permitted to work in the United States, as evidenced by the Employment Authorization Document issued by the USCIS
Other than that, you must occupy the property as your primary residence, have a valid Social Security Number (SSN), unless employed by the World Bank, a foreign embassy, or an equivalent employer identified by HUD.
And you must satisfy the same underwriting requirements, terms, and conditions set for U.S. citizens.
Read more: FHA vs. conventional loans