A "VA loan" is a government mortgage guaranteed by the Veterans Administration. The loan program was created in 1944 and signed into law by President Franklin D. Roosevelt. So VA mortgages have been around awhile.
Perhaps the most notable aspect of a VA home loan is its ability to provide veterans and/or their surviving spouses with a mortgage with zero down payment, otherwise known as 100% financing.
It's one of the few places (other than a USDA loan) a prospective homeowner can still buy a property with no money down, seeing that the FHA requires 3.5% down and most conventional loans require 3% or more.
Jump to VA loan topics:
– VA Loan Eligibility Requirements
– Types of VA Loans
– VA Loan Mortgage Rates
– VA Loan Closing Costs
– Is There a Maximum VA Loan Amount?
– Do VA Loans Require a Minimum Credit Score?
– Benefits and Advantages of VA Loans
– VA Loan Highlights
The popular loan program, also referred to as the GI Bill, has been highly successful and has helped millions of American veterans and their families acquire a home. Let's learn more about it.

VA Loan Eligibility Requirements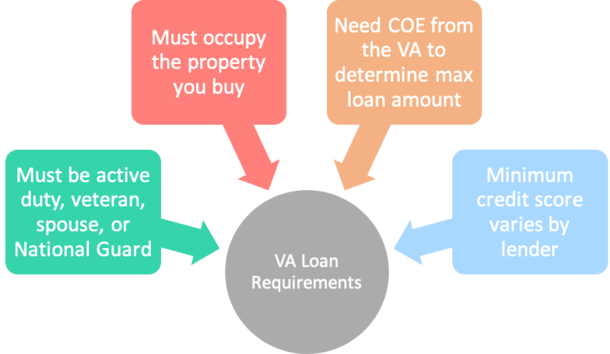 Must be active duty or veteran in the U.S. Armed Forces
Or a surviving spouse or member of the National Guard
Requires Certificate of Eligibility from the VA to determine financing available
Must occupy property as primary residence
If you serve (active duty) or served in the Air Force, Army, Coast Guard, Marine Corps, Navy, or the National Guard, you may be eligible for a VA home loan.
VA loans have varying eligibility requirements depending on the duration and type of military service performed.
Veterans who served on active duty for 90 days during wartime, or 181 or more continuous days during peacetime are generally eligible.
There is also a two-year requirement if the veteran enlisted and began service after September 7, 1980 or if the veteran was an officer and began service after October 16, 1981.
Additionally, there is a six year requirement for National Guards and reservists along with other specific criteria.
Un-remarried surviving spouses of a servicemember missing in action or a prisoner of war may also be eligible.
As you can see, it's quite complicated, so the best way to see if you're eligible for an VA loan is to visit the Veteran Affairs website, which lists all eligibility criteria.
Now the good news. You can apply for and obtain a VA loan with any bank or mortgage lender that participates in the VA home loan program. And there are lots of them.
So the VA loan application process won't necessarily be painfully bureaucratic because you're getting your home loan from a private lender.
Additionally, there are eight VA regional loan centers, known as RLCs, which administer the VA's Home Loan Guaranty program.
They essentially act as a point of contact for these lenders, and will also field mortgage questions from veterans if you need assistance.
To prove eligibility for a VA mortgage, you will need to get a Certificate of Eligibility (COE) from the VA, which your bank may be able to complete for you. It's also possible to call your regional loan center, as noted above.
Aside from basic military eligibility, keep in mind that a VA loan must be used for personal occupancy only (no investment properties), and can only be issued by qualified banks and lenders.

Types of VA Loans
Can get up to 100% financing on a purchase loan or refinance
Variety of popular loan types available
Including fixed-rate and adjustable-rate options
Such as the 30- and 15-year fixed and 5/1 or 7/1 ARM
You can get your hands on a VA purchase loan, a VA refinance loan, or a VA streamline refinance, the latter being for those with existing VA loans that want to lower their interest rate without jumping through eligibility hoops.
Prospective home buyers can borrow up to 100% for a purchase loan without paying private mortgage insurance and existing homeowners can borrow up to 100% loan-to-value (LTV) for a rate and term refinance (or 90% for a true cash-out refinance).
There's also the streamline VA refinance program, known as an Interest Rate Reduction Refinancing Loan (IRRRL), which has no maximum LTV. As the name implies, the mission is to lower the current loan payment.
VA loans can be both fixed-rate mortgages or adjustable-rate mortgages, with the 30-year fixed, 15-year fixed, and 5/1 ARM common options.
However, some VA lenders offer 25-year fixed loans, the 20-year fixed, and even a 10-year fixed. More adjustable-rate options may also be available in the form of the 7/1 ARM or 5/1 ARM.

What Are VA Loan Mortgage Rates Like?
They tend to be cheaper than most other types of home loans
But the mortgage rate you receive will depend on your credit profile
Along with the lender you choose to work with as rates vary by company
You may find that interest rates are anywhere from .25% to .50% lower than non-government mortgage rates
Additionally, mortgage rates on VA loans are typically cheaper than those on conventional mortgages, though that will vary based on your unique borrowing profile.
In general, you may find that VA loan rates are roughly .25% to .50% lower than conventional rates.
So you could wind up with a lower rate and less out-of-pocket expenses, which is certainly helpful for the cash-strapped borrower.
Additionally, VA loans are generally easier to qualify for than other mortgages, though there may be some increased red tape proving eligibility and so forth.
Just keep in mind that a VA funding fee of 0% to 3.3% of the loan amount must be paid, though it can be financed on top of the base loan amount.

Do VA Loans Have Closing Costs?
Like all other mortgages, VA loans have closing costs, which is completely standard and normal. However, the VA does have strict rules when it comes to closing costs. Only certain fees are considered "allowable," including:
– Loan origination fee (typically 1% of the loan amount)
– Loan discount points (optional to lower your interest rate)
– Credit report
– Appraisal fee
– Hazard insurance and property taxes
– VA funding fee
– Title insurance
– Recording fee
If there are other fees connected to the loan, they cannot be paid by the borrower.
So if it's a purchase, the former owner could provide seller concessions, the real estate agent could provide a credit, or the bank could provide a lender credit to cover the non-allowable closing costs.
As noted, you are welcome to contact Veteran Affairs if anything seems out of order.

Is There a Maximum VA Loan Amount?
Once again, the answer is no. The VA does not limit how much you can borrow, though there are limits on how much liability the VA is willing to assume.
Put another way, lenders won't go above the VA county loan limits, which vary from county to county.
The VA loan limit is aligned with the conforming loan limit of $726,200, though there are high-cost counties nationwide that go much higher, such as Arlington, Los Angeles, and San Francisco, all at $1,089,300.
Borrowers can get loans up to these amounts without a down payment. But if the loan amount exceeds these limits, a down payment may be required.
A down payment may also be required if a veteran has already used their entitlement and it hasn't been restored.
Update: After President Trump signed into law the "Blue Water Navy Vietnam Veterans Act" on June 25th, 2019, the VA did away with its lending cap.
This means VA borrowers can now get zero down loans while exceeding the county loan limits outlined by the FHFA.

Do VA Loans Require a Minimum Credit Score?
While it's true that the VA does not require a minimum score
Lenders typically impose their own minimums to ensure default rates aren't high
That means in the real world you might still need a 620 or 640 FICO score
Though some brave lenders will accept credit scores down to 500
Aside from not needing a down payment, there isn't a minimum credit score requirement for VA loans.
However, this doesn't mean you can get a VA loan with a 400 FICO score. Or even a 500 FICO score in most cases.
Many lenders that originate VA loans still impose their own minimum credit score, such as 620, 640, or higher. So it can be somewhat misleading to say they don't have a minimum requirement.
The VA is happy to say approve any loan you want credit score-wise, but will penalize lenders that exhibit high default rates. As such, VA lenders will take steps to ensure credit quality is in line with industry norms.
That means you probably won't be able to get a VA loan with a score below 620 in most cases, though there are some lenders will go into the mid-500s or sometimes 500.
However, you should still do your best to stay on top of your credit if you want the lowest mortgage rate possible, regardless of which loan program you choose and whether you can get approved with a lower score.
Sure, you might be approved, but it could cost you big over the years in significantly higher interest costs. Why not take the time to address your credit before applying for a home loan?
[What credit score do I need to get a mortgage?]

Benefits and Advantages of VA Loans
No down payment required
Low closing costs
Low mortgage rates
High loan limits
Low credit score requirements
No mortgage insurance
VA loans come with a number of benefits and advantages that can make them a solid choice above conventional options. Let's take a look at some common Q&A.
Where can I get a VA loan?
VA loans are guaranteed by the VA, but actually processed by private banks and independent mortgage lenders nationwide. This means you can go to a local bank, online lender, and so on. Here is a list of the top VA loan lenders.
Do VA loans require a down payment?
No. Perhaps the biggest advantage is the lack of a down payment requirement, which was previously mentioned. You can get VA mortgages for 100% LTV. And per the VA, nearly 90% of all VA-backed home loans are made without a down payment.
Are VA loans only for first time home buyers?
Nope. You can obtain a VA loan as a first-timer or a repeat home buyer. However, you might have limited entitlement if you've used VA financing in the past, and thus a down payment may be required on subsequent VA transactions.
Do VA loans require private mortgage insurance?
Finally, VA loans do not require you to pay mortgage insurance, private or otherwise, which can obviously increase the cost of the monthly mortgage payments and the overall cost of your mortgage.
However, the VA does collect an upfront funding fee (unless you're exempt), which insures your loan against default and protects the originating lender. So in a sense you're still paying insurance for the loan.
It can be paid at closing or rolled into the loan amount, with the latter option probably being more common.
Do VA loans allow co-signers?
Yes, but it depends on the situation. If the co-signer is your spouse or a veteran, there are no special requirements. But if the co-borrower is not your spouse or a member of the military, a down payment of 12.5% may be needed (this is calculated by using half of the 25% VA guaranty).
Do VA loans cover manufactured homes?
This always seems to be a popular mortgage question, regardless of loan type. The short answer is yes, you can use a VA loan to buy a manufactured home and/or lot. However, the trick is finding a lender out there willing to provide VA financing for a manufactured home.
So it's a yes according to VA eligibility, but a maybe in terms of finding a lender willing to extend the loan. In short, it might require a bit more legwork to track down someone willing to offer the financing.
Are there VA renovation loans?
Yes. The VA Renovation Loan allows for an all-in-one home loan that covers both the purchase of a property and costs of improvements with no down payment requirement in some cases.
Existing homeowners can also take advantage of the VA Renovation loan by pulling out funds while relying on the as-completed value of the property (appraised value after improvements are made).
While loan amount maximums vary by lender, this type of loan is intended for smaller jobs that don't involve major work like foundation repairs and so on. All work must be completed within four months of funding.
Do VA loans require an appraisal?
If purchasing a home with a VA loan, an appraisal will be required. This is for your protection too to ensure the home is worth what you've agreed to pay for it.
An appraisal is also required if you're attempting to pull cash out of your home. Conversely, if you're simply looking to reduce your mortgage rate via an IRRRL, no appraisal is required.
Do VA loans require an escrow account?
The VA does not require lenders to maintain escrow accounts, though most impose them to ensure borrowers have the necessary funds to pay hazard insurance and property taxes in a timely manner.
In other words, the VA doesn't explicitly require escrow accounts, but the lender you ultimately work with probably will, so there's not much way around it. Additionally, there is typically a fee to waive escrows, so it might be cheaper just to escrow.
Do VA loans require reserves?
No, VA loans do not require reserves, which is another plus. However, if the property being financed is a multi-unit property and you're using rental income to qualify, six months PITI will be required for reserves.
Additionally, those with non-traditional or insufficient credit may be required to provide reserves.
Do VA loans have prepayment penalties?
No again. So you don't have to worry about being penalized for paying off your loan early or refinancing it away from the VA.
In summary, if you feel you meet the eligibility requirements for a VA loan, be sure to include this loan in your mortgage search. You may find that another type of home loan is more beneficial, but you should compare all options to be absolutely certain.

VA Loan Highlights
No down payment required (100% financing OK)
No maximum loan amount
No minimum credit score
No mortgage insurance required
Funding fee can be financed
Limited closing costs