Has residential housing supply finally bottomed?
Are we finally going to see more single-family homes hit the market, after years of slim pickings?
Perhaps, if a new survey from Zillow turns out to be reality, and not just, well, a survey.
A new finding from Zillow Group's Quarterly Survey of Homeowner Intentions and Preferences (QSHIP) revealed a big jump in home selling intent.
While surprising, given the current mortgage rate lock-in narrative, it could help alleviate a housing market desperate for new listings.
Are Homeowners Finally Gearing Up to Sell?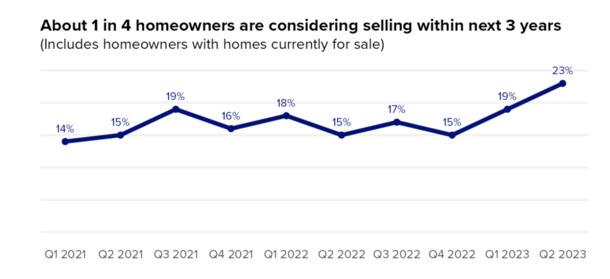 The survey in question found that 23% of homeowners surveyed in June 2023 expressed a willingness to sell their homes.
This includes both those who say they are listing their home for sale or at least considering selling in the next three years.
While the number is a relatively low 23%, it's up from 19% in the first quarter and 15% a year ago.
It was as low as 14% in the first quarter of 2021 and never higher than 19% since that time.
If we look at it from the percentage standpoint, that's a near-65% increase in selling sentiment.
Granted, it's been a few weird years (and I'd like to see data from pre-COVID years), but it's still encouraging if you're a prospective home buyer.
Among the 23% who said selling was on the horizon, four in 10 said they are considering listing their property in the next year.
And for mortgage holders who have a mortgage rate above 5%, a home sale is even more likely. Some 38% of these homeowners say they would at least consider selling their property in the next three years.
So there's a chance we might see a meaningful uptick in housing supply, at a time when it's rarely been lower.
Why Are Homeowners Thinking About Selling Now?
So why the sudden uptick in home selling sentiment? Did something change lately? Not as far as I can tell.
Per Zillow's survey, the homeowners who are pondering a sale in the next three years simply want better digs. Isn't this always the case?
The most cited response (at 66%) was the desire to move into an upgraded home with better features.
That was followed by about half (~50%) saying they expect to get more money for their home now than in the future. Makes sense to fetch a higher sales price while existing home inventory is in such short supply.
Lastly, 45% pointed to a growing household as an influencing decision to sell their property and move elsewhere.
Nothing too groundbreaking here, or materially different than what you'd expect to see in any given year.
As for the large percentage not considering a home sale in the next three years, a whopping 79% said they're staying put because they love their home.
So maybe the mortgage rate lock-in effect isn't golden handcuffs at all, but rather the icing on the cake for those who are happy where they are at the moment.
Can't really beat a home you love and a 2-3% 30-year fixed mortgage rate, can you?
In any case, this is something to watch as low inventory continues to plague the housing market and prop up the stocks of publicly-traded home builders.
Zillow recently reported that home values hit an all-time record high in June, surpassing the $350,000 mark for the first time ever.
Meanwhile, there were only about one million unsold existing homes, per the National Association of Realtors (NAR).
This represents about a 3.1-month supply, well below a healthy market that should have at least 4-5 months' supply or more.