Sometimes you need a little push to get things going, especially when it's a big something like purchasing a home.
Well, it turns out a pandemic can be that driving force, as evidenced by a new survey from real estate brokerage company Redfin.
The company said 25% of the 1,000 home buyers it polled are moving (or moving sooner than planned) due to COVID-19.
COVID-19 Induced Low Mortgage Rates Are Getting Buyers Off the Fence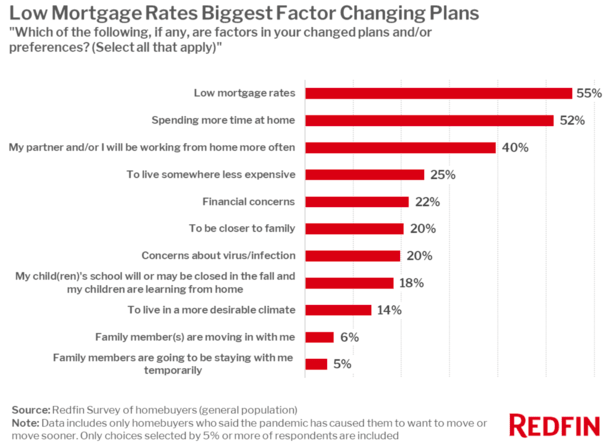 In terms of what's getting people moving, literally, it's the record low mortgage rates currently on offer.
Thanks in part to COVID-19, mortgage rates have hit new record lows eight different times this year (so far and it's only August), as economic uncertainty often has a positive effect on interest rates.
Some 55% of respondents cited the "low mortgage rates" as reason to change or speed up their plans.
The second biggest factor (52%) was "spending more time at home," something I think we've all done a lot of lately.
When you're home all the time, you have more time to think, and more time to complain about your surroundings too.
Third was the work from home angle (40%), which is changing living preferences for prospective home buyers.
It tends to mean buying more house so a home office can be designated in one of the bedrooms.
It also means moving out of the city to the more spacious and affordable suburbs.
Home Buyer Preferences Aren't What They Used to Be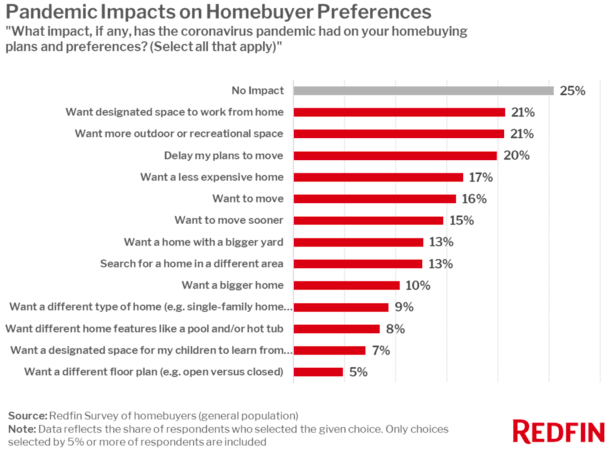 While 25% of respondents said COVID-19 hasn't changed their plans or preferences, a home office and outdoor space are now at the top of the list for many prospective home buyers.
Additionally, there's a desire for a bigger yard, a pool and/or hot tub, a designated learning space for children, and a bigger home in general.
In other words, a lot of today's home buyers expect to be holed up in their properties for a while, and are planning accordingly.
Others said they delayed their plans to move, or want a less expensive home, perhaps due to uncertainty regarding income or employment.
Still, despite a surge in unemployment and a very shaky economy, real estate appears to be firing on all cylinders.
Per Redfin, pending home sales were up 12% year-over-year during the four weeks ending July 26th, while the median sale price was up 11%, the largest increase since 2014.
Additionally, more than half of Redfin offers involved a bidding war for the third consecutive month in July.
Anecdotally, I know of two families offhand that have sold or are in the process of selling their homes during the pandemic.
Interestingly, both families had lived in their homes for many years and thought of them as forever-homes. Amazing what a pandemic will do, eh?
One is upgrading to a larger home to account for the wife now working from home.
And the other is moving out of the city and into the suburbs, both for more space and to get out of the less-desirable urban center, something they thought they'd never do.
It's basically an about-face from the trend we saw before COVID-19 hit – everyone and their mother (literally) wanted to live in a city center, walk to bars and restaurants, live with less space, etc.
That's all changed very quickly, as folks realize it's nice to have some breathing room when you spend most, if not all, of your time in one place.
Both homes went pending in about a week, at high asking prices, which tells you how much demand there is right now for residential real estate.
Whether it will last remains to be seen, but at the moment it seems to be all systems go.