Effective immediately, the FHA will lower its owner-occupancy requirement for certain approved condominium complexes to just 35%.
That means a given complex only needs about a third of the units to be owner-occupied, instead of the prior rule stating that 50% had to be primary residences.
The rule change should increase FHA lending on condos, something the National Association of Realtors has been pushing for to help lower-income renters become homeowners.
After all, condos tend to be a more affordable option than single-family homes.
About a year ago, the FHA eased its occupancy requirement in a variety of ways to make that occupancy number easier to satisfy, but this change goes even further.
In a nutshell, more investor-owned units means more risk for the building as a whole, something the FHA isn't too fond of.
Their position is that owner-occupants are less likely to default on their HOA dues compared to non-owner occupants.
But The Housing Opportunity through Modernization Act of 2016 (HOTMA) directed the agency to issue new guidance to avoid harming the marketability of a building.
For example, it might be more difficult to sell a condominium unit if the buyer was planning to finance it with an FHA loan. That could lead to a price drop or a failed sale.
After some evaluation, HUD determined that the FHA's Mutual Mortgage Insurance Fund (MMIF) could allow for a lower percentage of owner-occupants in some complexes but not in others.
Condos Must Meet Certain Conditions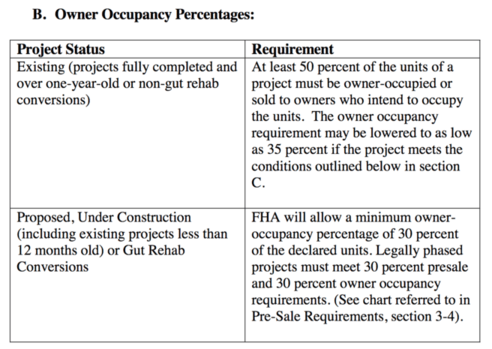 While the new rule will make more condos FHA-eligible
There are some additional conditions that must be met
Including minimum reserve requirements for expenses and maintenance
And no more than 10% of units can be behind on HOA dues
Not every FHA-approved building will enjoy the new, lower occupancy requirement.
In order to take advantage of the updated owner-occupancy requirement, the building must meet the following conditions:
• Applications must be submitted for processing/review via HUD Review and Approval Process (HRAP)
• At least 20 percent of the condo development's budget must provide for funding of replacement reserves for capital expenditures and deferred maintenance
• No more than 10 percent of the total units can be in arrears (60 days or more past due) on their HOA dues
• Three years of acceptable financial documents must be provided
Assuming the complex can satisfy all these requirements, a new buyer will be able to purchase a unit in the building using an FHA loan, even if it's only 35% owner-occupied.
That will come as welcome news to those who are unable to qualify for a conventional loan, or simply want to take advantage of what the FHA has to offer.
For condominiums currently under construction, or for those being proposed (including projects less than 12 months old), and gut rehabs, the FHA will maintain its existing 30% occupancy guideline.
Prior to the Housing and Economic Recovery Act (HERA) of 2008, the owner-occupancy requirement was as high as 80%. It was then lowered to 51%, and after HERA to 50% for existing projects and 30% for those other projects mentioned just above.
If you have your eye on a certain condo, make absolutely sure it allows for FHA financing before making an offer, assuming you need/want to finance it with an FHA loan.
I've seen many properties marketed as FHA-approved, only to find out that the information was thrown up haphazardly on the MLS.
A good real estate agent should know whether it's approved for FHA financing and a good lender should be able to determine the occupancy levels to ensure all goes smoothly.