First Redfin brought us the 1% listing fee, which disrupted the traditional 2.5% to 3% listing agents charge(d) to sell a home.
But that still meant the home seller was on the hook for 3.5% or so if they elected to use an outside buyer's agent, who needed to be paid 2.5% commission for their end of the deal.
Now they've upped the ante by launching "Redfin Direct," which is being pitched as a service to buy a home without a real estate agent.
The upside is that the 2.5% commission is removed entirely, and only a 2% listing fee remains.
That should result in savings for both home buyers and sellers, with less money going to third parties.
How Redfin Direct Works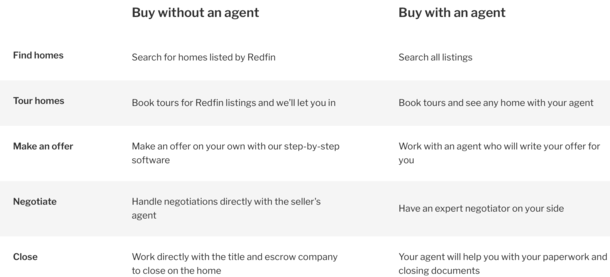 The program was initially piloted in just a few metros nationwide, including Boston, Northern Virginia, and Texas on properties listed by a Redfin agent.
It has since been rolled out to the Inland Empire, Los Angeles, Orange County, Sacramento, San Diego, and the rest of Virginia.
Like a typical home purchase, a prospective buyer visits the Redfin website and browses the available inventory.
This inventory only includes Redfin-listed homes, which ideally (as far as Redfin is concerned) will increase over time as the company gets a larger share of listings via its lower 1% commission.
Next, this hypothetical buyer can book tours and visits the properties he or she is interested in viewing.
Assuming they want to proceed with an offer, they can turn to Redfin's "step-by-step software" to help guide their bid.
This is essentially where the buyer's agent is replaced by a computer, and where the controversy undoubtedly begins.
The Robot Will See You Now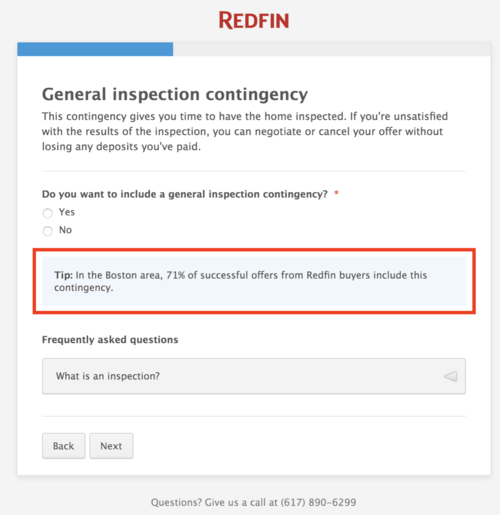 The buyer is largely on their own for the negotiating piece, though if the software does its job, maybe they'll get a good deal.
It's a "55-question online tool" that helps the buyer craft their bid regarding things like contingencies and what to offer, based on what the majority of buyers in their area typically do.
I'm not sure how it will handle things like repair requests and counteroffers, but I digress.
Anyway, Redfin assumes the buyer without an agent will automatically produce a favorable offer to the seller because the typical 2.5% buyer agent fee is gone.
Instead, it's replaced with an additional 1% fee that goes to Redfin for taking part in the Redfin Direct program.
Redfin Direct essentially ties up the loose ends on the buyer side of things to complement the existing discounted structure on the sell side.
Redfin earns 1% on the buy side and 1% on the sell side, for a total commission of 2%.
This is down from the 3.5% the company may have earned with a Redfin listing agent and a third-party buyer's agent.
And well below the 5% that would be charged to the seller if two traditional real estate agents each earned 2.5% commission.
So if the buyer offered roughly $291,000 for a given property, it's really like offering $300,000 under the old fee structure.
After all, a $300,000 purchase price with 5% in commissions is really only $285,000.
That means the buyer sans agent can offer less than the competition and still put the same or more money in the pocket of the seller.
And ostensibly the buyer saves too because they're buying a Redfin-listed property, which comes with just a 2% listing fee, as opposed to the standard 2.5% or 3% plus the buy side.
In a perfect world, everyone wins, other than the real estate agents.
This has already caused some commotion, with mega real estate brokerage RE/MAX withdrawing from an exclusive referral partnership announced just two months ago in light of the Redfin Direct launch.
RE/MAX's beef was that Redfin Direct could "undermine the standing of North American buyers' agents," in which Redfin said that it "understands this concern."
For real estate agents, the argument will always be that they can negotiate better and save either party money when they're involved.
Whether that's selling for more and essentially covering their listing fee or helping a buyer snag a lower price through intense negotiations.
Most Buyers and Sellers Will Continue to Use Real Estate Agents, for Now…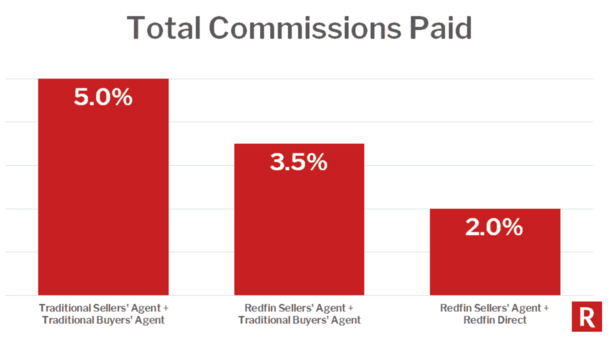 Redfin's angle is basically that the majority of home buyers will continue to use real estate agents to help them purchase properties.
This is evidenced in their statement, where they note that "the vast majority of homebuyers need professional advice, and will happily pay for it."
It's reminiscent of Zillow Home Loans, which now exists alongside the company's marketplace of third-party mortgage lenders. Oh, and there's a Redfin Mortgage as well.
These companies are performing a balancing act of attempting to innovate for their customers and save them money while not upsetting their current arrangements.
But ultimately, kind of like Uber and its driverless car technology it hopes to roll out, someone will be left behind.
The end goal, I assume, is to fully automate a lot of these processes, thereby eliminating the middlemen and women, even if the vast majority of consumers haven't made the leap just yet.
It'll be a hard pill to swallow for those continuing to work with these companies as they're slowly pushed out.
Because while buying or selling a home without a real estate agent sounds crazy today, it might be the norm tomorrow. Just like your driverless Uber or Lyft.
Read more: Redfin Now allows you to sell your home in 24 hours.