If you're wondering which mortgage company originated the most home loans last year, stop wondering and take a look.
Most people know Wells Fargo is king when it comes to mortgages, and 2015 was no different. But what about the other top 39 lenders?
Well, thanks to some great visualization software from Tableau and some generosity from Richey May and Co., we can see who the major (and slightly less major) players are.
The graphs below are based on Home Mortgage Disclosure Act (HMDA) data, which covers about 95% of all residential mortgages. The raw data was made readable thanks to the pair mentioned above.
Wells Fargo Remained Mortgage King in 2015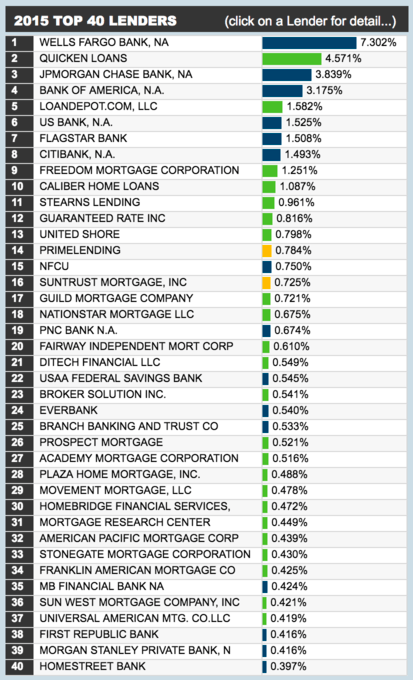 Unsurprisingly, San Francisco-based Wells Fargo retained its crown as the top residential mortgage originator in 2015, registering volume of $119.2 billion.
That gave it about 7.3% of the total market share in the United States. While it might not seem like a lot, its closest competitor had nearly half that share.
For the record, its market share has fallen for the past couple years, from 10.5% in 2013 to 7.8% in 2014.
Before we talk about the others, let me add that Wells's production was 88% conventional and just 5% FHA. There was a sliver of USDA lending in there too.
As far as transaction type, 52% was for a home purchase and 48% was for a refinance.
Quicken Grabbed the Second Spot
Coming in a relatively close second was Quicken Loans, with $74.6 billion in total volume representing a 4.6% market share.
The nonbank mortgage lender saw its market share rise just slightly from a year earlier, but volume was way up from the $55.8 billion seen in 2014.
While conventional loans made up the lion's share of its production (70%), FHA accounted for a decent chunk (19%) and VA home loans accounted for 11%.
After their very public lawsuit with the Department of Justice over alleged faulty FHA underwriting, my guess is FHA lending will be a lot lower in 2016.
More interestingly, 80% of their total production was refis, with just 20% of volume involving a home purchase. We'll see if Rocket Mortgage can eventually propel them to the top.
Chase took the third position overall with $62.7 billion in total production, representing a 3.8% market share. That was up from $42.2 billion and 3.5% a year earlier, respectively.
The big New York City-based bank doesn't seem to like FHA lending seeing that 98% of their production was conventional. It was split fairly evenly between refi (56%) and purchase (44%).
Bank of America came in fourth with $51.9 billion and 3.2% market share. Production was actually up from 2014 but market share still slipped slightly.
They too eschewed FHA, with 96% of production coming via the conventional route. Refis accounted for 59% of production with 41% purchases.
Rounding out the top five was Loan Depot, a nonbank that managed to grab about 1.6% of total market share on a healthy $25.8 billion in production.
The company exhibited a solid mix of lending, with 68% conventional, 18% FHA, 14% VA, and a bit of USDA as well.
They too had a heavy share of refis (67%) versus purchases (33%), which is common with the nonbanks.
People tend to get purchase mortgages from the big banks they already do business with, though it's not always the case.
The lower half of the top 10 included the likes of US Bank, Flagstar, Citi, Freedom Mortgage, and Caliber Home Loans.
You can see the rest of the names in the graphic above.
Independent Mortgage Lenders Saw Gains in 2015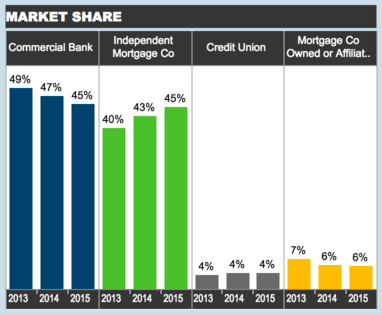 As you can see from this graph, independent mortgage lenders have been chalking gains over the past few years as the big boys lose market share.
The indie group saw its market share rise from 36% in 2013 to 45% last year. Part of that had to do with the rising number of independent mortgage companies. Perhaps they'll surpass 50% in 2016.
Meanwhile, the large commercial banks saw their market share fall from 54% in 2013 to just 45% in 2015. The number of commercial banks has also dwindled, which could explain some of the decline.
Credit unions have held a fairly steady ~5% share for the past several years and mortgage companies owned or affiliated with a depository have held a similar share.
And now a few more interesting tidbits:
Top conventional mortgage lender in 2015: Wells Fargo
Top FHA mortgage lender in 2015: Quicken Loans
Top USDA mortgage lender in 2015: PrimeLending
Top VA mortgage lender in 2015: Freedom Mortgage
Top purchase mortgage lender in 2015: Wells Fargo
Top refinance mortgage lender in 2015: Quicken Loans