We're starting to get a better picture of how COVID-19 affected the housing market, with the National Association of Realtors' existing-home sales report showing a big drop in May.
It's based on completed transactions, including both single-family homes and condos/townhomes, meaning these were likely under contract during the full lockdown seen a month or so ago.
Home Sales Hit Hard by COVID-19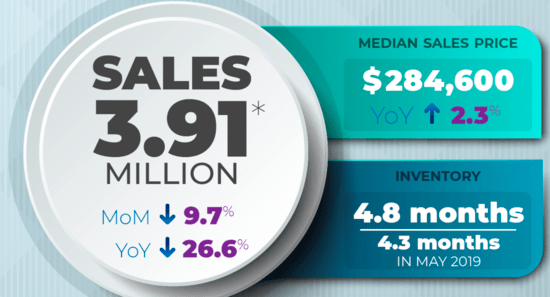 Existing home sales fell 9.7% in May from a month earlier per NAR
Off a sizable 26.6% from April 2019 as traditional home buying period disrupted by virus
Housing supply increased but likely only due to artificially slower sales pace
Home prices were down slightly month-to-month but still registered 99th straight YoY increase
As expected, existing home sales were off 9.7% from April, falling to a seasonally-adjusted annual rate of 3.91 million in May.
That's a whopping 26.6% below the 5.33 million sales pace seen in May 2019, though there are some pretty serious extenuating circumstances at play here.
NAR chief economist Lawrence Yun noted that the sales completed last month "reflect contract signings in March and April."
The true test on the existing home sale front will be a month or two from now, assuming the country remains open post the worst of COVID-19.
The lack of home sales also seemed to boost unsold inventory, which rose to a 4.8-month supply based on the current sales pace, up from 4.0 months in April and 4.3-months in May 2019.
Again, the caveat here is current sales pace, which was affected by the coronavirus pandemic, so it too needs to be taken with a grain of salt.
If home buyers get out there again, the sales pace could accelerate dramatically and push inventory much lower once again. As it stood, it was already quite low pre-COVID-19.
Despite lower sales volume, properties only remained on the market for 26 days in May, seasonally down from 27 days in April and the same as May 2019.
Additionally, 58% of the homes that sold last month were on the market for less than a month.
In other words, lower volume aside, homes were moving quickly from list to pending to sold, which bodes well for buyer appetite.
With regard to home prices, the median existing-home price was $284,600 in May, down slightly from $286,800 in April, but up 2.3% from May 2019 ($278,200).
That marked the 99th straight month of year-over-year gains, so let's hope they get to 100 next month. Would be a shame not to…
Pending Home Sales Up 33%, New Listings Rise 36%
Redfin said pending home sales (those currently under contract) rose 33% in May
New for-sale listings up 36% from April to May, but still 20% below February levels
Home sales fell 30.8% in May from a year ago, with dramatic declines in most expensive metro areas
Median home prices relatively flat from a year ago despite a big drop in expensive property sales
It appears we may have hit bottom in terms of COVID-19 impact, at least for now, and it wasn't so bad, assuming those missed home sales were merely delayed.
We're already seeing signs that may be the case, with Redfin reporting that pending sales were up a sizable 33% in May after two monthly declines.
Unlike existing home sales, pending sales are a key indicator for home sales that are expected to take place in the near future, namely during June and July.
At the same time, new listings increased 36% from April to May, so assuming those also get scooped up relatively fast, sales should see a pretty quick recovery.
And they probably will, given median days on market barely budged in May despite a global pandemic.
Again, this hinges on the economy and the country staying open, and not closing up again, as has been discussed in some circles given the recent case increases in states like Arizona, Florida, and Texas.
Redfin said home prices increased a mere 0.5% on a year-over-year basis in May to a median $299,400, the smallest annual increase since home prices bottomed in February 2012.
However, they only believe it was much lower than the 4.7% gain in April because fewer homes sold in the most expensive metro areas tracked by the company.
For example, home sales declined between 38% and 58% from a year earlier in the 12 metro areas with median prices above $450,000 (seven of them are in California).
In San Francisco and San Jose, where the median price exceeds $1 million, home sales dropped more than 55%.
This tells us home prices held up pretty well in the face of COVID, another good sign for the housing market that continues to roll on, fueled by record low mortgage rates.
Interestingly, the median off-market Redfin Estimate was up both on a month-to-month basis and annual basis.
The only real worry is home prices might increase too much and become out of reach for first-time home buyers, something Yun lamented about while urging more new construction.
He might be right, given the fact that home purchase applications are also reportedly surging.
Quicken Loans CEO Jay Farner told Fox that the company is experiencing a record number of home purchase applications to go along with their record mortgage refinance applications which might explain their rumored IPO.
He said purchase apps are up significantly over last year's numbers, so it appears many prospective buyers are getting their ducks in a row so they don't miss out.
Now we just need to be concerned about that second wave, which could stop the housing market in its tracks if consumers lose confidence and no longer believe the worst is behind us.
If it doesn't come, surging home prices might usher in another era of unaffordability and creative financing, followed by another housing crisis. But that might still be a few years out.