I came across a new partnership between ticket marketplace Stubhub and fintech company Affirm that lets you pay for purchases over time.
They launched the new payment option "just in time for the Super Bowl," per a company press release regarding the announcement.
Affirm already works with brands you probably recognize, such as that ubiquitous mattress company Casper, iRobot, and that other company with the really well-liked commercials, what's their name again, oh yeah, Peloton.
Anyway, the idea is that you can get the things "you love" now and worry about paying them off later. Sweet.
Everyone knows Super Bowl tickets are notoriously expensive, and so the partnership made perfect sense, especially since their survey found that cost was the leading reason why most people didn't attend.
How Affirm Works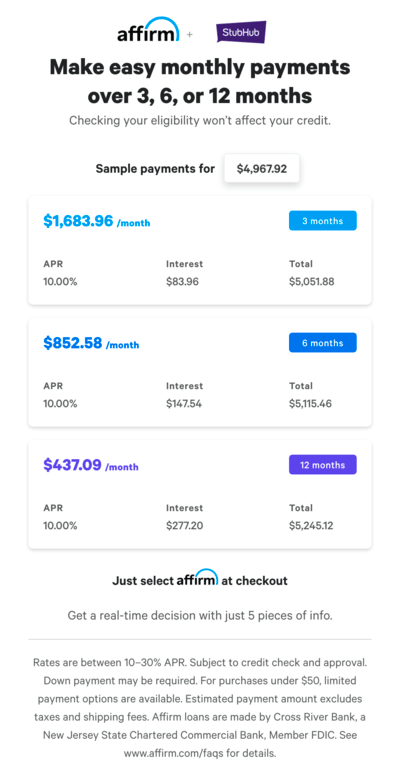 In short, you select Affirm instead of say a credit card or PayPal at checkout, then answer "five simple pieces of information" to see if you qualify for financing.
That includes your name, mobile number, email address, date of birth, and the last four digits of their social. From there, your credit will be run and they'll let you know if you're approved to go to the Super Bowl…
They say your credit score won't be affected when checking eligibility, despite the credit check.
But if you actually buy with Affirm, your loan and corresponding payments may affect your credit score.
Obviously, you'll have a new account on your credit report, new debt, payment history, etc.
With regard to the financing, they say rates can range from 10-30% APR. As you can see from the screenshot above, a single ticket costing nearly $5,000 would set you back anywhere from $84 to $277 interest-wise.
That's actually not terrible, though making payments of $437.09 for 12 months to go to the Super Bowl and sit in the nosebleeds kind of is.
Now if the APR were 30%, you'd be on the hook for nearly $850 in interest if on the 12-month payment plan, and the monthly would be nearly $500.
Anyway, my take is don't do it. Even if you turned to cheaper financing, like a cash out mortgage or relied upon funds from a HELOC to get it done, which is probably also a terrible idea, it's still not worth it.
The Super Bowl Isn't That Great
I'll be honest, I'm not a huge football fan. I watch here and there, but I can easily miss the entire season too.
I was fortunate enough to go to the Super Bowl once, back when it was in Indy in 2012. And it was actually a really close game, with the New York Giants barely edging the New England Patriots 21-17.
It came down to a final play with the Pats driving and resorting to a Hail Mary pass that could have completely changed the outcome of the game. But it wasn't to be.
At the end of the day, it was exciting to be at the Super Bowl, but I'd never pay to go again. For the record, I waited until the game started to buy tickets, and they still barely went down in price.
Ultimately, it's a game like any other, and after a quarter, you might find yourself daydreaming, looking at your phone, or wandering off to buy something to eat, just like a regular season game.
Maybe I'd feel differently if I'd never been – I was certainly excited prior to the game.
What was actually more fun was just being in the city leading up to the Super Bowl. There was a ton of energy, parties everywhere, and just a general sense of excitement. Then it all ends rather quickly.
You certainly wouldn't want to be making monthly payments this summer. Plus, you miss all the commercials…