If you're like me, you've received lots of mailers from a bank called "Third Federal Savings & Loan," promising a low rate mortgage with very few fees.
After maybe the 10th piece of mail from them came through my mailbox, I decided it was finally time to write a review. So here we go.
Third Federal Has Been Around Since 1938
Began during Great Depression in Cleveland, Ohio
Initially served immigrants from Poland and other Eastern European countries
Now operates in 25 states and DC, with branches in Florida and Ohio
They are a direct mortgage lender that offers purchase loans, refinances, and home equity products
First off, let's talk a little history. Third Federal isn't a newcomer like Better Mortgage or Rocket Mortgage.
They've been around since 1938, which if you're counting, is nearly a century. That gives them some credibility, and if you ask, they'll tell you that staying power can be attributed to conservative lending.
In other words, avoiding fads and questionable product choices like subprime or Alt-A in exchange for lasting relationships and more stability.
The company was started by Ben S. and Gerome Stefanski in Cleveland, Ohio during the Great Depression, using $50,000 in capital provided by members of the Slavic Village neighborhood.
It began by serving struggling immigrant families from Poland and other Eastern Europe nations who had settled in the area.
Over time, the business grew and thrived, and today they do business in 25 states, and run a branch network in the states of Florida and Ohio.
Where Third Federal Mortgage Operates
As noted, they do business in 25 states and the District of Columbia, but not all products are offered in all states. So pay close attention.
You can get a purchase loan or refinance in the following states: OH, FL, KY, NC, VA, MD, NJ, PA, IN, IL, GA, MO, TN.
And you can get just a refinance in these states: CO, NH, CA, NY, OR, MA, CT, DC, WA.
Additionally, home equity loans are available in: OH, FL, KY, CA, PA, NJ, VA and NC.
Lastly, bridge loans are available in all purchase markets mentioned above if you need to buy before you sell your existing home.
What Home Loan Programs Does Third Federal Offer?
You can view real rates and apply for a mortgage online
Or generate a free, true pre-approval that can even be locked in
They offer lots of interesting conventional loan products like Smart Rate ARMs and jumbo loans
But do not offer government loans or finance second homes or investment properties
While they don't sound like a disruptor in the mortgage space, they do offer a similar digital experience along with interesting loan products.
If you want to apply for a home loan or equity line of credit, you can start the process online in minutes.
You can generate a pre-approval letter and even lock in your rate before you find a property via their prelock option.
The company specializes in conventional loans, meaning non-government stuff backed by Fannie Mae and Freddie Mac, along with jumbo loans on owner-occupied properties.
You won't find FHA loans, VA loans, or USDA loans here, or mortgages for second homes and investment properties, but they do everything else, including home equity lines of credit.
They offer both fixed-rate mortgages and adjustable-rate mortgages, including lesser-known options like the 3/1 ARM and 10-year fixed mortgage.
Interestingly, their ARMs are tied to the Prime Rate, as opposed to say the LIBOR or some other index. Once the fixed period ends, they reset to Prime minus 1%.
They have two caps, including a periodic cap of 2%, meaning your rate could increase (or decrease) by up to two percentage points at the first adjustment.
And a lifetime cap of 6%, meaning the most the rate could increase during the life of the loan is six percentage points.
Their ARMs come in three different terms, including a standard 30-year term, 15-year term, and 10-year loan term. That's pretty unique.
Additionally, they offer a discount on jumbo loans as opposed to charging more for them, which is typically the norm.
If you're happy with your first mortgage, they also offer home equity lines of credit with no teaser or introductory rate.
They say it's "always Prime minus 1.01%," a rate they believe is 20% lower than most other lenders.
It comes with no closing costs and no prepayment penalty, and costs just $65 per year after being free the first year.
They also offer construction-to-perm loans and an end-loan mortgage product.
Third Federal Mortgage Rates
They openly advertise all their mortgage rates online
Rates offered with or without most closing costs (Low Cost option)
Their Smart Rate feature allows you to relock your rate whenever you want
Appear to be competitive with other lenders but always shop around
One thing I like about this bank is its transparency. They let you know about everything. And it's no different when it comes to their mortgage rates.
They are advertised right on their website for all to see, without the need to apply or create an account.
You can see current rates for the 30-year fixed, 15-year fixed, 10-year fixed, 5/1 ARM, and 3/1 ARM.
Low Cost Mortgage Option – Pay Just $295 in Closing Costs!
Additionally, they show the "Low Cost" version of many of their loan programs, which requires just $295 in closing costs ($595 in NY).
They pay for everything other than pre-paid items like interest, taxes, and insurance, along with transfer taxes if applicable.
You aren't on the hook for an application fee, underwriting fee, processing fee, appraisal, credit report, title insurance, recording, notary, and so on.
Nor do you need to pay a loan origination fee or mortgage points, unless you wish to pay discount points to obtain a lower-than-market rate.
These "Low Cost" options come with slightly higher interest rates to offset the lack of closing costs, and could be a good choice for someone who doesn't plan to keep their mortgage long.
Their rates appear to be pretty competitive, and with low fees and no commissions paid to their loan officers, the APRs are similarly low.
One nice benefit is that they don't charge extra for cash out refinances, so if you want to tap some equity, your interest rate won't be higher as a result.
As always, compare their rates to other banks, credit unions, mortgage brokers, and so on to ensure you're getting the best deal for your particular loan scenario.
Third Federal Smart Rate ARMs Feature Rate Relock Feature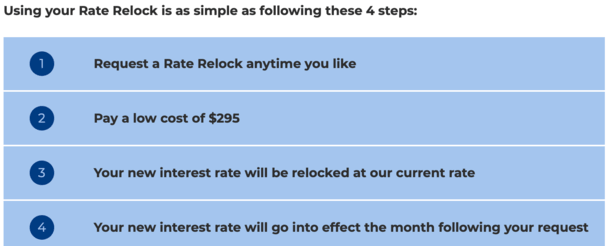 Their ARMs feature a free Rate Relock option that allows you to fix your rate at any time
If your 3/1 ARM or 5/1 ARM is about to reset higher, you can relock for just $295
Fixed rate is then extended for three or five years, respectively
You can take advantage of this option as many times as you'd like during the loan term
They also offer a "Rate Relock" feature that allow you to relock your rate at any time if you take out one of their so-called "Smart Rate" adjustable-rate mortgages.
The process is apparently super simple and quick, and does not require an application or appraisal. However, I do believe they check your credit.
You just request the Rate Relock, pay a low $295 fee ($595 in NY), and your new interest rate will be relocked at current rates.
In the month following your request, the new interest rate will go into effect.
That way you don't have to worry about your ARM exploding higher after the initial fixed period comes to an end.
It could be super beneficial if rates remain low or go down, as you could lower the interest rate on your mortgage without refinancing.
The company says with Rate Relock, "you'll never have to refinance again!"
While true or not, it's a neat little feature, just make sure the convenience isn't built into a higher mortgage rate versus the competition.
Why Use Third Federal to Get a Mortgage?
They offer unique home loan programs you can't find elsewhere
Purchase loans come with Lowest Rate Guarantee and On-Time Closing Guarantee
Standard rate lock period is 60 days as opposed to just 30
They service all the loans they close instead of selling them off to other companies
Assuming you live in a state where they do business and your property qualifies, Third Federal offers some really interesting loan options like ARMs with various loan terms.
Additionally, their mortgage rates appear to be pretty competitive, especially with the lack of most closing costs on their Low Cost option.
If you have a jumbo loan, your rate could be even lower, and all mortgages come with a standard 60-day rate lock as opposed to just 30 days.
Those purchasing a home with a Third Federal mortgage can take advantage of both their Lowest Rate Guarantee and On-Time Closing Guarantee.
And you can take out a mortgage up to 85% LTV without paying private mortgage insurance.
Also, they service 100% of the loans they originate, as opposed to selling them off to some unknown loan servicer you might not like.
Ultimately, they are probably a good choice for someone interested in taking out an ARM vs. a fixed mortgage.
You get added flexibility on the ARM with the Rate Relock feature, which could be really beneficial if mortgage rates continue to stay flat and/or low.
However, as mentioned, they do have some limitations when it comes to borrowing on all property types, and their fixed mortgages might not be as competitive as other banks.
Mortgage Passport Review
Recently, Third Federal launched a new online lending division known as "Mortgage Passport."
They refer to the company as the coming together of high tech and human touch. In other words, same great service you'd get from a bank, but with the latest technology.
They pride themselves on their low rates, easy-to-use digital loan application, and their "smart" non-commissioned loan officers.
Mortgage Passport appears to offer refinances in the following states: CA, CO, CT, DC, GA, IL, IN, KY, MA, MD, MO, NC, NH, NJ, NY, OR, PA, TN, VA, and WA.
The Mortgage Passport division seems to be focused on refinances, and specifically cash out refinances that allow you to tap equity.
And they aren't shy about showing off their mortgage rates, with daily rates prominently displayed on their website.
You can easily compare standard closing cost mortgages, no lender fee mortgages, and no closing cost mortgages side-by-side without having to log in or provide personal information.
From what I saw, their mortgage rates were very competitive, even the no-fee options. Note that no cost loans are not available in NY.
To get started, simply head to their website, click on "Apply Online" and you'll be off to the races.
From there, a loan officer will reach out to review your application and collect a deposit (likely an appraisal fee) so your loan can be processed and underwritten.
While there aren't a ton of Mortgage Passport reviews just yet, they do have a 4.9-star rating out of 5 on Bankrate from 8 reviews, with a 100% recommend rating.
And on their own website, a 4.8-rating and 100% recommend rating from five reviews. So it appears the feedback thus far is very positive.
If you're looking for a digital mortgage process and a low mortgage rate on a refinance (with a variety of different closing cost options), Mortgage Passport could be a good choice
(photo: Marcin Wichary)