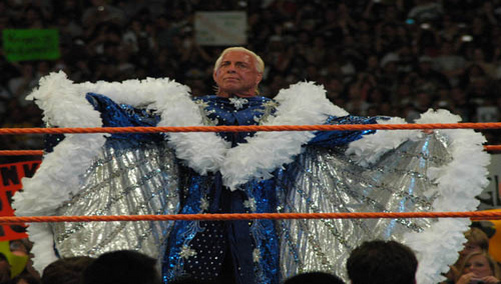 If you've ever watched "pro" wrestling, you've undoubtedly heard of Ric Flair, the undisputed king of flair, and an all time great in the eyes of thousands of adoring fans.
Well, the man has somehow body-slammed his way into the mortgage business, in what looks like a lead company, though it's hard to tell as the bulk of his company website is consumed by glamorous photos of the ex-pro wrestler draped in lush, silky robes.
According to his website, "RicFlairFinance.com" (which you absolutely have to visit), the company offers mortgages, auto loans, and refinance loans for consumers in a variety of financial situations.
The website has an application process referred to as the "Figure Four Process", whereby potential borrowers select the type of loan they need, complete an application, submit it, and finally, "get the loan."
Some revolutionary stuff here.
The company website says, "Get the money you need to live like the "Nature Boy"…it's as simple as 1-2-3-4."
Rick Flair referred to himself as "Nature Boy", "Nature Boy Ric Flair", and "The Black Scorpion" in his wrestling days.
Message boards have already been abuzz, fretting about whether the news of a pro-wrestler joining the game could further rock the creditability of the embattled mortgage industry.
(photo: thebadderintheworld)