Well, it's been a stressful couple of weeks, and the way the stock market is swinging at the moment, it doesn't appear to be abating. Grab your Tums, buckle your seat belt, and hang on.
Don't you love waking up to the Dow rising 400 points, only to check in after lunch and find that the index is 500 points in the red? It should provide for a nice chuckle.
The current atmosphere is reminiscent of the fast and loose days prior to the Dotcom bubble crash. I recall it vividly – mega gains followed by mega losses for months on end. Up down up down until the ups went away.
We might not be "there" quite yet, but it is feeling eerily familiar. Meanwhile, those low mortgage rates (remember those?) we've all come to rely on are starting to drive off into the sunset.
What was once a sub-4% 30-year fixed is now closer to 4.5%, depending on the mortgage lender in question. And quite frankly, that's no fun for prospective home buyers or even lenders for that matter.
It hurts both parties in terms of affordability and profitability, respectively. But is it as bad as it seems? The answer is probably not.
In times like these, I wait patiently for cooler heads to prevail, and fortunately, some have.
Mortgage Rates Have Seen 1%+ Increases More Than 10 Times in the Past 43 Years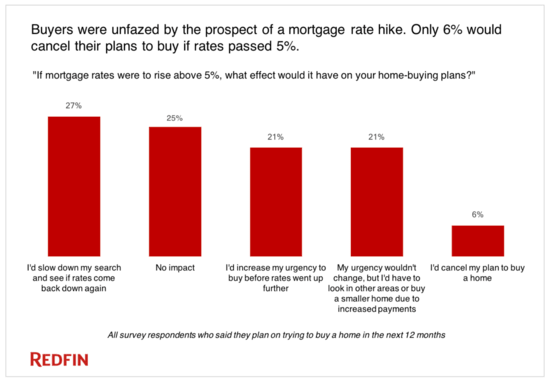 Using similar data from the past
We know that rates have increased at least 1% 10 times in the past 43 years
And this hasn't hurt the housing market
It's the economy you need to pay attention to
First, a Redfin survey found that only six percent of prospective home buyers would continue renting if mortgage rates rise above 5%.
And rates aren't even close to that level just yet.
Secondly, the ever-reliable research department at John Burns Real Estate Consulting noted that mortgage rates have risen by at least 1% more than 10 times over the past 43 years.
Director of Research Rick Palacios Jr. said, "rising rates [are] unlikely to ruin housing's recovery," and expects a great spring home buying season similar to last year.
For the record, last spring was the best spring since 2013. Granted mortgage rates were slightly cheaper.
Ultimately, the housing market is being driven by the economy, which happens to be in pretty good shape at the moment. If confidence is high, unemployment low, and wages rising, higher mortgage rates won't dent the rally.
But if the economy is weak, rising interest rates do have the ability to stifle home sales and push property values lower.
The good news is we are in pretty good shape on all fronts, and with today's home loans underwritten much differently than they were a decade ago (actually underwritten), we can expect far fewer defaults, even if things do go sideways.
Home Builders Aren't Worried About Higher Interest Rates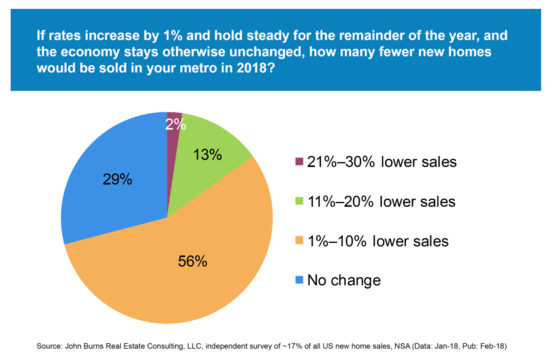 Even the home builders aren't worried about higher mortgage rates
Most expect little to no drop in sales if interest rates increase 1%
And if anything it could get the fence-sitters off the fence
And into the sales office finally!
A survey of home builders commissioned by John Burns echoed similar sentiment. Most respondents said a 1% rise in mortgage rates wouldn't do much to harm sales.
Some 29% said it would have no effect, while another 56% only anticipated a 1-10% dip in sales.
Together, 85% of home builders see minimal impact if 30-year fixed mortgage rates climb to 5%. And luxury and adult community builders don't believe home sales will experience any decline.
Per Freddie Mac, the 30-year fixed has risen from around 3.78% in September to 4.32% today, which represents a 6.7% increase in monthly mortgage payment.
Last spring, monthly payments actually jumped 11.5% from July 2016 to March 2017. And as noted, it was a very good year for home sales.
Palacios Jr. expects a similar situation to play out this year. In my eyes, it could be even better (for home sellers) than last year as fence-sitters get scared to their feet and jump in.
The fear of rates finally rising, for real this time, could actually have the unintended consequence of making the housing market even more competitive than it already is.
Read more: 11 tips for home buyers in 2018