It's a question I see consumers ask whenever they size up a lender: "Is X mortgage company legit?"
Ultimately, borrowers want to know that the company they're considering is above board, and not some fly by night operation.
After all, a mortgage is a major financial transaction, and not one to leave to chance.
The last thing you want is to get paired up with an inept individual or institution that fails to close your home loan.
Or worse, takes you for a ride and scams you out of money. Here are some tips to pick a quality lender.
Check the Lender's Online Reviews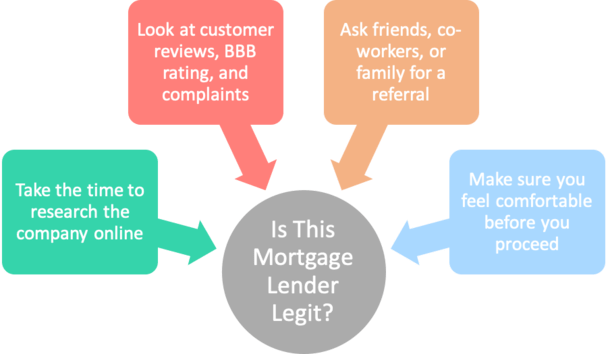 These days, I write a lot of mortgage reviews to help consumers navigate the literal thousands of options they have.
Not all of these mortgage lenders are household names, but that doesn't mean they aren't good companies. In fact, smaller can sometimes be better.
One good place to start when determining a mortgage broker or lender's legitimacy is to check out their reviews.
You can find an abundance of information with a few clicks, whether it's their Google listing, Facebook page, or an outright review site like Trustpilot or Experience.com.
Take a few minutes to find their listing on a handful of review sites, and while you're at it, read some of those reviews.
Find the bad reviews and read those even more carefully – it might be a one-off incident related to an employee working for the lender, or it could be a trend.
You should be able to conclude pretty quickly if it's problematic, or just an outlier.
At the end of the day, every mortgage lender will disappoint someone, even if they're otherwise awesome and rated a perfect 5-stars.
That's just the nature of this business, which can be riddled with pitfalls and the unexpected.
It's actually a very stressful and difficult job, and while there are bad actors, kudos should go out to those who originate home loans day in and day out.
Find Their Better Business Bureau (BBB) Listing
Another good way to vet a mortgage lender is to read their Better Business Bureau (BBB) listing online.
There's a wealth of information you can gather in minutes, including customer reviews and complaint history (including those actual complaints).
You can also see when the business got started, where they're headquartered, who the owners are, alternate business names, and much more.
Each business is also assigned a letter grade rating from an F to an A+, just like in school. It's based on a number of criteria, mostly related to customer complaints.
As noted, complaints are natural and will affect any business, even "legit mortgage lenders."
But businesses get dinged big if they fail to respond and/or resolve those complaints.
You can also see if they've had any government actions in recent history, such as advertising misconduct or a failure to meet licensing requirements.
Note that being accredited doesn't make one lender better than another, as it costs money to get accredited and not all companies want to shell out an annual fee, rightfully so.
While a company must meet the BBB's accreditation standards to get that stamp of approval, a business's products/services aren't evaluated or endorsed by the BBB, nor is their quality or competency determined.
In other words, a business can be non-accredited and totally legit and awesome to work with. As mentioned, simply look at their reviews, complaints, and any actions filed against them.
The letter grade carries the most weight, not their accreditation status.
Look Them Up on the NMLS Consumer Access Website
Another step you can take to assess a company's credibility is to visit the Nationwide Multistate Licensing System (NMLS) website, namely the consumer access site.
Simply enter the mortgage company's name or NMLS number (which you can typically find on their website footer) to find their listing.
From there, you can view contact information, branch locations, DBAs, state licenses, and any regulatory actions filed against them.
Each state they're licensed in will also have a link to a complaint website if you wish to submit a complaint to the corresponding state regulator.
It's also possible to view an individual loan officer's NMLS listing the same way.
You can see where that individual is licensed, where they worked prior (if applicable), if they've got any regulatory actions against them, and their contact information.
Essentially, you can vet the mortgage company itself and individuals who work for said lender, all in one place.
This can be helpful as some lenders are quite large, and while the company itself could be solid, a specific loan officer might not be.
Dig Through the CFPB Complaint Database
If you want to be super thorough, you can search the mortgage company by name in the Consumer Financial Protection Bureau (CFPB) complaint database.
Simply head over to this government site and enter the lender's name and you'll probably see a long list of complaints.
The CFPB notes that complaints are published after the company responds, or after 15 days, whichever happens to come first.
You can see what product the complaint is related to (assuming the financial institution has multiple line of business), and the issue/sub-issue.
For example, are there a bunch of complaints about applying for a mortgage, or mostly complaints related to paying the mortgage?
A lot of lenders these days are also loan servicers, which collect monthly payments once the loan is closed.
This can be problematic when looking at reviews because a lender could be great at originating a loan, but horrible when it comes to servicing.
And you won't know who your loan servicer will be in most cases, as mortgages are typically transferred among different companies after closing.
You can also view trends to see if their complaints are rising, falling, or are simply steady.
For the record, the CFPB says complaints aren't "necessarily representative of all consumers' experiences with a financial product or company."
Ask Friends or Family for a Referral
Lastly, you can ask a friend or family member for a referral, like you would any other service you might be interested in.
For example, you might ask for a reference if you need a plumber or a gardener, so why not do the same for a mortgage lender?
The one caveat here is that real estate agent's will have their preferred lender, who may or may not be a great fit for you.
As I've written in the past, be sure this individual has your best interests in mind, and is actually a competent partner.
You don't necessarily want to work with someone just because they know your real estate agent, or are a friend/family member.
But it doesn't hurt to know the individual, as that can promote trust and a little extra attention to your particular loan file.
To sum things up, there is a ton of information available at our fingertips to properly vet any mortgage company or individual in a matter of minutes.
If you aren't sure, take a moment to read their bio, reviews, and complaint history. And if your gut tells you they're bad news, simply look elsewhere.