Down payments are falling as the housing market slows and competition wanes.
A new report from Redfin revealed that the median down payment in January 2023 was 10%, down from 13.6% a year earlier and well off the pandemic-era peak of 17.5% last May.
They are now similar to levels seen between 2015 and early 2021, before the so-called pandemic home buying boom.
Simply put, today's home buyers don't need to come in with a large down payment to write a winning offer.
And buyers are able to utilize low-down payment options like FHA loans and VA loans again.
Median Down Payment Falls to $42,375 in January 2023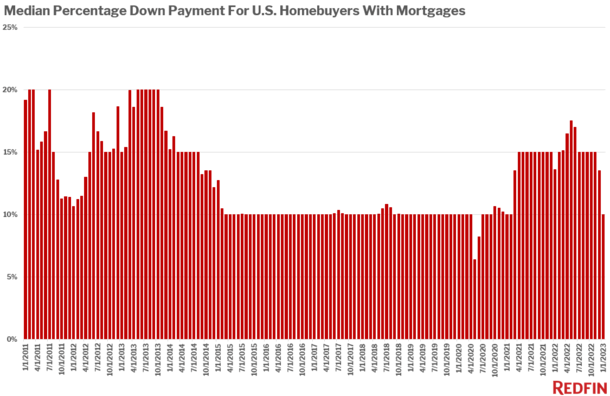 The median down payment by dollar amount was $42,375 in January, a 10.3% decline from a year ago.
Driving the decline is a lack of bidding wars, less competition, higher borrowing costs (aka mortgage rates), and lower home prices.
Collectively, this has pushed down payments more in line with levels seen prior to the COVID-19-fueled buyer's market.
Thanks to much higher mortgage rates, home prices have fallen back to earth. That lower sales price results in a lower down payment.
Home buyers also have less cash to put down because of higher anticipated monthly housing costs.
And some buyers are using that money to fund a mortgage rate buydown, assuming the seller or lender doesn't cover it.
We've also seen a big bounce in FHA loan lending, which had sunk to around a 10% market share last summer.
It has picked up tremendously as mortgage rates doubled, and now sits around 16%.
The use of VA loans has also increased, up to 7.5% from 6.1% a year earlier, with such loans rising to their highest level in more than two years.
Down Payments Highest in San Francisco, Lowest in Virginia Beach
While down payments fell nationally, there was quite a bit of divergence by metro.
Down payments were highest in highest in San Francisco at a whopping 25%, while 20% down payments were the norm in places like New York, Los Angeles, Seattle, San Diego, Miami, and West Palm Beach.
Conversely, down payments were lowest in Virginia Beach, VA, where the typical home buyer put down just 1.8% of the purchase price.
The reason down payments are so low there is due to a high concentration of VA loans, which do not require a down payment.
Another five metros had a 5% median down payment, including Atlanta, Baltimore, Detroit, Pittsburgh, and Washington, D.C.
On a year-over-year basis, down payment percentages increased in just two metros: Newark, New Jersey (12.5% to 19%) and San Francisco (23.3% to 25%).
Meanwhile, they fell the most in Sacramento (20% to 12.4%), Atlanta (10% to 5%), and Orlando (15% to 10%).
All-Cash Home Sales Hit 9-Year High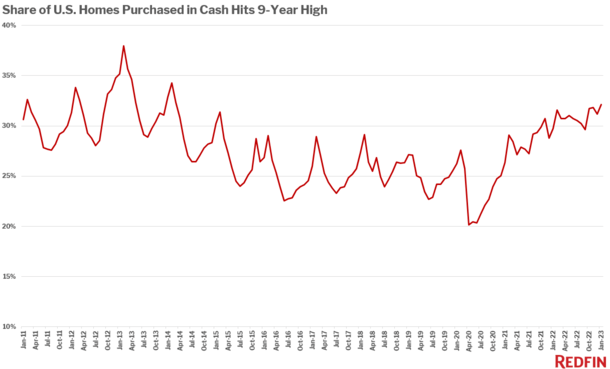 Despite a drop in median down payment, all-cash home sales hit their highest point in nine years.
Per Redfin, almost a third (32.1%) of U.S. home purchases were mortgage-free in January, up from 29.7% a year earlier.
This trend is also pretty easy to explain. Those with the means are foregoing home loans to avoid taking on a significantly higher mortgage rate.
As noted, 30-year fixed mortgage rates have more than doubled since early 2022, rising from around 3% to 7%.
This has greatly reduced housing demand, or simply put it out of reach for many prospective buyers.
But for those able to pay in cash, it's possible to snag a decent discount with prices down by double-digits in some metros. And they can do so without the usual competition.
All-cash buyers were also common in 2021 and early 2022. However, back then cash offers were utilized to beat out other mortgage-reliant buyers in bidding wars.
Mortgage-free home purchases were most common in West Palm Beach (52.5%), Cleveland (51.5%), and Jacksonville (46.6%).
They were the least common in metros like Oakland (13.9%), Seattle (19.7%), and Los Angeles (19.9%), where all-cash would be a tall order.
The share of homes purchased all-cash increased the most in Cleveland (17.2 pts.), Riverside, CA (14.8 pts.), and Baltimore (11 pts.).
The biggest all-cash share declines were seen in Atlanta (-10.7 pts.), Tampa (-4.5 pts.), and Charlotte (-4.3 pts.).
Read more: Do I need to put 20% down on a home purchase?