It makes sense that the mortgage industry would see its best quarter in history during a global pandemic.
Okay, it doesn't make sense, but that's what happened anyway, per the latest Mortgage Monitor report from Black Knight.
Mortgage Lenders Originated $1.1 Trillion in Home Loans During the Second Quarter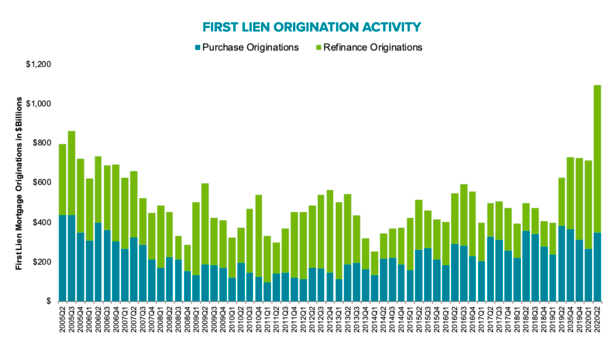 Mortgage lenders experienced best quarter in history during Q2 2020
Driven most by refinance loans thanks to record low mortgage rates
Refinancing was up 60% from first quarter and 200% from a year earlier
Purchase lending was only down 8% from a year earlier despite pandemic
The data analytics firm said about $1.1 trillion (yes, trillion) in first-lien mortgages were originated during the second quarter of 2020, the best three months on record since reporting began in January 2000.
The record numbers were mostly fueled by mortgage refinance transactions, which have surged due to continued record low mortgage rates, helped in part by the COVID-19 pandemic.
They said refinance lending was up more than 60% from the first quarter alone, and more than 200% higher than the same time last year.
Such home loans accounted for almost 70% of all first-lien mortgage originations in terms of dollar value, compared to just 39% in the second quarter of 2019.
Meanwhile, home purchase lending was down about eight percent from a year earlier, which is surprisingly strong given the economic uncertainty surrounding the coronavirus.
Some $351 billion in home purchase loans were originated during the quarter, thanks again to low mortgage rates and improved housing affordability that returned demand to its pre-COVID levels quickly.
We Might Set Another Record in the Third Quarter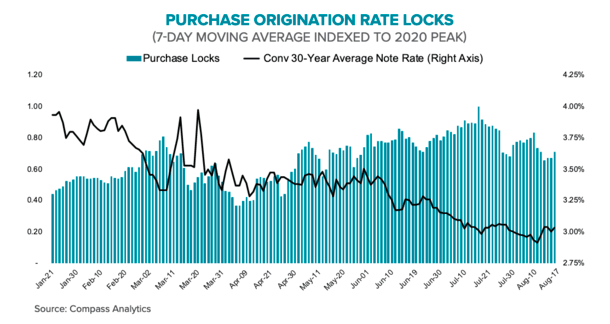 The third quarter of 2020 might be even better than the second
Rate lock data reveals that many more home loans are slated to close in Q3
And there are still nearly 18 million homeowners ripe for a refinance
So there's plenty of business left despite the already big numbers
Despite those amazing numbers, the record set in the second quarter might be very short-lived.
Based on rate-lock data gathered by Black Knight, the third quarter is looking like it's going to be even bigger.
The company said locks on home refinance loans are up 20% from the second quarter, assuming these loans close during the third quarter based on a 45-day lock-to-close timeline (how long does it take to close a mortgage).
They also pointed out that there are still nearly 18 million homeowners with sufficient credit scores and at least 20% home equity who could reduce their mortgage rate by at least 0.75% by refinancing.
And purchase locks that are scheduled to close during the third quarter are 23% higher than the seasonal expectation, which could be an indication of making up for lost time during the early days of the pandemic.
The second and third quarter combined purchase locks are more than 6% above their expected seasonal volume based on January's pre-pandemic baseline.
So in essence, the traditional spring home buying season was merely shifted into the summer months, which is great news for real estate agents and home builders.
Most Homeowners Refinance with a Different Mortgage Lender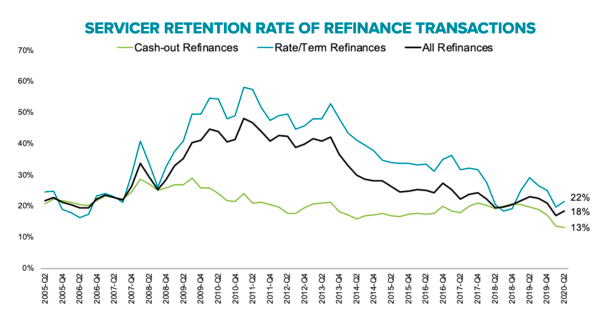 Customer retention continues to be an issue for mortgage lenders
About one in five borrowers use their original mortgage lender when refinancing
Despite very marginal differences in interest rates among lenders
But given how busy they all are it might not matter right now
Lastly, Black Knight highlighted the awful retention rates in the mortgage industry.
Simply put, most borrowers don't stick with their old mortgage lender when refinancing the mortgage.
Instead, they go with a new company, as indicated by the fact that just 22% of rate and term refinances and 13% of cash out refinances were retained in loan servicers' portfolios.
Essentially, less than one in five homeowners went back to their original lender during the second quarter.
Interestingly, the difference in mortgage rate pricing for rate and term refinance borrowers (into GSE mortgages) was only seven basis points lower on average than borrowers who stuck with their original company.
So while pricing is key to drumming up business, it shows lenders could probably retain many of their customers given the very marginal price difference.
Of course, it might be a case of a lender merry-go-round, with lenders simply taking each other's business over time, as opposed to some lenders losing out.
Nonetheless, identifying those borrowers ripe for a refinance should be a top priority for lenders/servicers if they're interested in driving more business and growing their portfolios.