We've got 5% mortgage rates and record high home prices. Does this mean the seller's market is finally over?
You would think so, given the massive increase in monthly housing payments since last year.
And the fact that the 30-year fixed now averages 5%, well above the sub-3% range seen six months ago.
Surely it's time for home buyers to receive some concessions (literally and figuratively) in this overheated housing market?
Well, despite all that, it appears the housing market is still chugging along just fine, though some new trends are emerging.
It's Never Been More Expensive to Buy a Home as Payments Increase 35% From Last Year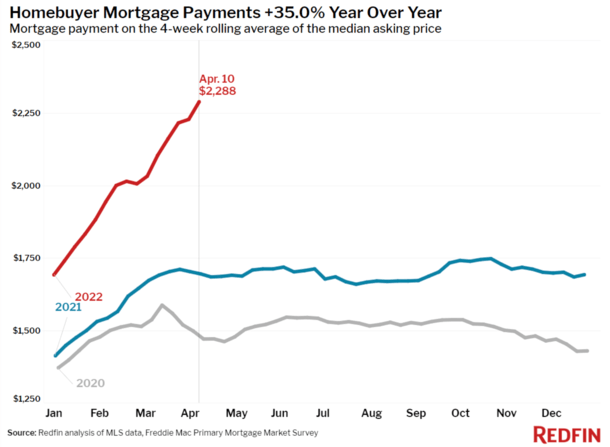 A new blog post from Redfin revealed that the median home sale price increased 17% year-over-year to a record high of $389,178 during the four-week period ending April 10th, 2022.
At the same time, the median asking price of newly-listed properties jumped 14% year-over-year to $397,747.
This is despite the fact that current 30-year fixed-rate mortgage rates are averaging 5%, up from 3.04% during the same period in 2021.
The typical home buyer's monthly payment is now up 35% from a year ago to an all-time high of $2,288.
You'd think home sellers would need to take this into account and stop being so greedy, but so far it's mostly business as usual.
In fact, 58% of homes under contract received an accepted offer within the first two weeks on the market, an all-time high (and up from 55% a year ago).
Additionally, 44% of homes under contract had an accepted offer within just one week, a new record and also above the 41% rate last year.
The homes that sold during this period were on the market for a median 18 days, also down from 26 days a year earlier.
Finally, 54% of homes sold above their list price, up from 42% a year ago, and just short of the all-time high set in July 2021.
What gives? How is this housing market continuing to defy expectations? Shouldn't demand drop as prices reach record highs?
Here Come the Price Drops?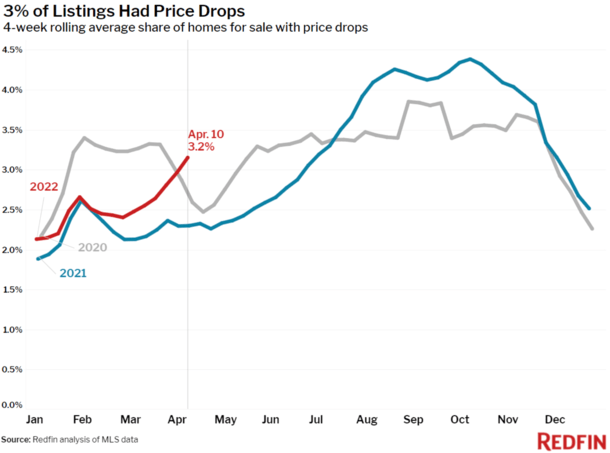 Despite all the new records noted above, there are some slivers of hope for home buyers in the report.
This biggest is that price drops appear to be accelerating, which is unusual during the meat of the traditional spring home buying season.
Granted, it may have gotten off to an early start this year, but there are signs of slowing home price growth.
Redfin noted that on average, 3.2% of homes for sale each week had a price drop, with 13% dropping their list price in the past four weeks.
That number is up from 10% a month ago and 9% a year ago. Not massive by any means, but still moving in the right direction if you're a prospective home buyer.
Additionally, the share of listings with price drops is increasing at the fastest rate during this time of year since at least 2015.
Typically, the share of listings with price drops moves slightly lower month-to-month as home sellers see the most foot traffic during spring.
But the surge in buyer interest may have occurred earlier in 2022, which means demand could be beginning to wane at the exact time mortgage rates hit their highest levels in over a decade.
While this sounds like a perfect recipe to end of the seller's market, there's just one little problem. Inventory.
There Still Isn't Enough Inventory to Tip the Supply/Demand Imbalance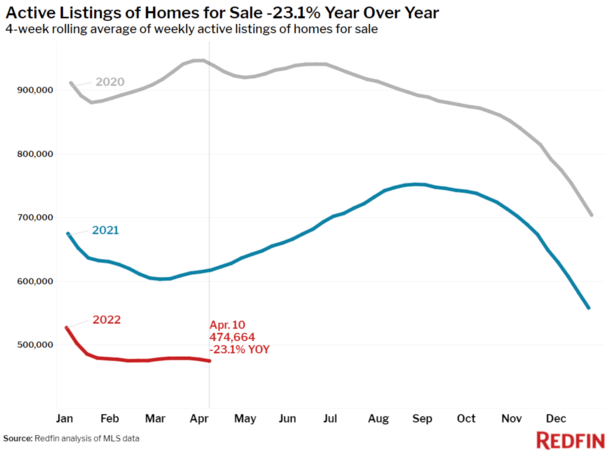 Sure, we're finally seeing an increase in price drops at an unusual time (during the peak spring home buying season).
These price decreases typically happen in fall and winter when there are fewer buyers circulating.
But we've got to keep things in perspective. How big are these price drops? And what was the original list price before the drop?
Ultimately, there's still a massive supply/demand imbalance, with new listings down 7% from a year earlier, their 21st straight annual decline.
And active listings (the number of homes listed for sale at any point during the period) were off 23% year-over-year.
This might explain why the average sale-to-list price ratio hit a new all-time high of 102.4%.
Put another way, the average home sold for 2.4% above its asking price during this time period, up from 100.4% in 2021.
So despite the affordability crunch many home buyers are probably experiencing, sellers aren't under immense pressure to lower prices, at least not significantly.
This lack of inventory is also buffering the housing market from crashing, especially with existing homeowners now locked-in by their 2-3% fixed mortgage rates.
As mortgage rates rise, they have less and less incentive to sell.
Further exacerbating all this is the mad rush by renters to get a 5% fixed mortgage rate before they increase to 6%, assuming they do.
However, there are early signs that home price appreciation is slowing. This means it'll be harder for sellers to keep increasing prices at the rate seen in recent months.
But it doesn't mean home prices are going to fall, at least not yet.