You may have heard that home buying sentiment is horrible at the moment, what with home prices and mortgage rates rising in tandem.
The continued lack of inventory coupled with rising prices and eroding affordability isn't making many prospective buyers happy.
And it's apparently the worst for young households, who are having to put their homeownership aspirations on hold at a critical time.
This is arguably much worse than the quandary for existing homeowners, who simply can't make a lateral move too easily.
Sure, they can sell for top dollar, but then they're in a similar boat with other buyers chasing too few "overpriced" homes.
The Survey Says…It's a Horrible Time to Buy a Home!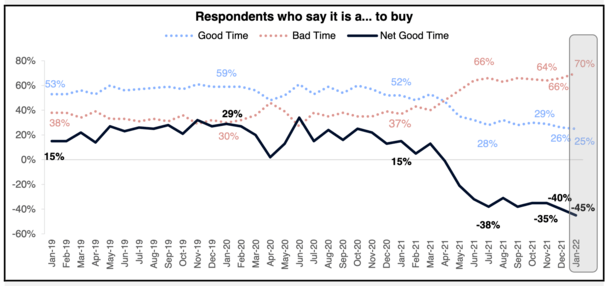 A new survey from mortgage financier Fannie Mae noted that just 25% of respondents said it was a good time to buy a home last month.
The January reading was the lowest in the history of Fannie Mae's National Housing Survey (NHS), which dates back to mid-2010.
At the same time, 70% said it was a bad time to buy a home, up from 66% a month earlier.
Taken together, the net good time to buy is -45%, down 5 percentage points from a month earlier and 60 percentage points from a year ago.
At this time last year, about 52% of respondents still felt it was a good time to buy a home, while only about 37% felt it was a bad time.
Since then, the good time and bad time trajectories have diverged in expected fashion.
But here's the thing. Just because people say it's a bad time to buy, or not a good time, doesn't mean they don't still want to buy.
Everyone Who Wanted to Buy a Home Probably Still Does
Despite the growing pessimism, most of these folks probably still want to buy and own a home.
It's just that they're becoming increasingly dejected by the lack of prospects, rising mortgage rates, and perhaps macroeconomic issues like inflation.
We all probably felt a lot richer six months ago than we do now. Today, the dollar feels like funny money and it only appears to be getting worse.
Meanwhile, household wages likely aren't keeping up, even if they've also risen somewhat over time.
Remember, homeownership is a good inflation hedge, as property values tend to go up as the dollar erodes.
And if you have a fixed-rate mortgage, the dollar amount stays the same, for 30 years or even longer.
But if you rent, your dollars become less powerful over time and there's a good chance your landlord will also up your rent.
It's a one-two punch that can be hard to stomach while asking prices continue to skyrocket.
Throw in a 30-year fixed that is no longer sub-3%, and nearly 4%, and well, you've got a lot of negativity toward home buying.
Most Expect Home Prices and Mortgage Rates to Rise More This Year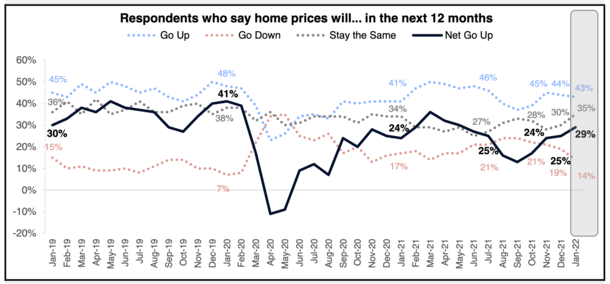 Unfortunately, there doesn't appear to be any hope for home buyers on the horizon, even if the pandemic is beginning to wane.
Both home prices and mortgage rates are expected to rise this year, with the 30-year fixed already inching toward 4%.
For reference, it was in the low 3% range (and sometimes below 3%) as recently as last summer and even fall.
On a $450,000 loan amount, we're talking a monthly payment increase of roughly $200. And that's if the loan amount didn't also increase thanks to a higher asking price.
While I don't know if they'll continue to rise (they could actually go down from here), the damage is already mostly done. And it all happened in short order.
At the same time, 2022 home prices could rise by double-digits, despite this.
That brings us to the expectation that if mortgage rates rise, home prices must fall. This isn't really a thing, despite it "making sense" on the surface.
In reality, both can rise together, fall together, or diverge. A lot of pundits seem to think rising rates will cool the housing market, but for me it's only exacerbating it.
So in the end, you might just have a more disgruntled, prospective home buyer out there. You don't necessarily have less demand. And you definitely don't have increased supply.
Higher mortgage rates will just deepen the lock-in effect of staying put and enjoying your appreciating house value and low, fixed interest rate.
Why sell your home today if you face staggering competition and an even higher mortgage rate when it comes time to buy again?