Think home prices are expensive today? Well, get ready for an even bigger shock. A new report claims 2022 home prices could be 16% by the end of next year.
For example, a home listed for $350,000 might be going for $406,000 next year. If you put down 20%, you'll need $81,200 instead of $70,000.
And if mortgage rates stay around 3% for a 30-year fixed, your monthly payment will increase from about $1,180 to $1,370.
That's if mortgage rates don't rise between now and then, which is certainly questionable at the moment.
In other words, if you're currently shopping for a home, you might want to get even more serious about it.
Why Will 2022 Home Prices Go Up Double-Digits?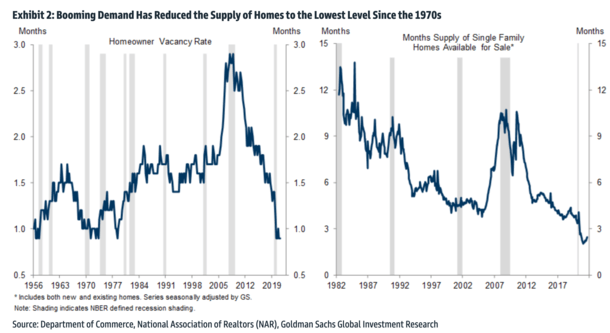 As I wrote last week, the same fundamentals that have been at play for a while now continue to be at play.
Namely, a very tight supply of available housing, ultra-low mortgage rates, and lots of prospective home buyers.
This hasn't changed because there is still a massive supply imbalance that home builders have yet to make up.
It's going to take time for builders to catch up, because well, building hundreds of thousands of homes takes time.
In the meantime, expect a highly competitive housing market, where bidding wars are the norm.
And don't assume the housing market has topped simply because home prices have risen roughly 20% over the past 12 months.
Winter Might Cool Things Down Temporarily
Goldman Sachs U.S. Economics analyst Jan Hatzius makes the same basic argument in his call for 16% higher home prices.
"The supply-demand picture that has been the basis for our call for a multi-year boom in home prices remains intact," he wrote in a recent report.
It's pretty straightforward really – inventory continues to be "historically tight," while it's still relatively cheap to buy a home despite recent price increases.
And he pointed out that several different surveys of home buying intentions remain at healthy levels.
Even though a larger number of respondents are indicating that it's a "bad time to buy a home," there are apparently "reluctant bulls" who will still buy.
Simply put, folks know home buying is a lot more expensive than it was recently, but they expect it to get even pricier.
That's why I was somewhat surprised by CoreLogic's recent forecast for home prices to rise just 2.2% from August 2021 to August 2022.
If nothing has really changed from this year to next, why would home price gains decelerate so much?
Of course, things might settle down in the next few months due to typical seasonal patterns, but don't expect any slowdown to become a long-term trend.
Rather, look at it as an opportunity if other home buyers take their foot off the pedal to focus on holidays and other stuff.
Buying a home in winter has its advantages, namely less competition and potential price cuts. Oh, and mortgage rates tend to be cheapest in December.
The Housing Shortage Isn't Easily Fixed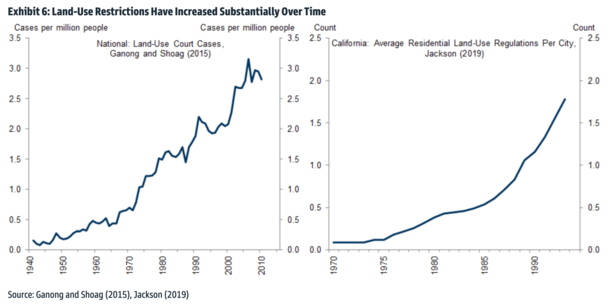 While the toilet paper shortage seemed to be short-lived (in hindsight), the lack of available homes for sale is a much bigger issue.
And one that doesn't appear to have any resolution other than just waiting it out while prices rise further.
Hatzius believes the housing shortage might last the longest of all the many shortages affecting the U.S. economy.
In case you weren't aware of the many shortages, the list is long and probably growing. We've talking lumber, cars, labor, semiconductor chips, tires, luxury watches, and even toys (don't tell your kids!).
Those might be temporary supply chain issues, or perhaps shifting demographic issues related to the labor piece.
But the housing shortage is a tougher nut to crack because home building is often impeded by regulatory constraints and zoning rules.
Additionally, home builders are facing even more headwinds like a lack of construction workers and available plots to build on.
And despite California recently abolishing single-family zoning statewide, steps like those probably won't make an immediate impact.
In fact, chances are they'll lead to an oversupply at some point down the line.
Everyone Wants to Buy a Hard Asset Right Now
This is further exacerbated by the fact that millions of Millennials and Gen Zers (I think that's how you say it) are coming of home buying age.
A couple years ago, I mentioned how 45 million Americans were expected to reach the typical first-time home buyer age of 34 over the next decade.
That's a whole lot of prospective home buyers going after a very small supply of homes for sale.
Making matters even worse, there's a rush to scoop up "hard assets" that can work as a hedge to inflation risks.
Remember, real estate is a great inflation hedge because property values will go up over time as the dollar erodes.
This means you've got everyone and their mother looking to purchase real estate, including institutional investors, cash buyers, and the poor saps who need to take out a mortgage.
As such, you should anticipate a very competitive housing market in 2022, similar to the one we've experienced in 2021.
And don't expect renting to be much better. Rents are also widely forecast to rise substantially, so it's really a no-win situation.
This might be driving that sentiment to just buy a home, even if you feel or know home prices are inflated.