Two words: Buyer's remorse. Not a big deal when buying lunch, but a pretty huge deal when purchasing a home you don't like.
A new survey from Redfin and Harris Poll revealed that a good chunk of Americans aren't too thrilled about owning their current homes.
In fact, one in four surveyed (2,027 adults total) said they wouldn't buy their home again if they were given the chance to go back in time.
Redfin CEO Glenn Kelman said they included that question in the survey because of all the bidding wars, flash sales, price hikes, and the overall lack of inventory.
Put another way, a lot of people might be rushing into buying homes just to "get in," as opposed to actually thinking the whole thing through.
Midwest Homeowners the Most Bitter
However, it was those in the Midwest that were the most bitter about buying homes, an area that doesn't really come to mind upon hearing the phrase "bidding war."
There, a whopping 28% indicated that they had buyer's remorse, beating out the Northeast slightly (27%), along with the South (25%) and West (20%).
On the age front, the oldest homeowners seemed the least concerned about their home purchase. In the 65+ cohort, a solid 85% said they'd buy their home again if they had the opportunity.
That compares to just 72% in the all-encompassing 18 to 64-year old category. I guess people really are more content once they get older…
In terms of gender, women were more likely to dislike their homes, with 27% feeling the remorse. Households with children 18 and younger were also 28% bummed.
Interestingly, those with higher household incomes were more stoked about owning, with HHIs of $100,000+ expressing satisfaction 86% of the time, compared to just 70% for those under $100k.
Same goes for college-educated homeowners – 82% satisfied versus just 70% for those with "some" college education.
Optimism for Rising Home Values Hits Highest Point Since 2007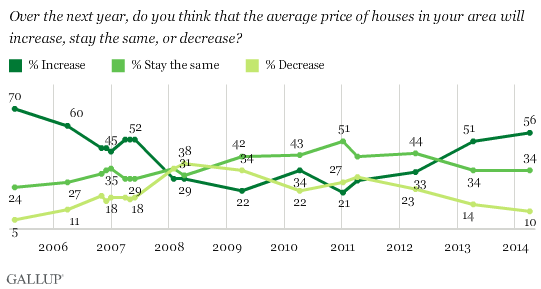 Meanwhile, another poll from Gallup revealed that optimism about the housing market hit its highest point since 2007.
When asked if home prices would increase, stay the same, or decrease over the next year, 56% said, "increase."
That's up from 33% two years ago and well above the low of 21% in January 2011. However, it has yet to surpass the 60%-70% readings that preceded the housing bubble.
That's probably a good thing – it buys us a little time before we're back in another crisis.
After all, it's euphoria that usually gets us all into a lot of trouble. As long as there is still some doubt about housing, we'll probably continue to snag more upside gains.
Gallup also asked homeowners if their home was worth more than what they bought it for.
A healthy 74% said "yes," which is up markedly from 53% two years ago, but nowhere close to the 90%+ levels seen back in 2006 and 2007.
In those days I don't even think that was much of a concern, seeing that home prices only moved in one direction.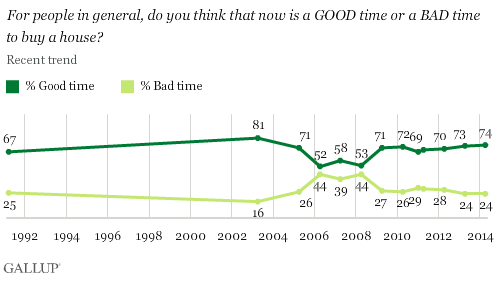 Lastly, they asked if now was a good time to buy a home. The large majority (74%) said it was indeed a good time, a number that has risen year after year since 2011.
It was as high as 81% back in 2003, and we all know what happened a few short years later. Perhaps if these numbers get bloated again, it could be a good indicator to SELL.
(photo: Benjamí Villoslada Gil)