Not that it matters much these days, but apparently Thursday is the best day to list your home for sale.
This is the latest advice from iBuyer and home valuation company Zillow, which noted that 21% of properties are listed on that particular day of the week.
What's So Great About a Thursday Anyway?
Roughly 21% of properties are listed for sale on Thursdays (the most of any other day)
The share of homes listed on Thursdays is as high as a third in some markets nationwide (Portland, Seattle)
Properties listed on a Thursday typically go pending faster than homes listed on any other day of the week
And homes listed on Thursdays are more likely to sell above their asking price
I like Thursdays – ever since college it's been the unofficial start of the weekend, something I didn't grasp until, well, college.
Fridays are generally the lighter work days (or school days), with most of the heavy lifting completed earlier in the week.
The other special thing about a Thursday, at least when it comes to real estate, is that open houses and private showings often take place on the weekend, when folks aren't working.
So if a property is listed just a day or two before, there's a good chance it'll be seen very shortly after, as opposed to sitting on the market all week before the prospective buyers start showing up.
Conversely, if you put your property on the market on say a Sunday, for some bizarre reason, it might not get a showing until five or six days later.
By then, it could be seen as a stale listing, at least in today's lightning fast housing market.
And considering the average time a property spent on the market in April was exactly one week (yes, seven days), a day or two more can be meaningful.
Per Zillow, 21% of homes are listed on a Thursday, with a rate around 33% in Portland and Seattle.
Meanwhile, just 13% of homes are listed on a weekend, which is lower than any individual weekday.
[The Best Time to Buy a Home Is in August and September]
Also List Your Home Before Labor Day If Possible
Listing during the week of April 22nd resulted in the best chance of selling above asking
The worst weeks of the year to sell recently were in mid- and late October
Homes sold the slowest during the week ending September 1st (Labor Day 2019)
Early-mid fall is the time when homes tend to sit on the market the longest
While day of the week can play a role, especially if the housing market isn't bananas, the time of year is probably a lot more important.
Generally speaking, Labor Day tends to represent the end to the traditional home shopping season, which begins in spring.
This is mostly a weather-driven phenomenon, largely because it's difficult to sell a home during a cold winter when it's snowing outside.
But in areas of the country where the temperature is nice year-round, it may not be much of a factor.
For example, you might be able to get away with listing a home in Southern California or Florida at any time throughout the year without a noticeable difference in demand and/or sales price.
However, to maximize your chances of a high selling price, list on a Thursday before Labor Day.
As you can see from the chart below, properties sold faster and were more likely to go above list in April for the metro of Los Angeles, based on pre-pandemic 2019 data.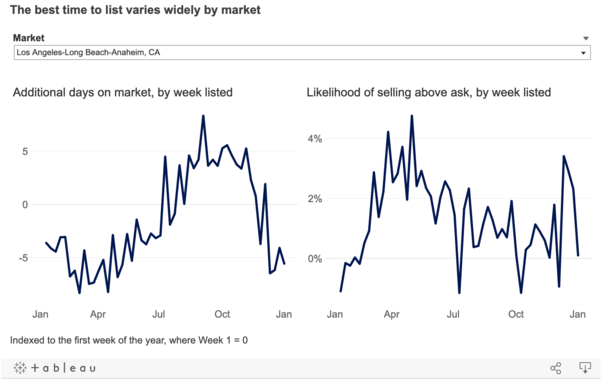 The same held true in many other markets, while late summer and fall tend to perform the worst.
This is typically because families are settled for the school year, assuming they have children, and other prospective buyers might be traveling and/or beginning to hunker down for winter.
In fact, Zillow even refers to that time of year as the "fall stall," when days on market rise and asking prices fall.
Forget About Dates, Focus on the Details
Dates can certainly play a role in real estate but aren't the be all, end all
Sellers can see success any time of year if they do their homework and use a good agent
A home sale can also fall flat during peak selling months if the listing and/or agent is poor
And it may not always be convenient to sell at a certain time of year anyway
While "best" days and months of the year are interesting and fun to read about it, perhaps more important is listing your property with care.
That means selecting a competent real estate agent, making necessary repairs ahead of time, staging your property using the latest trends, and even ordering a home inspection for yourself before a buyer does.
All of these things can easily eclipse the value of a specific list date, whether it's a Monday or a Thursday, an April or an October.
If you don't take the time to do your homework, clean and stage your home, address any red flags, and so on, it might not matter what day or month you list.
Sure, Sunday is the worst day to list for a quick sale, with properties remaining on the market a full eight days longer than homes listed on a Thursday.
And homes listed on a Sunday (and Saturday for that matter) were less likely to sell above ask. Fortunately, this issue can probably be easily remedied, but not the time of year if life has its say.
Ultimately, understand that there are better and worse times to sell a home throughout the year depending on your individual market, but if you can't time it perfectly, at least get all the other details right.
Read more: 12 Home Selling Tips for 2021