If you're thinking about selling your home, you've got a lot of options.
It's not 2012 anymore, when you simply enlisted the services of a real estate agent and went on about your day.
Or bravely went down the for-sale-by-owner (FSBO) path, a much less common scenario.
Today, there are many more ways to unload a property thanks to the disruptors.
What Is an iBuyer?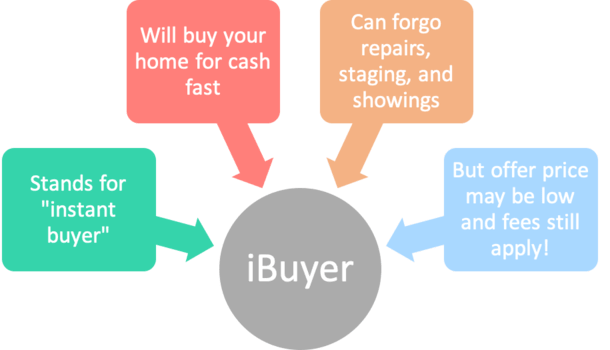 It stands for instant buyer, a company that buys your home and then sells it shortly after
iBuyers offer all-cash in as little as 24 hours
Can choose your own close date and sell property as-is
Downside is offer will likely be below traditional market offers and fees and repair costs still apply
By now, you've probably heard the phrase "iBuyer."
The term iBuyer is short for "instant buyer." These companies buy homes almost immediately, with all-cash offers generated in as little as 24 hours, and then sell them not long after.
While the valuation methods might differ from company to company, the name of the game is speed.
With some companies, you simply enter your address into an online form and provide details about your home and the computers do the rest.
They instantly run comparable sales and factor in any improvements your home has to generate a so-called competitive market offer.
Assuming you like their offer, they'll come by your home and verify the home is in the condition described, and adjust their offer to account for any necessary repairs.
Others might come to your home after you request an offer online, and once they see the property in person, you'll receive an offer shortly thereafter.
Either way, you'll get an offer fast, and it'll be all-cash, meaning there won't be any pesky mortgage lenders to deal with, or home buyers with cold feet who walk away last minute.
These iBuyers are generally happy to buy homes in any reasonable condition, without you having to worry about finding an agent, listing it, cleaning it, repairing it, staging it, giving tours, and waiting weeks or months for it to sell.
Some of the largest iBuyers include Offerpad, Opendoor, RedfinNow, and Zillow Offers. And even some real estate brokerages are getting into it, including Keller Offers from Keller Williams.
Selling a Home Isn't Fun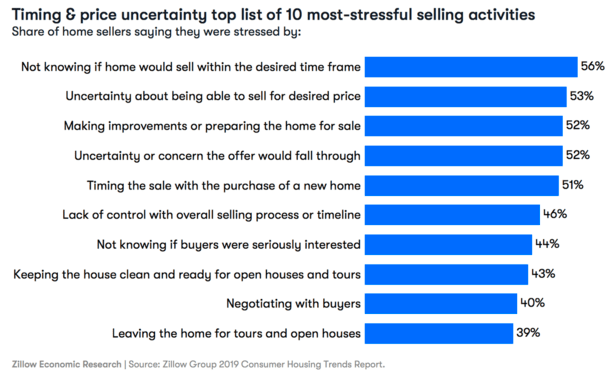 The reason iBuyers exist is because selling a home is basically the worst.
In fact, Zillow's 2019 Consumer Housing Trends Report found that 95% of home sellers were stressed by some aspect of the process.
As you can see from their chart of despair, home sellers have a lot of worries and concerns, with not knowing when the home would sell topping the list.
It was followed closely by uncertainty about it selling for the right price, having to prep and/or make improvements, concerns the offer would fall through, and timing the sale with a new home purchase.
These are all very legitimate issues to stress about, and younger homeowners are even more likely to be stressed by it all.
Enter Zillow Offers! But seriously, it is hard to part with a half-million-dollar property for the sheer fact that it's half-a-million dollars.
That just comes with the territory – as a homeowner, you've got responsibilities that renters do not.
You need to maintain your home, make repairs, keep it updated, pay lots of bills every month, property taxes, homeowners insurance, and so on.
And when it comes time to sell, you've got to do a lot of things to ensure it sells for the right price. Or you can use an iBuyer…
The Pros of iBuyers
You can sell your home very quickly
You don't need to find a real estate agent
You don't need to clean it, repair it, stage it, or hold open houses
You can choose your own closing date to coincide with a new home purchase
As noted, iBuying is all about speed and convenience. We can actually use Zillow's list from above to highlight the many advantages to using an iBuyer.
First, you can choose your closing date with an iBuyer, so that completely eliminates the fear of a property selling in a desired time frame.
Next, they tell you the price upfront, so if you're happy with said price, there's no stress.
Third, iBuyers will make repairs themselves, so you don't have to make them. Of course, there's a cost, but savvy home buyers will also make requests for repairs, so it's somewhat awash.
See Curbio for an alternative to paying for repairs out-of-pocket prior to listing.
Fourth, you don't have to worry about the offer falling through because it's a large company paying with cash that has done its diligence and isn't going to have second thoughts.
Fifth, and perhaps one of the biggies to iBuying, is timing the sale of your home with the purchase of a new replacement home.
They totally alleviate this concern because your offer is guaranteed and you get to choose your closing date.
This also covers the lack of control with the selling process and timeline, and not knowing if the buyer is "serious."
You also completely forego the touring (open houses), staging, and cleaning necessary with a traditional home sale.
In terms of negotiating, most iBuyers will probably say the price is the price, but you can still argue if you've made improvements and disagree with their assessment.
But you'll likely find that they aren't willing to budge much if at all.
The Cons of iBuyers
The price will likely be well below what a traditional buyer would offer
There are still fees that must be paid to the iBuyer in lieu of real estate agent commissions
Repairs will also cost you even if you don't need to complete them yourself
Buying and selling homes shouldn't necessarily be rushed
We've highlighted some of the pros of iBuying, namely the quick and easy process, and the all-cash offer. Sounds like a no-brainer, right?
Unfortunately, there's a cost to the convenience. Sure, you can have the valet park your car instead of walking a block to the restaurant, but it'll cost you $5.
That might be worth it though – with an iBuyer, the price could be significantly more devastating to your wallet.
You might miss out on $25,000 or more because of the inconvenience of selling yourself. Ouch!
At the end of the day, your competitive offer from an iBuyer is likely going to be significantly less than what the home might appraise for and/or what a traditional real estate agent would sell it for.
Additionally, iBuyers charge fees in place of real estate agent commissions, which while seemingly offsetting one another, probably don't because of the lower offer price.
The old cliché is that a real estate agent's commission is covered via a higher sale's price. So even if they get paid 5-6% of the sale's price, the home sells for that much more.
That's the theory at least.
When all is said and done, you'll likely receive less in your pocket if you use an iBuyer to sell your home, once factoring in their fee, the in all likelihood lower offer, and the cost of any repairs.
The question you need to ask is if it's worth the price. There are a lot of things we probably don't want to do, which we could have someone else do for us.
But there's a cost involved. And when we're talking about a very large transaction, the price is likely going to be steep.
Of course, you can always take the iBuyer up on their free offer to see if it's close to what you'd get going the traditional route.
In some cases, it may be worth the convenience, especially if you're trying to buy a replacement home.
But do your homework. You might need those extra proceeds for that subsequent home purchase.
An alternative might be to use a flat-fee listing company like Reali, which uses traditional real estate agents but doesn't charge the percentage fee.