How does an additional $1 trillion in annual home loan origination volume sound?
At the moment, it sounds incredible if you're in the mortgage industry and struggling to drum up business.
Volume has plummeted over the past year thanks to sky-high mortgage rates and a lack of for-sale inventory.
But that could change if interest rates creep back down and inventory begins to rise again.
Even if conditions don't improve all that much, FICO score competitor VantageScore believes the implementation of their credit scoring model could help tremendously.
FICO Scores Are the Only Game in Town, But That Will Soon Change
At the moment, mortgage lenders rely solely on FICO scores to determine a borrower's creditworthiness.
These scores range from 300 to 850, with scores below 620 considered subprime.
Come 2024, a new credit score provider will join the fray, at least for loans backed by Fannie Mae and Freddie Mac.
The Federal Housing Finance Agency (FHFA), which oversees Fannie and Freddie, announced earlier this year that the implementation of the new credit score models is expected to roll out over two phases in 2024 and 2025.
In the third quarter, they anticipate the delivery and disclosure of additional credit scores provided by VantageScore. And the replacement of FICO legacy scores with the new 10T model.
By the fourth quarter of 2025, this will include the incorporation of the new scores into pricing, capital, and other processes.
Along with that, they are transitioning from requiring three credit reports (known as a "tri-merge") to requiring just two credit reports ("bi-merge").
So borrowers with credit scores from just two of the three major credit bureaus will have less issue qualifying for a mortgage.
And it may be cheaper to purchase a bi-merge credit report instead of a tri-merge report.
But the biggest potential impact is in allowing a completely new credit score provider into the mortgage space.
Mortgage Lenders Could Originate 2.7 Million More Home Loans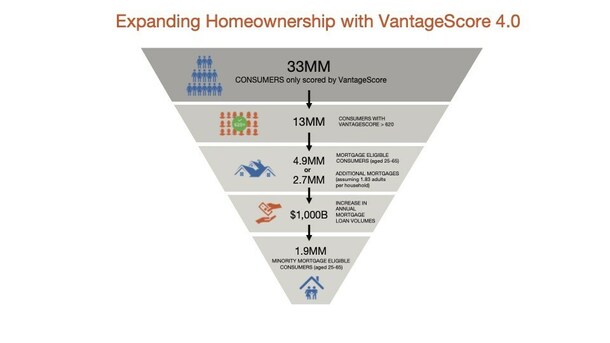 VantageScore believes it can expand homeownership because its credit score incorporates many more credit-invisible borrowers.
Their research found that millions of consumers characterized as "dormant" are simply infrequent or rare users of credit.
They cite an example might of a consumer who prefers to pay in cash but recently repaid an auto loan without missing a payment.
While these consumers may not have FICO scores, they could be scored with VantageScore.
The company says such consumers accounted for 73% of the newly scoreable population and 91% of the newly scoreable population with credit scores over 620.
In total, VantageScore estimates that 33 million consumers can only be scored by them.
Of those, some 13 million have a VantageScore of over 620, which as stated is the subprime cutoff.
It's also the lowest credit score accepted by Fannie Mae and Freddie Mac for a conforming loan.
They further break it down to 4.9 million mortgage-eligible consumers aged 25 to 65 and estimate that there are about 1.83 adults per household.
This could result in 2.7 million more mortgages, resulting in an additional $1 trillion in annual loan origination volume.
And 1.9 million minority mortgage-eligible consumers, which is a big focus for the GSEs and individual banks and lenders.
The math works out to an average loan amount of roughly $370,000. It's a big number, but even if some of their claim materializes, it could be a big shot in the arm for the mortgage industry.
What About Mortgage Default Rates and VantageScore?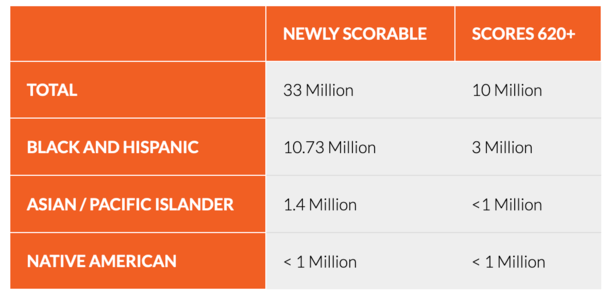 You might be wondering if using a new, relatively unheard of credit score is a good idea in the mortgage space.
Especially at a time when housing affordability has rarely been worse. It's a legitimate question.
While this has certainly been an obvious concern, the company claims default rates for consumers "were better or similar to those of consumers conventionally scored."
This is based on "rigorous testing performed during model development and on an ongoing basis."
But ultimately, we won't know for sure until these credit scores are actually put to the test.
Either way, one could argue that allowing alternative scores from multiple vendors is good for avoiding monopolies.
By the way, VantageScore was developed by the nation's three Nationwide Consumer Reporting Agencies (NCRAs), Equifax, Experian, and TransUnion.
It was launched in 2006, and has taken nearly 20 years to get this point. So it will surely be a big deal once implemented.
Their newest model scores approximately 94% of all adults 18 and older, "without sacrificing safety and soundness."
This includes historically marginalized, minority, and lower-to-middle income Americans.
The company said more than 3,000 lenders used more than 19 billion VantageScore credit scores in 2022, a 30% increase from 2021.