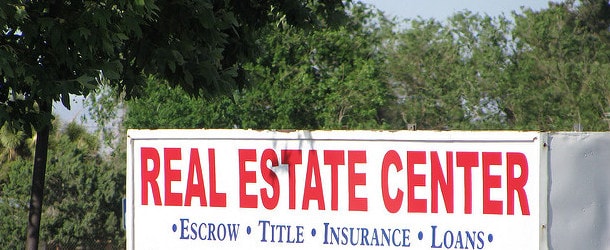 Mortgage Q&A: "What is title insurance?"
When you apply for a mortgage, keep in mind you'll need to pay a number of closing costs, including a variety of insurance policies to protect the underlying asset, your home.
A charge you may have overlooked is title insurance, though it's often one of the largest costs associated with taking out a home loan.
As the name suggests, it is a cost associated with and paid to an insurance company, not the mortgage lender. That makes it a third-party fee, and a costly one at that.
On the Loan Estimate (LE) disclosure you receive, you'll see it under Section C of Loan Costs, labeled, "Services You Can Shop For."
In other words, you are able to and encouraged to shop around for title insurance, though my assumption is most homeowners just go with the company recommended to them.
To make matters even more complicated, there are two types of title insurance policies you may need when you take out a home loan.
There is lender's title insurance and owner's title insurance. Let's explore both in depth so you better understand what you're buying here.
Lender's Title Insurance Is a Must If You Have a Mortgage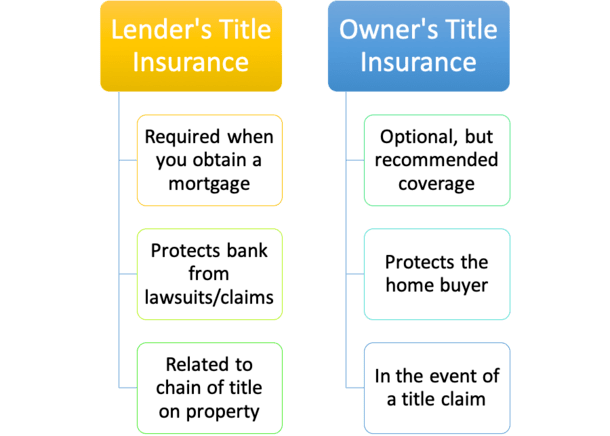 There are two types of title insurance
The lender's title insurance policy is required when you take out a mortgage
It protects the bank/lender from any lawsuits or claims
That arise from the chain of title on the subject property
If you take out a mortgage on a residential property, title insurance is required by banks and lenders (lender's title insurance).
It protects them against any lawsuits, claims, and/or losses arising from the chain of title tied to the subject property.
This includes things like unpaid real estate taxes, liens, easements, fraud, court actions and other encumbrances, put in place by the government, contractors, previous lenders, and creditors.
As opposed to traditional insurance, title insurance is retroactive, meaning it covers issues leading up to when you purchased the property, not after.
It's based on the loan amount, which is the lender's investment.
And it's required because your lender actually has a huge financial stake in your property, probably more than you do if you didn't put very much down on your home.
After all, if they're lending 80% (or more) of the property value, they're pretty heavily invested and will want to know that title is free of any defects that could jeopardize their financial interest.
But despite it being in their best interest, you as the borrower must pay the lender's title insurance policy.
Title Insurance on a Refinance
A lender's title insurance policy lasts until the loan is repaid or refinanced. In case you weren't aware, a refinance pays off your old lender and provides you with a new loan.
You must purchase a new lender's title insurance policy if you refinance your mortgage, regardless of whether you take out the new loan with the original lender.
As for why, a lot could have happened between the time you got your original mortgage and the refinance.
For example, there could be a mechanic's lien on the property due to a dispute with a contractor. Or a child support lien.
A previously undiscovered encumbrance or easement could also affect ownership of the underlying property and create problems.
Ultimately, if any time has passed the new lender will need to ensure you've got clean title before they hand over several hundred thousand dollars or more.
However, the refinance rate should be significantly cheaper than the basic rate tied to a home purchase.
But take caution, as there have been numerous complaints concerning title insurance providers charging rates as if it's a brand new policy.
Tip: Be sure to ask for a "refinance policy," or the "reissue rate" or "substitute rate" when shopping for a lender's title insurance policy.
You can save a substantial amount of money when purchasing a new policy for the same borrower on the same property. We're talking half off or more!
Owner's Title Insurance Is Optional But Recommended

The other type of title insurance is the owner's title insurance policy
This optional coverage protects the homeowner in the event of a title claim
The good news is it's often purchased by the home seller
But this isn't always the case depending on where the property is located
Owner's title insurance may also be purchased to protect you, the homeowner, against any title issues that may come up.
It is OPTIONAL, though highly recommended and most homeowners opt to buy it like they do most other insurance without batting an eye.
The owner's title insurance policy could be paid by the property seller (mandatory in some states), by the home buyer, or split equally by both parties.
These rules vary from state to state and even from county to county! Here is how it works in the state of California.
The policy cost will vary from state to state, and is based on the sales price of the property, aka your investment.
An owner's title insurance policy is indefinite so long as you or your heirs have interest in the property, meaning it's a one-time cost.
That's the one piece of good news, other than the perceived peace of mind in being insured.
If you purchase both a lender's and owner's title insurance policy at the same time, you may be eligible for a discount.
You can comparison shop for title insurance in most states, though the price is set in states like Florida, New Mexico and Texas, and pretty uniform (thanks to rating bureaus) in DE, NJ, NY, OH, and PA.
Like anything else, costs can always be negotiated, and not all title-related costs are set in stone, so be sure to shop a bit as you would for anything else.
Do You Need Title Insurance If You Pay Cash?
Assuming the home purchase is an all-cash transaction
Title insurance is optional because a lender isn't involved
But that doesn't necessarily mean you don't need it
It's just a risk you'll need to weigh personally as opposed to it being mandatory coverage
A common title insurance question concerns those who purchase their properties outright with cash, forgoing the mortgage process entirely.
While that eliminates the need for a lender's policy, it still leaves you with the decision on an owner's policy.
This is somewhat similar to homeowners insurance, which is required when you use mortgage financing to purchase a property, but a choice when you pay for a house in cash.
Of course, how many folks buy a house in cash and decide not to cover it with a homeowners policy?
I can't say for sure, though my guess is not many, especially since they're more heavily invested.
Just because you have the option to forego a cost doesn't mean you should, or that many individuals do.
Even if you're diligent and conduct a lengthy title search, unexpected things can come up.
Furthermore, there's a decent chance the home seller will foot the bill for the owner's title insurance policy anyway, so it might be moot.