The latest buzz in the mortgage world is e-mortgages, or digital mortgages, or paperless mortgages. Or mortgages that don't require human interaction, or the painstaking process of getting dressed in the morning.
But it turns out people still matter, despite the obvious and unstoppable shift to online, and soon (already happening now) to mobile.
This Blog Is Alright, I Guess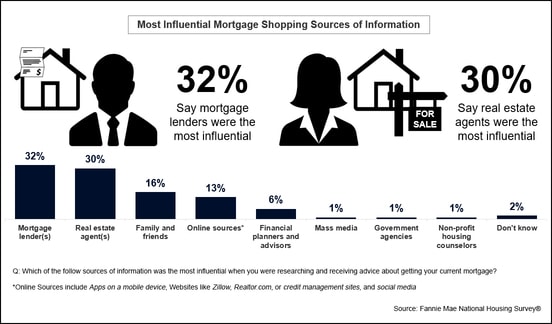 Wondering who influences mortgage shoppers the most?
It's a close race between mortgage lenders
And real estate agents
Both interested parties to the transaction so consider independent research!
A survey released by Fannie Mae today found that while prospective home buyers are increasingly turning to online sources for mortgage and real estate information, they still trust in people.
Fannie Mae asked folks who had purchased a home in 2016 with a Fannie-backed mortgage which source of information was the "most influential" while researching and gathering advice.
And it turns out it wasn't this blog. Shoot!
Instead, it is mortgage lenders and real estate agents who are the most influential. If you're wondering why, it's because they, along with friends and family, are seen as "more trustworthy and credible" than online sources, aka my blog and others like it.
I'm fine with that, though as I've pointed out in the past, real estate agents can often determine where their borrower will get a mortgage, better or worse.
And really, I think my blog and others like it simply fit into the new ecosystem to provide additional sources of information, different perspectives, and perhaps some sort of checks and balances.
Speaking of my blog, which falls under the umbrella of "online sources," it was cited by only 13% of respondents as the most influential source of mortgage shopping information.
While not as strong as those other groups, it's still pretty impressive that a decent chunk of the population believes in online content. And more importantly, takes the time to do their own research, instead of taking their real estate agent or lender's word for it.
Mortgage Blogs Are Convenient and Useful, But…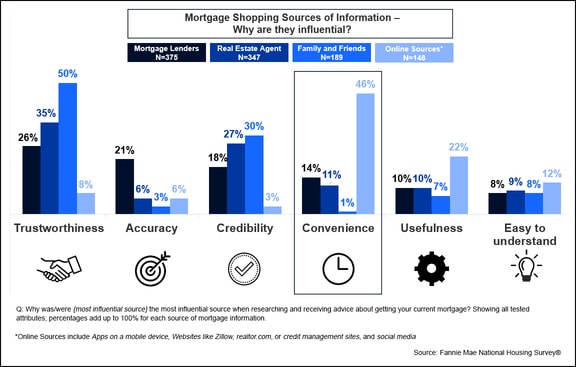 Consumers also like relying on mortgage blogs like mine
Because information is easy to understand, convenient, and useful
But there are trust, accuracy, and credibility issues
So always be sure to take what you learn with a grain of salt and do your diligence
So it turns out that people do like mortgage blogs, since they're both convenient and useful, and also easy to understand, but apparently accuracy and credibility are some major concerns.
Again, that totally makes sense since anyone can throw together a website and slap it online. And we all make mistakes, guidelines change, and things get outdated. And mortgages can be incredibly complicated, moving targets.
Perhaps more troubling is the fact that mortgage borrowers find their family and friends more credible than real estate agents and lenders.
And that when it comes to accuracy, real estate agents and bloggers are on similar ground. It is only mortgage lenders that win in that category, since they are, after all, the ones doling out approvals.
In the trustworthiness category, family and friends win out, unsurprisingly, followed by real estate agents, mortgage lenders, then online sources.
That all sounds right, as it should, though as noted, it's good to see borrowers looking beyond those interested parties.
Mobile Will Be Big, But Humans Will Still Matter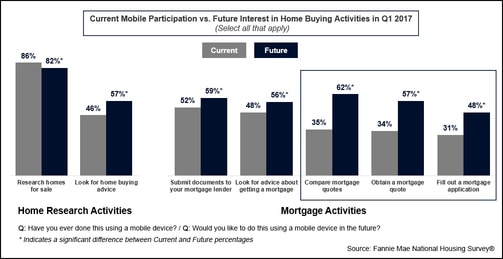 While we've seen a big shift to digital mortgages and smartphone use
And less human touch thanks to technological gains
People will still matter in the long run
Especially when dealing with major financial transactions like home buying and mortgage origination
Fannie Mae also inquired about so-called "mobile participation" to determine how many folks were doing what with their smartphones.
And it turns out a ton of people are already using their mobile devices to research homes for sale, submit loan documentation to lenders, to seek advice on the process, to compare mortgage rates, and even to fill out mortgage applications à la Rocket Mortgage.
These numbers, while already quite high, are only expected to rise, which clearly shows us where this industry (and everything else) is headed.
It's basically innovate or die, and make sure you're mobile ready.
But the other responses in the survey reveal something even more important, that personal interactions still matter, now more than ever.
(photo: Saundra Castaneda)