Do you know how long it takes for the space shuttle to reach orbit? Apparently it takes just eight minutes, the same amount of time it will take borrowers to get a full mortgage approval online via "Rocket Mortgage."
At least, this is the powerful claim the company is touting via a new online mortgage approval engine that promises to shake up the age-old, and very stale home loan process. They created quite a stir during their Super Bowl ad as well.
The company launched (no pun intended, honest!) the "end-to-end online product" in late 2015 in what appeared to be a direct response to the many online mortgage startups now in existence.
Essentially, parent company Quicken Loans didn't want to get left behind, and in fact, wanted to be a leader in the new digital mortgage world. So far, it seems to be working.
Jump to Rocket Mortgage topics:
– What Is Rocket Mortgage?
– The Rocket Mortgage Application Process
– Loan Programs Offered by Rocket Mortgage
– Affordable Home Buying Options
– Rocket Mortgage Rates
– Rocket Mortgage Partnerships
– Should I Use Rocket Mortgage?
– Rocket Mortgage Reviews
– Rocket Mortgage vs. Quicken Loans
– Rocket Mortgage FAQ
They Want to Be the Cool and Easy Mortgage
Rocket is a brand-name home loan that exudes speed and simplicity
Relies on latest technology to target Millennials and Generation Z home buyers and homeowners
Targets those who prefer to use smartphones and texts as opposed to speaking to humans
They compete with other disruptors in the space that are trying to accomplish the same thing with so-called digital mortgages
The nascent space is still in its infancy, but there are already multiple players Quicken needs to keep its eye on, including the likes of Better Mortgage, Lenda, Sindeo, SoFi, LendingHome, and many others, some of which are popular with Millennials thanks to offerings like student loan refinances and the like.
Most of the startups above consider themselves online mortgage lenders that cut out the middleman (the loan officer), while promising to make home buying or refinancing a lot easier than it has traditionally been.
Quicken seems to have taken notice with their latest move, referring to themselves in the press release as the nation's "leading FinTech mortgage lender."
Short for financial technology, "FinTech" is the latest buzzword taking Silicon Valley by storm. It basically describes any financial company harnessing the power of the Internet to conduct business more efficiently.
Quicken Loans claims it took more than 500 Detroit-based developers and various other employees some three years "to completely redesign the highly complex mortgage process."
That may seem hard to believe. But they are the nation's largest mortgage lender. And got there thanks to their technology.
Rocket Mortgage Sponsors
Rocket Mortgage also recently became a sponsor for NBA 2K League team Cavs Legion. It is a virtual Esports team owned by the Cleveland Cavaliers. Their logo will appear on the team's shorts.
They also became an Official Mortgage Partner of the Los Angeles Rams. And will display in-stadium signage at Rams home games.
Their product recently appeared in the movie Avengers: Infinity War. So it's clear who their target market is.
Additionally, their logo will feature on the Detroit Lions practice jersey during the 2018 preseason. This is part of the "2018 Detroit Lions Training Camp presented by Rocket Mortgage" sponsorship deal.
And they will continue to be the official mortgage lender of the Detroit Lions during the regular NFL season.
Lastly, the inaugural "Rocket Mortgage Classic" will take place in late June each year at Detroit Golf Club. It is the first ever PGA Tour event to be held in the city of Detroit.
So clearly they're doing plenty to get the word out on the marketing front. Of course, all that spending has to be recouped somewhere.

What Is Rocket Mortgage by Quicken?
A streamlined home loan approval process offered by Quicken Loans
One of the largest mortgage lenders in the nation
Allows customers to import financial information into the loan application
Instead of faxing/printing/uploading documents slowly
Officially, it's known as "Rocket Mortgage by Quicken Loans." But the fine print says the lending services are provided by Quicken Loans Inc., a subsidiary of Rock Holdings Inc.
So in a sense, it's just Quicken Loans' new persona, which is aimed at making things super easy, something everyone is really into these days thanks to the internet.
They also have a personal loans subsidiary known as "RocketLoans" that is known as a Quicken Loans family company. It's unclear if these are separate companies, or if Rocket Mortgage is simply a brand.
Anyway, the process goes beyond just taking online applications.
It gives applicants the ability to import documentation from other vendors, similar to how TurboTax will allow you to import your financials.
So you can simply enter login info for checking accounts, a brokerage account, mutual funds, a Roth IRA, and so on, instead of downloading documents and uploading them.
This makes the home loan process, whether you're refinancing or buying, more accurate and a lot faster.
Taking Rocket for a Spin
I took Rocket Mortgage for a spin this morning but only made it so far before I was asked to enter my social security number. That's when I closed the browser and gave up, for obvious reasons.
But it's basically a very involved online mortgage application that asks all the important questions to determine if you're eligible for a mortgage. You can also complete the process via smartphone too (Rocket Mortgages app free in the app store).
The app allows borrowers to e-sign documents and have conversations with their loan officer.
Once you're approved, you finish the loan process via MyQL. This is an online portal that lists next steps, including any loan conditions that must be fulfilled.
This differs from some online mortgage lead forms that just ask basic questions and then follow those up with a call from a mortgage broker or loan officer to see if you truly qualify for a mortgage.
It seems Rocket wants to get you approved for a mortgage completely online. And will actually make it happen with an e-signature to seal the deal. The entire mortgage journey via smartphone is probably the end goal here.
But first you need to sign up with Rocket to access the online questionnaire.
You'll be asked to answer many, many questions, including queries about the subject property (like the home value) and details about yourself, such as what you do for a living, what assets you have, and so on. It's pretty much a full-fledged mortgage application.
At the end of the application process, they run your credit and then let you know if you're approved for a mortgage with Rocket Mortgage.
My assumption is all the liabilities (student loans, auto loans, credit cards, etc.) that appear on your credit report are automatically inputted into your application on the fly in seconds.
You'll be able to see all three of your credit scores and your three-bureau credit report online.

Find Out If You're Approved in Minutes with Rocket Mortgage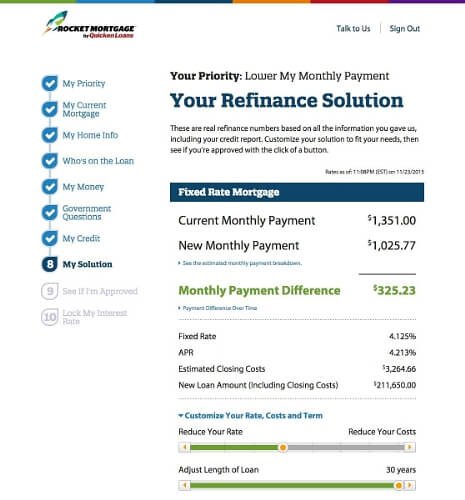 Based on your answers, they'll provide you with a "solution" for either your refinance or purchase application if you're buying real estate.
If it's a refinance, they will display your current monthly payment, which you provided, and calculate your monthly mortgage payment based on that solution.
It will show the interest rate, APR, difference in mortgage payment, and closing costs. You can also use a slider to customize your loan. For example, you can reduce your out-of-pocket costs in exchange for a higher interest rate or vice versa.
You may want to utilize a third-party amortization calculator and/or refinance calculator to see what makes the most sense for your unique situation to customize your loan properly.
I'm assuming you can also choose other home loan options like the 15-year fixed or an adjustable-rate mortgage.
Home buyers should take note that the payment listed doesn't include property tax or homeowners insurance. This is an important detail if you have escrow accounts.
You also have the ability to change the mortgage term if you want something longer or shorter. This may incorporate their YOURgage product that lets you choose a specific mortgage term.
Import Documentation Online with Rocket Mortgage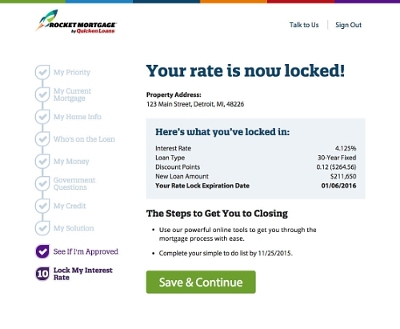 From there, you'll also be able to lock in your mortgage rate so it's guaranteed. Then simply complete a "to do list" by a certain date and you'll be all set.
Rocket Mortgage also allows you to import asset, income, and property information online thanks to "numerous partners and databases throughout the country."
It sounds kind of like Turbo Tax where you can sign in to certain accounts and have the information imported directly into the mortgage application.
This should reduce the headaches of incomplete paperwork and missing pages that often need to be re-sent over and over again.
You'll also be able to view all your loan details and documentation online or on your mobile device to keep track of your progress.

Loan Programs Offered by Rocket Mortgage
Rocket Mortgage offers a full menu of loan programs to suit most home buyers and existing homeowners.
This includes home purchase loans, refinance loans, and even a home equity loan. If you're an existing owner, their cash-out refinance also allows you to tap your equity.
If you're a prospective home buyer, they've got conventional and government loan options available, including FHA loans and VA loans.
The only main government loan type missing is USDA loans, which aren't offered by all lenders out there.
They also offer jumbo loans with loan amounts as high as $2.5 million.
Both fixed-rate and adjustable-rate mortgage options are available, including the 30-year fixed, 15-year fixed, 7/6 ARM, and 10/6 ARM.
Rocket lends on all major property types, including single-family homes, condos/townhomes, investment properties, and most recently manufactured homes!

Affordable Home Buying Options
In December 2022, Rocket Mortgage launched "Purchase Plus," which offers up to $7,500 in lender credits for first-time home buyers in underserved communities.
It's available in specific census tracts in the following six metros – Atlanta, Baltimore, Chicago, Detroit, Memphis and Philadelphia, with no exclusions based on area median income.
The credit consists of a $5,000 base plus an additional lender credit up to 1% of the home's purchase price (up to $2,500).
Rocket also offers the "Detroit Home Loan+" that provides a $2,500 lender credit for those who purchase a primary home in Detroit (Hamtramck and Highland Park are excluded).
In early March 2023, the company said it became the first national lender to offer Freddie Mac's BorrowSmart Access program.
It offers a $3,000 credit for first time home buyers, which can be used toward the down payment.
The BorrowSmart down payment assistance program is available in 10 metro areas, including Atlanta, Chicago, Detroit, El Paso, Houston, McAllen, Memphis, Miami, Philadelphia, and St. Louis.
Buyers' incomes must not exceed 140% of the area median income (AMI) and they must meet all other Freddie Mac underwriting guidelines.
In May 2023, they launched One+, which is a 1% down payment program where the company provides 2% via a grant. It is a conventional loan backed by Fannie Mae.
The BUY+ and SELL+ Credits and Rebates
Those who use a Rocket Homes partner agent to purchase a home can receive 1.5% lender credit when using Rocket Mortgage.
Known as BUY+, you simply need to use one of the agents in the Rocket Homes network.
Alternatively, you can earn a 0.75% credit when referred by your own agent, or when completing a Verified Approval or a RateShield letter.
To be eligible you must lock your rate on or after 3/31/2023 through 8/31/2023.
If you're selling a home, you can earn a 1% rebate of the sales price when using a Rocket Homes network agent. This is known as SELL+.
The rebate is available in states where such rebates are permitted.
You must be referred to a Rocket Homes Network Partner on or after 3/31/2023 through 8/31/2023.

Are Rocket Mortgage Rates Lower than the Competition?
Their mortgage rates seem to be similar to other large retail banks
But you might be paying more for a brand name
Smaller, lesser-known lenders may offer lower rates
So take the time to compare rates among competitors
Good question. I don't know for sure, and it will always vary, so be sure to take the time to compare rates. The best way to find out is to shop around and compare Quicken Loans mortgage rates to those of other banks and lenders.
I looked up Rocket mortgage rates the other day and saw they were offering a rate of 3.875% on a 30-year fixed whereas Bank of America had an advertised rate of 4%.
So they might beat out the other big retail banks slightly. But some smaller direct mortgage lenders were offering rates as low as 3.75% on the same day. In other words, it's possible you might pay more for the brand name.
Think of it this way; big companies with large advertising budgets have to recoup those costs somehow.
So mortgage rates might be higher to compensate versus a smaller lender that doesn't advertise and keeps overhead costs super low.
Of course, finding those smaller lenders will take more work on your end, which is kind of how all business works.
Also keep an eye on closing costs, which you would think might be cheaper if the whole process is automated, but you never know.
Quicken Loans RateShield Approval
They now offer a combined conditional approval and rate lock product
It is available on home purchase loans
Protects you in the event interest rates rise while searching for a home
It can also make your offer stronger if facing other competition
The company recently launched a new benefit called "RateShield Approval." It allows you to lock your interest rate before actually finding a home to purchase.
When obtaining a conditional approval from the company, you can lock your interest rate for as long as 90 days.
Once you eventually submit your signed home purchase agreement, they'll compare your locked rate to published rates for that date.
If rates increase between that time, your original locked rate is good to go. If rates happen to fall, they'll re-lock at the lower of the two rates for another 40 to 60 days.
RateShield Approval can make your offer more competitive, with home sellers aware you're able to obtain a mortgage regardless of what happens to interest rates along the way.
RateShield Approval is available on conventional, FHA, and VA loans, but only for 30-year fixed mortgages.
Rocket Mortgage Launches a Credit Card and Loyalty Program
Recently, Rocket Mortgage launched both a loyalty program and a credit card geared toward homeowners and home buyers.
The loyalty program allows future customers to earn rewards points that can be redeemed for a reduction in closing costs.
For every 10,000 Rocket Rewards points you earn, you'll have $100 worth of value if applied to a Rocket Mortgage home loan.
Similarly, those who hold the Rocket Visa Signature Card can earn 5 points per dollar spent.
If you spend $5,000 via the card that would equate to 25,000 Rocket Rewards points, which are worth $250 when redeemed toward a new mortgage, including the down payment (5% cash back value).
Existing Rocket Mortgage servicing customers can redeem the same 25,000 points for $100 off their principal loan balance (at a lower 2% cash back value).
It's also possible to combine points earned via the loyalty program and credit card when taking out a new mortgage.

Rocket Mortgage and Santander Bank
In August 2022, Rocket Mortgage announced a partnership with Santander Bank, which has since exited the residential mortgage market.
Santander Bank customers can apply for a home loan via Rocket Mortgage and receive special discounts. This includes a loan level pricing adjustment of .625% and $500 to be used toward closing costs.
The LLPA reduction could result in a lower mortgage rate, perhaps by .125% or .25%. And the $500 closing cost discount means less due at signing.
Taken together, it could be enough to sway your lender decision if you have other quotes that are similar or better.
Rocket Mortgage is also providing "enhanced discounts" to Santander Private Clients and Santander employees who use the company to get a home loan.
Be sure to mention that you're a Santander customer/employee if and when you obtain a quote from Rocket Mortgage to enjoy the discounts offered.
Fourth Capital Bank Partnership
In February 2023, Nashville, TN-based Fourth Capital Bank struck a deal with Rocket.
The community bank has integrated Rocket Mortgage digital loan application into its own mobile app and online banking experience.
This means Fourth Capital account holders can access the Rocket Mortgage application inside the banking app they already use.
The new initiative is powered by Q2's Innovation Studio Marketplace, which enables financial institutions to deploy third-party products with no up-front investment.
Rocket Mortgage and State Farm Partnership
In July 2019, Quicken Loans and insurance company State Farm joined forces. The goal was to expand the reach of the lender's popular Rocket Mortgage loan product.
Quicken said it created new technology that will give State Farm insurance agents the ability to offer Rocket Mortgage loans as licensed loan originators.
It's unclear how much of the process the State Farm agents will be a part of, but my guess is the early application piece.
After that, correspondence will likely be handled by a Quicken Loans representative.
Existing State Farm Bank mortgage customers will not be impacted by the change.
Rocket Mortgage and Mint
In late 2020, financial management tool Mint (from Intuit) announced a partnership with Rocket Mortgage.
Going forward, Mint users can pre-fill information from their Mint profile into the Rocket Mortgage application using the Rocket Mortgage API.
So things like their personal information and current mortgage can be quickly populated to alleviate pain points and tedious steps.
Then Mint users can compare loan options, refinance rates, and lock-in a rate if they're happy with what they see, in as a little as eight minutes.
This feature is currently only available to Mint users looking to refinance an existing mortgage. A similar purchase mortgage experience should be rolled out as well in the near future.

Should I Use Rocket Mortgage Instead of Another Lender?
If speed and convenience are your top priorities
Rocket Mortgage might be just the ticket
But know that putting in a little time to shop around for a home loan
Could save you a lot of money and provide a great ROI, even if it takes a tad longer
All in all, it appears that Rocket wants to keep up with all the tech-minded debutants entering the mortgage space.
While also appealing to a new generation that demands instant gratification and doesn't want to talk to anyone, ever.
Of course, I think there will always be a place for traditional face-to-face correspondence in the mortgage world seeing how important and complex it is for most folks.
And like other tech-based solutions, Quicken Loans Rocket Mortgage will only be successful if borrowers' answers are honest and accurate, much like a standard home loan application.
Always Take the Time to Shop Different Lenders
At the end of the day, it's recommended that you still shop around as opposed to taking the easiest route to a mortgage. While the application process might be faster, saving thousands for even a few hours more work seems like a no-brainer.
Personally, I'd rather take my time and pay less each month for the next 360 months, but that's just me.
Ultimately, while convenience is great, a lower mortgage rate with fewer fees is much better, even if it takes a little more time and legwork.
And lots of other lenders are catching up technology-wise, so you might be able to get a similar experience and snag a lower mortgage payment at the same time.
Update: You can now make a Rocket Mortgage payment via Amazon Alexa thanks to the new Rocket Mortgage skill. Or via your smartwatch thanks to the Rocket Mortgage for Wearables companion app.
You simply say, "Alexa, tell Rocket Mortgage to pay my mortgage," and you're done. The new Alexa skill can also tell you your outstanding loan balance, payment due date, and current mortgage interest rates for all Quicken Loans mortgage programs.

Rocket Mortgage Reviews
I wanted to know what real people thought of Rocket Mortgage, so I visited Reddit to see the many responses left there (nearly 800).
There were obviously good and bad reviews, like you'd find for any other product or service, but also some interesting takeaways.
The general consensus seems to be that the interest rates are higher than other banks and lenders. But those who said that also made the point that the company sells service/convenience above all else.
In other words, they aren't going to be your discount mortgage lender.
Perhaps more interesting was the fact that several people said that they take too long to close. This is a strange one seeing that Rocket Mortgage is all about speed. The name itself conveys that.
But commenters noted that they weren't fast enough to close a mortgage in a hot market, which seems somewhat odd given their sales pitch.
It makes you wonder if the entire loan process is actually faster, or if the technology simply lets you fill out the application and upload documents quickly.
Inevitably, it takes time to close a mortgage, no matter where you get it, and at the moment no magic marketing is going to change that. They might be able to get your application processed quickly, but closing still takes weeks if not more than a month.
For those not familiar with mortgages, this can come as a disappointment, especially if you're sold on speed.
We might eventually get to that point, and that appears to be the ultimate goal. But in the meantime mortgage applicants need to be patient regardless of all the smartphone apps and cool features that come with them.

Rocket Mortgage vs. Quicken Loans
If you're wondering what the difference is between Rocket Mortgage and Quicken Loans, it's purely a branding thing.
In fact, the Quicken Loans name was officially changed to Rocket Mortgage on July 31st, 2021.
Over time, you will see less and less of the Quicken Loans brand as it is phased out, despite their website remaining operational.
Originally, Rocket was simply the digital technology that powered Quicken Loans. But the immense popularity of the name itself eventually eclipsed its parent company.
Long story short, they are the same company, so if you apply with either, your experience should be no different.
They say you'll still be able to visit the QuickenLoans.com website, but the company behind it will be Rocket Mortgage.
And it will simply direct you to apply for a home loan with Rocket Mortgage.

Rocket Mortgage FAQ
Can I really get a mortgage in 8 minutes?
No, but you can get approved in that amount of time, supposedly. It still takes several weeks to process and close your mortgage as it would anywhere else because items like a home appraisal need to be ordered.
Can I really push a button to get a mortgage?
Again, no.  At minimum, you're going to have to push lots of buttons, fill out forms, sign disclosures, provide financial documentation, pay for an appraisal, sign closing docs, and more. And it's probably going to take about a month from start to finish.
Quicken noted in a press release that, "Push Multiple Buttons" just didn't sound as good, for obvious reasons.
The takeaway is that they're attempting to transform a slow analog process into a digital one. The goal is to make it faster and more convenient for consumers seeking a mortgage.
So how is Rocket Mortgage different?
Quicken says the process is unique because it's conducted entirely online, which differs from the typical mortgage process that requires in-person and/or phone communication. The goal is likely to make it entirely digital in the near future, and a lot faster.
Is Rocket Mortgage available for first-time home buyers?
Sure, as long as you otherwise qualify. There are no restrictions when it comes to current or first-timers, assuming you meet underwriting guidelines.
Are Rocket Mortgages fully underwritten?
Yes, with information verified by trusted partners as opposed to collecting paperwork from the borrower. Loans are underwritten to agency (Fannie Mae, Freddie Mac, Ginnie Mae) guidelines.
Does this make Rocket Mortgage more accurate?
Quicken says Rocket Mortgage is more accurate because all the underlying borrower information is verified/shared in real time. And imported direct from the source, as opposed to relying on estimates or documents from the borrower that aren't up-to-date.
Is it easier to qualify for a Rocket Mortgage?
Probably not. The process might be quicker, but if you don't qualify for a mortgage normally, perhaps because you have bad credit or lack home equity, you probably won't qualify for a Rocket Mortgage either because the same guidelines are used.
At the end of the day, it's a mortgage by Quicken Loans using their next-generation software, which shouldn't be any more flexible, just faster.
Do I get an account rep if I apply via Rocket Mortgage?
You can do everything online on your own. But if you wish to contact someone at Quicken you can speak with a "Home Loan Expert" via phone or online chat.
What happens after I'm approved for a Rocket Mortgage?
You submit the necessary documentation via Quicken's online tool, known as MyQL, using a document upload feature to avoid faxing and mailing items.
Can you get a jumbo loan via Rocket Mortgage?
Yes, jumbo loans are available via Quicken Loans' Rocket Mortgage, along with conforming loans, including FHA loans, USDA loans, and VA loans.
Can I refinance my mortgage through Rocket Mortgage?
Yes, they allow both rate-and-term and cash-out refinances. But be sure to compare refinance rates to the loan rates of competitors. You might be able to get other loan products like lines of credit or a home equity loan elsewhere and leave your primary mortgage untouched.
Is mortgage insurance required on a Rocket Mortgage?
If the LTV is above 80% on a conventional loan, or if it's a government loan such as an FHA loan, mortgage insurance will likely be a requirement, as it would with any other lender.
How does Rocket Mortgage calculate your loan amount?
Once you input all your information, it asks how much of your verified assets (from your bank account) you're willing to use for the home purchase to determine the max loan amount. This can be adjusted up or down depending on how much you want to borrow.
Is Rocket Mortgage safe?
Quicken claims it's secure because they use bank-level encryption and 24/7 security monitoring. Just keep your username and password to yourself.
How much has Quicken funded via Rocket Mortgage so far?
Quicken said it did $7 billion of its record-breaking $96 billion in 2016 loan volume through Rocket Mortgage. Expect that share to rise significantly over time.
(photo: Stuart)