As everyone knows, we have a very important U.S. presidential election just around the corner. In fact, it's now less than three weeks away.
It could be the biggest in U.S. history, at least in terms of drama and friction, and possibly an unknown or disputed outcome come November 3rd.
Unfortunately, not everyone takes the time to vote for one reason or another, and it appears that those behind on the mortgage are even less likely to vote.
Those Behind on the Mortgage Are Less Likely to Vote
A new survey from Apartment List revealed that 87% of homeowners who began the month without any unpaid mortgage bills will "definitely" vote next month.
This compares to just 60% of those who had unpaid bills to begin the month.
Now it's unclear if these borrowers are actually late, given the fact that mortgage lenders often provide a grace period to pay the mortgage until the 15th of the month.
But we can at least glean some patterns and trends that emerge over time.
You can also see that voter turnout is even worse for renters, whether they pay on time or not.
Only 68% of on-time renters plan to vote, whereas just 48% of those behind on rent expect to make it out to the polls.
As to why renters are generally less likely to vote than homeowners, Apartment List noted that homeowners are often motivated by policies and propositions that could affect local property values.
There are also housing related bills that could affect tax treatment, property tax rates, and so forth.
While there doesn't seem to be a difference based on party affiliation, such as being a Democrat or Republican, they said they've previously found that renters are more likely to be non-citizen immigrants, which makes them ineligible to vote.
Renters may also have more difficulty getting out to vote, due to an hourly-wage job, or possibly affected by voter suppression tactics.
Overall, the company said 71% of homeowners made a complete on-time payment in the first week of October, down from 73% in September.
Despite the month-to-month decline, it's certainly better than the 68% of homeowners who made on-time payments in August.
What Will Happen to Mortgage Rates If Trump/Biden Wins the Election?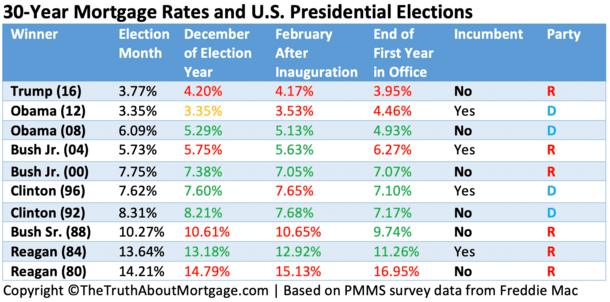 Mortgage rates surged higher after Trump won the presidential election in 2016
They improved slightly during 2017 but remained above November 2016 levels
Today they are at/near all-time record lows due to a variety of different factors
Statistics tell us a Biden victory would lead to lower mortgage rates both post-election and post-inauguration
Now let's talk about mortgage rates, which could be affected by the outcome of the very important presidential election.
Roughly eight years ago, I wrote about the correlation between presidential elections and mortgage rates, specifically the 30-year fixed.
What I found was the election itself didn't tend to make much of an impact, at least from November to December in an election year.
However, mortgage rates often fell if a Democrat won, which means if Biden wins, rates may improve.
Additionally, rates went up fairly significantly after Trump won back in 2016, from 3.77% to 4.20% in the span of a month.
They've since dropped tremendously to near-record lows, but during that window from November to December, they experienced a volatile uptick.
I also looked into mortgage rate movement from election month to a month post-inauguration, and found that rates were lower in six out of 11 Februaries versus the preceding November.
More importantly, if the four incumbent wins since 1984 were removed, mortgage rates were lower four out of four times by the end of the following year.
And they were always lower in February, other than when Reagan took office in 1981, Bush Sr. in 1989, and Trump in 2017.
As expected, mortgage rates did close out the year lower in 2017, but were still higher than they were before the election.
Now if Trump wins again, as the incumbent, the outlook is a little less clear.
A total of five incumbents have won the presidency since 1972, which resulted in lower mortgage rates only two out of those five years.
The 30-year fixed ended the year higher in 1973, 2005, and 2013, and lower in the years 1985 and 1997.
Basically, the best chance for lower mortgage rates is for both a newcomer to win and a Democrat, which favors Biden, based on the data.
But Trump could always pull a Reagan if he wins a second term.