How to Boost Your Home's Value
If you're thinking about listing your home in the coming months (or this month), you might be wondering what last minute improvements you can make to boost the value without breaking the bank.
Generally, a lot of big ticket improvements don't actually benefit the home seller because they cost more than the value they create. For example, a swimming pool probably won't add value.
However, there are little things sellers can do to make their home more marketable and desirable to would-be buyers, some trendy and some timeless.
Things like curb appeal are cheap (adding flowers, new sod, a mailbox, lighting) and can boost the asking price, along with a new coat of paint or some shiny new appliances. Heck, simply cleaning the place before you show it helps, as does staging if you've got no sense of style.
Should You Follow the Trends?
Then there are the trendy things, which Zillow highlighted in a recent analysis. If you go with the flow in terms of what's cool, you might be able to boost your sales price and sell your property faster.
After analyzing over two million listing descriptions, Zillow found that certain features make homes fly off the shelves, and some of these items are even pretty cost-effective if you do it right.
The company discovered that homes simply mentioning "barn doors" went for a 13.4% premium relative to what was expected, and sold a full 57 days faster.
Another hot item is shaker cabinets, which while seemingly basic, sold for nearly ten percent (9.6%) above their expected price and 45 days quicker.
Keeping with the farmhouse chic trend, homes with farmhouse sinks (those big solid basins that stick out from the countertops) snatched a 7.9% premium while disappearing from the market 58 days early.
Also in the top five in terms of winning keywords were "subway tile" and "quartz," which resulted in 6.9% and 6.0% premiums, respectively, and went 63 and 50 days sooner.
[Why You Should Buy a House Next to Starbucks]
It Depends on the Market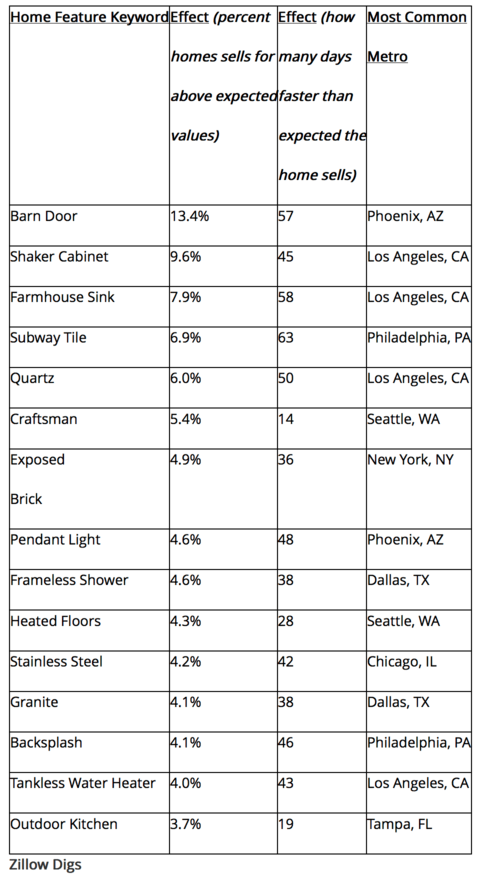 As with everything real estate minded, the items may carry more (or less) value in certain areas of the country.
Those barn doors are a big winner in Phoenix, Arizona, while the shaker cabinets and farmhouse sinks seem to appeal to buyers in Los Angeles, California.
The subway tile is a favorite back east in Philadelphia, and quartz delights buyers in Los Angeles.
Other winning words include craftsman, exposed brick, pendant light, frameless shower, and heated floors.
Oh, and old time favorites like stainless steel, granite, and backsplash are still popular. Just watch out for quirky ones like "outdoor kitchen," which seem to be popular in Tampa, but might not translate in other areas of the nation.
Part of me is also curious if the feature(s) dictates the price premium, or if it's more about what homes are getting these trendy upgrades.
In other words, are homes in more popular areas coming adorned with these features, or are these features alone enough to demand a premium?
My guess is that location still drives the price, but in areas that are hot, sellers are adding the features they know buyers in those areas desire.
Do note that if you chase the trends you might end up with a really weird house in a decade's time. Just think of all the crazy stuff that used to be cool that is now completely unfashionable.
Perhaps focusing on the timeless stuff like stainless steel, fresh paint, bright colors, and curb appeal is the way forward.
If you're a buyer, beware of listings that already have these items, knowing they sell for more than expected. It may make more sense to buy a home without such features and add them yourself after the fact for a fraction of the price.
Read more: Pros and cons of renting vs. buying a home