Due to ongoing mortgage rate volatility, Zillow has launched a new feature that lets users search by monthly payment.
Traditionally, Zillow users would enter a maximum purchase price to view homes in their price range.
But over the past year, monthly mortgage costs increased by more than $431, and even saw swings of $100+ per month.
This meant a certain price range may have fallen out of affordability along the way, complicating the user's home search.
Instead of entering a static list price filter, the company's new filter lets shoppers search for homes by a range of all-in monthly mortgage costs.
Shop for Homes by Total Housing Cost Instead of Purchase Price

Zillow's new filter will show you a list of homes within a range of all-in monthly costs.
For example, between $2,500 and $3,000.
This includes the principal and interest tied to the mortgage interest rate, along with estimates for homeowners insurance, property taxes, and HOA fees (if applicable).
Often, these costs are either overlooked or completely ignored. And as I've mentioned in the past, these expenses can alter the affordability picture in a hurry.
If you ignore some of these items, you might be surprised to find out that your maximum purchase price is actually a lot lower.
And you won't want to waste your time or that of the seller's. This is further compounded by ever-changing mortgage rates, which can change daily.
Zillow noted that last year's doubling in mortgage rates (from around 3% to 6%+) increased monthly costs for home buyers by nearly $700, assuming a 5% down payment.
And now they're roughly $431 higher than they were in March 2022, meaning any old filters based on purchase price should probably be updated.
How to Use the New Zillow Monthly Cost Filter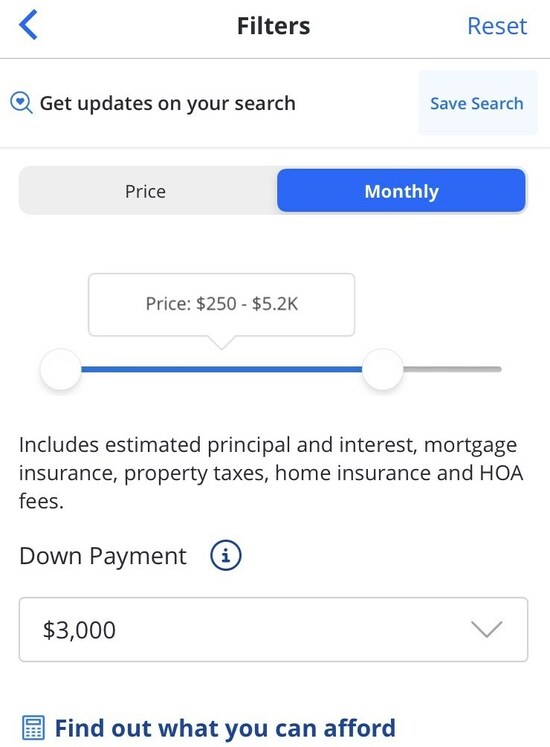 The new monthly payment filter is now live on the Zillow smartphone app. So if you have the app, you can give it a whirl.
Simply launch the app and click on the "filter" tab at the top right corner of the app. You should see a new "price range" option that allows you to search by list price or monthly payment.
If you select monthly payment, you'll see a slider that allows you to set a monthly all-in payment.
Simply slide left or right by $100 increments to dial in your desired monthly housing payment. You can also set a max and min cost.
This amount includes principal, interest, taxes, and insurance, known as PITI. And HOA dues if applicable.
Note that utilities, which can also be costly, are not included here.
There is also a link to Zillow's affordability calculator to determine your budget based on annual gross income, monthly debts, and expected down payment.
And you can also adjust the down payment below the monthly payment slider, which will change your loan amount and thus your mortgage payment.
Once you're done, you'll see the number of results in your search area. As you make changes to either the down payment or monthly payment, the amount of results could change.
And only properties at/below your maximum monthly cost will show up.
If you select a listing, scroll down to the monthly cost section and you'll see a breakdown of the estimated monthly cost.
Zillow seemed to use a realistic mortgage rate of 6.326% in the example I pulled up. Just note that mortgage rates can vary tremendously by borrower profile.
For example, those with marginal credit scores could see rates significantly higher and could have to adjust their max monthly payment.
Why It Might Be Better to Search by Monthly Cost
Because mortgage rates have been so volatile lately, searching by purchase price might be deceiving.
Imagine if you added a list price filter of $500,000 back in early 2022 when the 30-year fixed was priced around 3.25%.
That would result in a monthly principal and interest payment of $1,740.83 with a 20% down payment.
The same purchase price today with a 6.25% mortgage rate would be $2,462.87.
For many prospective home buyers, a difference in cost of nearly $725 a month could be a deal breaker.
And if you didn't adjust for those costs, you might assume your maximum purchase price is still within range.
This could lead to disappointment and waste everyone's time. Or perhaps lead to a situation where you're house poor.
If your filters were set a year ago, you might want to revisit them and try out the monthly payment filter instead.
Doing so might also better align your home search with your mortgage eligibility as lenders also look at monthly cost as opposed to purchase price.
The good news is mortgage rates seemed to have calmed down and if we're lucky, might even fall from here.