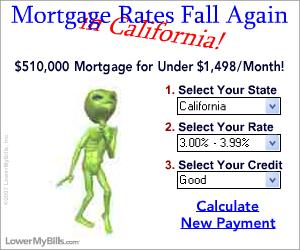 Dancing aliens rejoice. The ads are back. Apparently dreams do come true.
A few weeks ago a blogger from the New York Times had commented that the silly dancing aliens, grooving silhouettes, and freaked out office worker advertisements had mysteriously disappeared from websites across the Internet.
The omnipresent, mostly obnoxious ads were part of a mortgage campaign by Lowermybills.com, an Experian company that specializes in lead generation.
Their disappearance was attributed to the recent credit crunch, and their relative popularity was clear when the company began cutting back on online advertising geared towards mortgages.
A company spokeswoman denied any such cutbacks, but said it was possible for the company to shift ad spend to others areas of their business model, such as comparison shopping.
Many in fact thought the mortgage lead business was on the way out after the infamous ads disappeared.
Nonetheless, the ads are back, and they should be enough to help disgruntled mortgage enthusiasts crack a smile in this down market.
Finally, a feel-good story in the mortgage industry.
You've probably seen the ads, one where a green alien is doing some kind of Macarena-esque dance, or possibly the "office freak out" where dancing women are suddenly caught off guard.
Though the ads have returned, they seem to have been altered slightly, and I'm not talking about a new set of dance moves.
The ads used to say, "Mortgage Rates Fall Again!", but were later changed to say, "House payments fall again!" after mortgage rates continued to rise.
But the latest set of ads I've seen simply state, "See today's mortgage rates."
The ad pictured above is an old screen-grab from a previous ad campaign…
Lowermybills.com was acquired by credit bureau Experian in 2005, and bills itself as the #1 online mortgage advertiser.