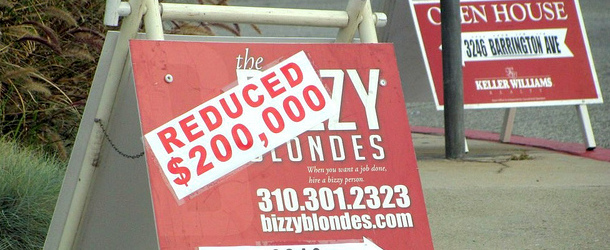 When considering a home purchase, or a refinance for that matter, knowing the value of the associated property is paramount.
Getting a precise assessment of what a property is worth is one of the most important aspects of real estate, and especially critical to the bank or lender providing financing.
After all, it is the bank that owns your home until the mortgage is paid off, so they too have a financial interest in the property in question, often a far bigger one than the borrower.
For example, if you only put 3% down on the purchase, the bank is on the hook for the remaining 97% of the value. That's a big chunk of change.
From the lender's standpoint, the house itself acts as collateral, so it is imperative to have an accurate appraised value when providing financing.
This is also obviously very important to the seller, who will want to list for the highest price possible, but also to the buyer who will want to acquire the home for the lowest price.
And while a buyer and seller can agree to any market price, an appraisal is often used to substantiate the value agreed upon. An appraisal is conducted by an objective third-party to provide an accurate market price based on the attributes of the home, its location, comparable sales, and so on.
To summarize, if you're curious what your home is worth, it's essentially what someone is willing to pay for it, but if the buyer needs a mortgage to finance it, the bank will also have to agree on that valuation.
Getting an Online Home Value Estimate in Seconds
Appraisals used to be hard to come by unless you hired a professional, but thanks to the advent of the Internet and related technologies you can now pull up a valuation in seconds.
Nowadays, several real estate websites, like Zillow, Redfin, and Trulia (to name just three) offer a great deal of information on virtually every residential property in the United States.
Zillow is probably the frontrunner in the automated appraisal business, with its Zestimate now a household name.  I've written about those at length.  There's also a smaller company called eppraisal.com, but their estimates seem pretty weak and unexceptional.
In short, the estimate or value Zillow comes up with might be far off or spot on, depending on the local market and recent comparable sales.
From what I've seen, the data always seems to be delayed though, and thus the values tend to lag reality.  If anything, you get a quick little ballpark figure, and you can track it over time to see which way the market is headed.
But you can't actually use these estimates for anything more than entertainment value.  A lender won't take them seriously, and they're often susceptible to massive swings in value.
However, these websites also provide a lot of other useful information such as recent sales nearby the property and the all-important transaction history for the subject property.  It's good to know what the property sold for in the past before you go overpaying for it…
If you aren't ready to pay for a full home appraisal, try the free appraisal tool from Zillow.com below to get a quick, ballpark estimate of the value of your home. It's far from perfect, but you get what you pay for.
Recently, the Redfin Estimate was launched to rival the Zestimate, with the former boasting a lower error rate because it is apparently more data-driven. You can check out both to get a better range of value.
Figuring Out Which Way Home Prices Are Headed
The Pending Home Sales Index: this is NAR's forward-looking indicator based on contract signings. It tells us what we might expect in coming months, as signed contracts typically translate into sales within one to two months.

Existing Home Sales: this is NAR's measure of completed transactions that includes single-family homes, townhomes, condos, and co-ops. It tells us what homes actually sold for, how long they took to sell, and whether inventory is contracting or growing.
New Home Sales: this is the Commerce Department's measure of newly-built home sales. Their numbers are based on contracts or the acceptance of a deposit, which economists argue provides a more current gauge of real estate activity. They also report median prices of new homes.
S&P/Case Shiller Home Price Indices: these popular home price indexes track single-family home prices and are calculated each month using a three-month moving average. They track both national both home prices and 20 metropolitan regions. The index levels are published with a two-month lag and released on the final Tuesday of every month.
Freddie Mac's MiMi: if you want a local gauge, check out the new housing market health tool from Freddie Mac, which calculates whether housing conditions are weak, in range, or elevated, on both the national and state level, along with the metro level. This can help you determine if homes prices in your area are on the rise, flat, or declining.
Tip: If you want a quick estimate of what your home might sell for, look at the most recent comparable sales in your area using Redfin. For example, if you own a 3-bedroom, 2-bath house, filter similar results. Then determine the average price per square foot paid and multiply it by your square footage. It's not perfect, but it'll give you a decent idea in no time at all.