It's that special time of the year again when the Federal Housing Finance Agency (FHFA) adjusts the conforming loan limit for the upcoming year.
As expected, the loan limit is going up again thanks to another year-over-year increase in home prices nationwide.
Per the FHFA's seasonally adjusted, expanded-data home price index (HPI), residential property values increased 5.38% between the third quarters of 2018 and 2019.
As a result, the baseline maximum conforming loan limit for 2020 will increase by that very same percentage.
2020 Conforming Loan Limit Will Be $510,400
$510,400 for a one-unit property
$653,550 for a two-unit property
$789,950 for a three-unit property
$981,700 for a four-unit property
Beginning in 2020, the maximum loan amount for a one-unit property backed by Fannie Mae or Freddie Mac will be $510,400, a $26,050 increase from the current $484,350 limit.
Similarly, loan limits will rise on duplexes, triplexes, and fourplexes.
That should help a greater number of homeowners qualify for a conforming mortgage, which are generally more readily available and potentially easier to get approved for.
Additionally, some lenders offer lower interest rates on conforming loans versus jumbo loans, another plus for those looking to refinance their mortgage or take out a new purchase home loan.
It means a home buyer with a 20% down payment can purchase a $638,000 property and avoid the jumbo loan realm.
If you've only got 3% down, which is one of the pros to a conforming loan, you'll still be able to purchase a property valued at over $526,000.
The conforming loan limit hit $417,000 in 2006, but remained there for many years after the mortgage crisis until it finally increased slightly to $424,100 in 2017.
It has since risen nearly $100,000, which is a testament to the massive rebound in home prices since we hit rock bottom a decade ago.
However, it probably also means loan limits won't see much upside in coming years unless the appreciation train somehow kicks back into high gear.
2020 Conforming Loan Limit Map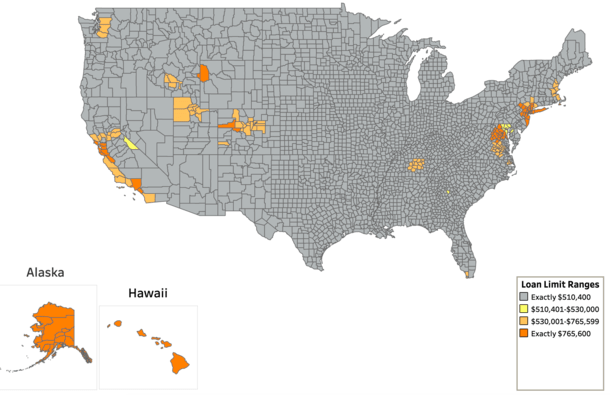 2020 High Cost Loan Limit Up to $765,600
$765,600 for a one-unit property
$980,325 for a two-unit property
$1,184,925 for a three-unit property
$1,472,550 for a four-unit property
Meanwhile, those living in more expensive areas of the country, such as the District of Columbia, Los Angeles, New York City, San Francisco Bay Area, or even Teton County, Wyoming (or Idaho) will enjoy much higher loan limits thanks to the Housing and Economic Recovery Act (HERA).
In areas in which 115 percent of the local median home value exceeds the baseline conforming loan limit, a "ceiling" that is 150 percent higher than the standard conforming limit is put into effect.
Homeowners in these cities will be able to take out a conforming mortgage with a loan amount as high as $765,600.
The same goes for homeowners and home buyers in Alaska, Hawaii, Guam, and the U.S. Virgin Islands.
Again, this could result in a lower mortgage rate and/or easier qualification for a home purchase or refinance.
A hypothetical home buyer would be able to purchase a near-$1 million property with 20% down ($957,000 to be exact) and still stay at the conforming loan limit. Pretty impressive.
In summary, it's good news all around for those looking to take out a mortgage in 2020.
With higher loan limits in place, consumers should enjoy more lender choice, which often equates to increased competition, better deals, lower interest rates, and so forth.
Read more: 2020 FHA loan limits.