One trend I've been seeing lately is buying a multi-unit property, such as a duplex, and renting out one unit while living in the other.
The cool kids are referring to this as "house hacking" because you essentially get someone else to pay your mortgage, or at least a portion of it. Sweet bro!
While that might be true, there are different underwriting guidelines applied to multi-unit properties, so it might not be as simple as it appears.
First, What Is a Duplex?
A duplex is a two-unit residential property
Located on the same lot adjacent to one another
With separate entrances (doorways)
And completely exclusive living quarters
Let's start by defining what a duplex is . As the name suggests, it consists of two units, as opposed to one. So you wind up with two attached living units. This differs from a townhouse, which may have two floors but only one unit.
The theory here is that you'd live in one and rent out the other, collect the rent from your tenant, and apply it to your mortgage payment each month. In effect, they pay off your mortgage for you.
In that sense, you could lower your net housing expense while making an investment for your future. Sounds like a win-win, right?
On the one hand, living right next to your tenant is a good thing – you can keep your eye on things and make sure they don't destroy the place.
On the other hand, living directly adjacent to your tenant might be slightly awkward, for both parties.
Of course, you don't have to live in any of the units if you purchase it as an investment property, but doing so will severely limit your financing options.
The beauty of buying a duplex as an owner-occupied property is that you get a primary residence and investment in one neat little package.
As a result, the mortgage pricing adjustments typically aren't too expensive, meaning you're able to secure a reasonably low mortgage interest rate. And you can always move out in the future and rent out both units.
How to Get a Mortgage on a Duplex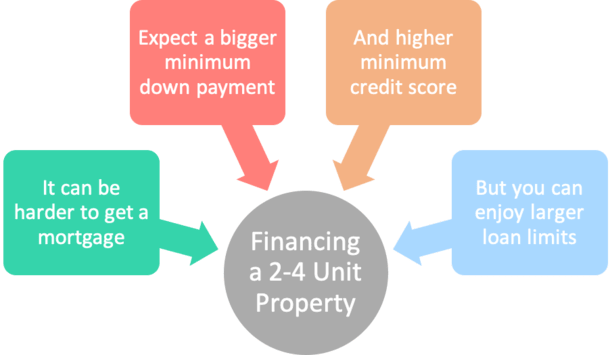 Fannie Mae requires a minimum 15% down
Freddie Mac requires 5% down if you meet income limits
FHA requires 3.5% down
VA allows 100% financing
It's not necessarily hard to get a mortgage on a duplex, nor are the mortgage rates much more expensive, but underwriting guidelines do vary based on the type of home loan.
For example, Fannie Mae and Freddie Mac limit the loan-to-value ratio (LTV) to a pretty low 85% for 2-unit properties, as opposed to 97% LTV for one-unit properties.
The exception is Freddie Mac's Home Possible program, which allows for the financing of 1-4 unit properties with just 5% down payment, but there are maximum income limits. And a minimum borrower contribution of 3% is required for LTVs between 80-95%.
Clearly this is a blow if you have a limited amount of money set aside for a down payment.
However, if the LTV is 80% or less, you can use gift funds to cover the entire down payment, closing costs, and reserve requirement, the latter of which may vary from two to 12 months.
If the LTV is north of 80%, the borrower must provide at least 5% down payment from their own funds.
In other words, if you have a wealthy parent or relative, you may still be able to go the conforming loan route if they're willing to put some money into helping you purchase the duplex.
Another plus to a duplex is that the max loan amount is higher. For example, for Fannie Mae and Freddie Mac it's currently set at $453,100 for a one-unit property, but it's $580,150 for a 2-unit property, and even larger loan amounts are permitted in high-cost regions.
For the FHA, it varies by city, but to give you an example, a one-unit property in Phoenix is capped at a $294,515 loan amount, whereas a duplex allows loan amounts as high as $377,075.
That means you might be able to borrow more and stay out of jumbo loan territory, which could equate to a lower mortgage interest rate.
If you can't muster the big down payment, there's another option available. You can apply for an FHA loan and put down just 3.5% down, even if it's a duplex.
To make that deal even sweeter, the FHA doesn't even require reserves for two-unit properties, so you don't need extra cash on hand to qualify.
However, it should be noted that when using a non-occupying co-borrower to qualify for an FHA loan on a multi-unit property, the LTV is capped at 75%.
Additionally, individual lenders may impose overlays, such as a maximum DTI ratio regardless of automated underwriting system (AUS) approval.
If you happen to be active duty military or a veteran, you might be able to purchase a duplex with zero down using a VA loan, as long as you occupy one of the units.
Again, doing so will increase maximum loan limits, and you might be able to use rental income to qualify for the mortgage. If you don't need to use rental income to qualify, reserves may not be required either.
Using Rental Income to Qualify for a Mortgage on a Duplex

It might be possible to use rental income to qualify
Thereby increasing your purchasing power
But landlord experience is often a must
And generally only 75% of rental income is used
Another positive to buying a duplex is the ability to use rental income to qualify for a mortgage, even projected rental income. This can be especially helpful seeing that duplexes typically cost a lot more than one-unit properties.
However, guidelines will vary here as well. Typically, mortgage lenders will want some sort of landlord experience if you want to supplement your own income with rental income.
After all, if you've never been a landlord before, the bank might not be too confident that you'll be able to consistently collect rent and secure a good tenant who pays on time.
Even if you're able to use rental income, you can generally only count 75% of the rental income to help qualify for the mortgage. And underwriters will often use the lesser of the actual rent and the fair market rent as reported by an appraiser.
Still, this amount can offset your proposed housing payment to keep your DTI in check, potentially helping you qualify.
Note that if you use rental income to qualify for a VA loan, the lender will require six months reserves. So you'll need some serious cash in the bank.
What About a Triplex or Fourplex?
3-unit and 4-unit properties are also a possibility
If you live in one and rent out the others
But qualifying gets more difficult
And lending becomes more restrictive
It's also possible to buy a 3-unit (triplex) or 4-unit property (fourplex) with a residential home loan, but the underwriting restrictions get even more, well, restrictive.
For example, Fannie Mae limits the max LTV to 75%, meaning you need a minimum 25% down payment. And Freddie Mac limits the LTV to 80%, which still calls for a hefty 20% down, unless you can get approved via Home Possible with 5% down.
Mortgage lenders learned the hard way after allowing 100% financing on 4-unit investment properties prior to the housing crisis in the early 2000s.
However, it's still possible to go the FHA or VA route and get a mortgage with little or nothing down, as the same favorable LTV restrictions for such types of loans also apply to 3-4 unit properties.
One difference is that the FHA will require reserves (three months of PITI) for 3-4 unit properties, which can get expensive quick.
Additionally, you need to pass the Net Self-Sufficiency Rental Income tet, which essentially requires 75% of your rental income to exceed the cost of the mortgage. In other words, they want you cash flow positive.
And for a VA loan, you may be required to come up with six months of reserves if using rental income to qualify.
In summary, buying a multi-unit property such as a duplex, triplex, or fourplex could be a good alternative to a single-family home or condo, and also a great investment. But understand the implications of being a landlord and the financing restrictions before you go house hunting!