If you're thinking about selling your home, you may have come across a company by the name of Offerpad.
They are one of the original iBuyers, or instant buyers of homes, currently operating in a dozen metros nationwide.
In short, they allow homeowners to unload their properties quickly and easily without the need for a real estate agent.
But like all other iBuyers, such as Opendoor, RedfinNow, or Zillow Offers, there is a cost to the convenience.
Let's learn more about this company, founded in 2015 by real estate agent Brian Bair and operating out of Gilbert, Arizona.
What Is Offerpad?
An instant home buying service based out of Gilbert, Arizona
They'll provide you with a free, no-obligation offer to buy your property in as little as 24 hours
Launched in 2015 by so-called super agent Brian Bair
The company also sells home directly in the cities where it buys them
Went public in September 2021 under ticket symbol "OPAD" on the NYSE
Offerpad's mission is simple: provide the best way to buy and sell a home.
After Bair and his team bought, sold, and renovated some 100,000 properties nationwide, they came to the realization that it's stressful to sell a home.
And they knew there was a "better way." That led to the creation of the Offerpad platform, which offers an instant buyer service to homeowners.
This allows home sellers to forgo the real estate agent search, the open houses, the home staging, and most importantly, the uncertainty.
Instead, you can get a bona fide offer from Offerpad within 24 hours, simply by filling out an online form and taking some photos of your home.
On average, the company receives an offer every 30 seconds and acquires a home every 20 minutes during regular business hours. So apparently they're busy.
For the record, Offerpad does work with real estate agents too, and even offers a 1% referral fee if the property isn't already listed on the MLS.
But home sellers should be able to do it themselves considering how easy it appears to be.
How Offerpad Works
Tell them about your house (include photos)
Their analysts will decide on an offer price in as little as 24 hours
Review offer, select options, and sign purchase contract
Offerpad will perform an in-home inspection
Close in just 10 days or as long as 90 if you need more time
First, you tell the company about your property, such as any upgrades you've made, its current condition, and so on.
They say pictures are also encouraged, but optional. However, if you don't provide them, it can delay your offer.
And their offer is based on more than a computer algorithm, so providing photos that show the current condition of your home is probably a good idea, assuming it's in good shape.
Once they've got that information, their "analysts will get to work" to determine a reasonable offer price for your home.
They say the review can be completed in as little as 24 hours, at which point they'll send over the offer.
The offer generally expires in four days, but you can get an updated offer simply by clicking on the Renew button if it lapses.
You'll be presented with several options, including the ability to add "Free Local Move" or "Extended Stay."
After you've made your choices, Offerpad will send over the purchase agreement for you to sign and you'll be under contract.
Then Offerpad performs an in-home inspection to ensure the property is as described, and assuming everything is good to go, they'll pay you the agreed upon price and you can move on, literally.
If their inspection reveals the need for repairs, you'll have three options.
Either offer a repair credit to Offerpad and let them deal with it, make the repairs yourself before closing, or decline the repair request and see if they're still willing to buy your home.
Offerpad Pricing and Service Fee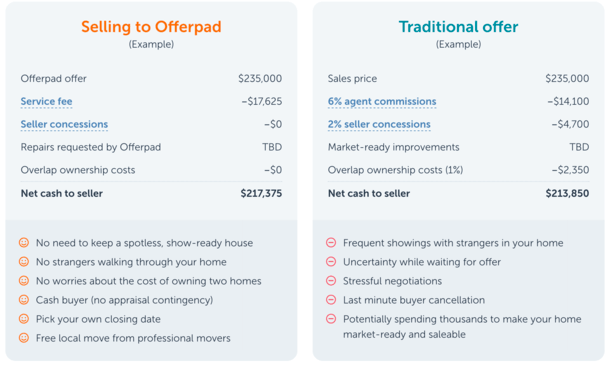 Service fee ranges from 6-10% of sales price
Covers acquisition of property, maintenance, listing, and sales cost
Fee typically 7% of sales price compared to 5-6% with traditional agents
Aside from any repair credits you may be required to provide, Offerpad charges a service fee, which can range between 6-10% of the sales price.
They charge this fee to recoup the costs associated with holding and maintaining the property, selling it (buyer's agent commission of 2.5-3%), paying taxes, and listing and marketing the home.
Typically, this fee is 7%, which they note isn't much more than the 5-6% home sellers will pay when using a traditional real estate agent.
As seen in their example above, the net cash to seller when all is said and done can be pretty similar.
However, their example assumes your offer from Offerpad and a regular buyer will be the same.
In reality, you should be able to sell your home for more on the open market with an experienced real estate agent.
Where Offerpad Buys Home
Atlanta, GA
Austin, TX
Birmingham, AL
Charlotte, NC (including nearby parts of South Carolina)
Columbia, SC
Columbus, OH
Dallas-Fort Worth, TX
Denver, CO
Houston, TX
Indianapolis, IN
Jacksonville, FL
Kansas City, MO
Las Vegas, NV
Nashville, TN
Orlando, FL
Phoenix, AZ
Raleigh, NC
Riverside, CA (coming early 2022)
Sacramento, CA (coming early 2022)
San Antonio, TX
San Bernardino, CA (coming early 2022)
St. Louis, MO
Tampa, FL
Tucson, AZ
At the moment, they buy homes in about two dozen metros across the United States, with additional markets slated to open up over time.
It appears Los Angeles and Salt Lake City might be next in line.
What Types of Homes Does Offerpad Buy?
Like other iBuyers, there are restrictions on the types of properties Offerpad will purchase.
The good news is they'll buy single-family homes, condos, and townhomes, so long as they were built after 1960.
However, the value of the property cannot exceed $500,000 to $600,000, depending on the market in question. And the lot size cannot exceed one acre.
They buy homes in gated communities and age-restricted neighborhoods, but no manufactured, pre-fabricated, or mobile homes.
Offerpad will also pass on properties with significant foundation, structural or other major issues.
Offerpad Perks and Advantages

Pick your own closing date
Easier to buy and sell a house at the same time
No staging, showings, or open houses
Competitive offers from a qualified buyer
Perhaps the biggest advantage of using Offerpad is the ability to sell quickly and definitively.
You basically remove the uncertainty from the equation, knowing a large, qualified company can and will buy your home.
That also eliminates the need to clean and stage your home, along with having to schedule showings and open houses.
Additionally, you get to choose your own closing date, which is helpful if you're planning to buy a replacement property.
It can be as short as 10 days (if no HOA) and as long as 90 days out.
Offerpad also provides "Extended Stay" at no charge, allowing you to stay in the property up to three days after closing if your new home isn't quite ready.
They also offer "Free Local Move," which as the name suggests, is a free moving service provided to Offerpad customers.
They'll provide free moving services for homes up to 2,800 square feet and 13,000 lbs worth of stuff, within 50 miles.
That could save you a few thousand dollars if your new home isn't too far away.
Does Offerpad Offer Good Prices?
There is always a price for convenience and less work
You can forgo listing your home and testing the market
But chances are the offer price will be lower as a result
Might be worth it depending on alternative and need to sell quickly
You might be wondering if, like other iBuyers, Offerpad is a rip-off. Here's the thing you need to remember when dealing with any of these companies.
They are selling convenience, and as we all know, there is a cost to convenience. If you value it, you pay for it, simple as that.
Think about buying a pizza. If you get it delivered, it will cost more. If you take the time to get in your car and drive down to the restaurant, it should be cheaper. You'll save money.
So will you get as much money for your home as you would selling on the open market? Doubtful. But we're not really comparing apples to apples.
The home selling process is completely different with an iBuyer versus a traditional real estate agent.
That being said, I still believe most homeowners should go the traditional route to avoid missing out on a lot more money.
For the record, like a traditional home sale, you are also responsible for certain closing costs. Offerpad does not pay closing costs on your behalf.
So expect to pay for things like escrow, title insurance, HOA transfers fees, transfer taxes, and other customary fees.
Buying an Offerpad Home
Homes are listed shortly after being acquired and renovated
Properties available in the cities where they buy homes nationwide
They offer a trade-in program if selling and buying to Offerpad
And the ability to customize an Offerpad home before move-in with no out-of-pocket costs
Now you might be wondering what Offerpad does with all the properties it buys. It's simple, they sell them to people like you.
As you might expect, the properties are located in the same cities where they buy homes.
Before they list them, repairs are often necessary to get the maximum value out of them.
All Offerpad-owned homes go through a renovation review post-purchase to determine what upgrades and/or improvement are needed.
As noted earlier, sellers might be the ones paying for those repairs via a credit to Offerpad.
The good news for buyers is there are no fees, so if you're brave enough to go it alone without an agent, you could save some money. You can also use an agent if you'd like.
And Offerpad is willing to negotiate, so like any home purchase, it always makes sense to bid low and hope they counter below list.
They also offer a trade-in program where you can sell and buy at the same time without the stress, and if you purchase an Offerpad-owned home, you save up to 1% on the purchase price.
Offerpad's Trade-In program is currently only available in the Phoenix market, but more markets are expected to launch soon.
When it comes to getting a mortgage, you can also lean on Offerpad Home Loans, backed by large nonbank loanDepot, to close the transaction.
Their latest feature allows home buyers to customize the property before they move in. So if you want to add new quartz countertops or hardwood floors, you can do so via the customization options.
Offerpad says the services are completed at cost by their in-house renovation team in 12 days on average, and instead of paying out-of-pocket, it's rolled into the mortgage.
This feature will be available on select Phoenix and Tucson Offerpad homes in late 2019 and is projected to be available on all Offerpad properties by the end of 2021.
All in all, it might make sense to include Offerpad in your home buying or selling search to see what kind of offers they come up with, especially if you're averse to using real estate agents and/or stress.
Just remember to pay close attention to pricing when all fees are accounted for and factored in.