Yet another year is about to come to an end, and that means it's time to look ahead to what next year has in store.
I think just about everyone wants to see the back of 2020, though it wasn't all bad news.
The housing market actually held up surprisingly well, and mortgage lenders enjoyed record mortgage originations.
Anyway, without further ado, here are the "2021 mortgage rate predictions" from a number of major mortgage and real estate groups, along with my own outlook.
MBA 2021 Mortgage Rate Prediction
First quarter 2021: 3.1%
Second quarter 2021: 3.1%
Third quarter 2021: 3.2%
Fourth quarter 2021: 3.3%
Like in past years, we'll begin with a prediction from the Mortgage Bankers Association (MBA).
They publish a monthly Mortgage Finance Forecast that includes predictions for 30-year fixed mortgage rates on a quarterly and annual basis, with rates all the way to 2023.
We'll focus on the 2021 numbers and throw in 2022 for good measure.
As you can see, the MBA expects the 30-year fixed to remain relatively flat in the first half of 2021, before rising ever so slightly in the second half.
Their quarterly average for the 30-year fixed is 3% flat for the fourth quarter of 2020, so the 3.1% average would also represent a slight increase.
They expect mortgage rates to rise to 3.6% in 2022, which is a more significant increase that homeowners would actually notice and likely disapprove of.
For the record, the MBA anticipated 30-year fixed rates in the 3.7% range for all of 2020, so they missed the mark pretty badly a year ago.
Fannie Mae 2021 Mortgage Rate Prediction
First quarter 2021: 2.8%
Second quarter 2021: 2.8%
Third quarter 2021: 2.8%
Fourth quarter 2021: 2.8%
Now let's turn to Fannie Mae, which predicted the 30-year fixed to average between 3.5% and 3.6% for all of 2020. Hopefully they'll be a little more accurate in 2021.
They seem to be playing it as safe as possible for the coming year, forecasting a 2.8% 30-year fixed mortgage rate for all four quarters.
Not only do they not see it changing throughout 2021, they also don't see it changing from the fourth quarter of 2020.
Their 30-year fixed rate is currently set at 2.8%, per their latest monthly Housing Forecast, so if they're right, homeowners and prospective home buyers will continue to enjoy record low mortgage rates for another year.
Their 2022 prediction is also super steady, with the 30-year fixed only expected to rise 10 basis points to 2.9%. I'm sure everyone out there would be okay with that.
Freddie Mac 2021 Mortgage Rate Prediction
First quarter 2021: 3%
Second quarter 2021: 3%
Third quarter 2021: 3%
Fourth quarter 2021: 3%
Next up is Fannie's brother Freddie Mac, which is also in the prediction game. Last year, they pegged the 30-year fixed at 3.8% for the entire year. That made them the most pessimistic of the bunch.
Will they be a little more positive this year or chase their bad prediction with another one?
The answer is yes and no, though they're still being sticklers and keeping the 30-year fixed out of the 2% range.
As to why, they believe the Federal Reserve will keep its key monetary rate low until the broader economic outlook improves and inflation rises, which at the moment doesn't appear to be happening any time soon.
All in all, their forecast is as boring as they come, with mortgage rates forecast to remain unchanged at 3% from the third quarter of 2020 through the end of 2021.
They don't provide a 2022 forecast, so it's unclear when they believe the mortgage rate party will finally come to an end.
Realtor 2021 Mortgage Rate Prediction
First quarter 2021: 2.9%
Second quarter 2021: 3%
Third quarter 2021: 3.1%
Fourth quarter 2021: 3.2%
Next we've got a prediction from the National Association of Realtors, specifically from NAR chief economist Danielle Hale.
Last year, they expected the 30-year fixed to approach 4% around this time, but now they're playing it a bit safer.
The Realtor.com 2021 Forecast calls for a 30-year fixed averaging 3.2% throughout the year before closing out at 3.4%.
Meanwhile, their U.S. Economic Outlook from November 2020 is a bit brighter, as seen above.
That's the highest rate prediction in the survey, and well above the 2.71% average rate for a 30-year fixed at the moment.
They tend to the gloomiest predictor each year, so this isn't a surprise. Remember, the fear of rising interest rates is a great motivator to perhaps, buy a home…
NAR sees existing homes sales rising 7% from 2020, and the median sales price climbing 5.7%, which means "sellers will get top dollar as buyers struggle with affordability."
CoreLogic Forecasting Low Rates Through 2023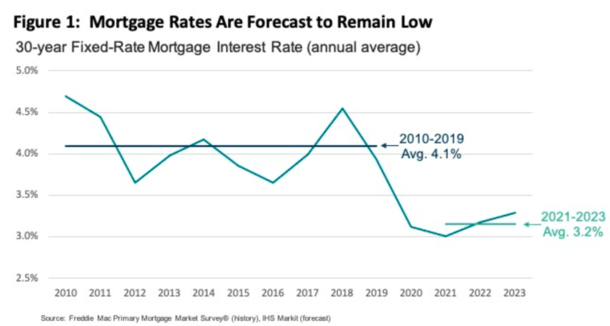 Another mortgage company that focuses entirely on housing market data, CoreLogic, sees 2021 being another fantastic year for mortgage rates.
In fact, they believe interest rates will remain pretty close to current levels through 2023. In other words, you've got time to buy a home or refinance your mortgage.
While they don't provide a quarter-by-quarter analysis, they did say they expect "30-year fixed-rate loans to remain below 3% during early 2021 and average about 3.2% during the next three years."
Simply put, flat rates in 2021 with some gentle rising seen over the next few years, but certainly nothing to fear.
Zillow Sees 2021 Mortgage Rates Staying Put
While Zillow didn't provide specific numbers, they seem to be of the mind that mortgage rates are going nowhere fast.
In their latest Market Pulse from December 11th, author Matthew Speakman said, "Absent a monumental shift in the economic outlook – for instance, if a much larger-than-expected fiscal relief package is passed – mortgage rates are unlikely to head meaningfully higher anytime soon."
That means they should continue to hover near record lows for the foreseeable future.
He also noted that lender risk appetite has increased, so borrowers who need more unconventional home loan financing may be in luck.
Zillow expects home values to rise another 7.9% over the next 12 months, which is excellent news for existing homeowners, but more bad news for renters and first-time home buyers wanting to find a permanent residence.
The Truth's 2021 Mortgage Rate Forecast
Finally, I'll throw my hat in the ring and make a prediction myself, as I have in years' past.
A year ago, I said mortgage rates would be mostly flat, which wasn't the case. They fell almost exactly one percentage point from around 3.75% to 2.71% today.
Of course, I did say there would be opportunities throughout 2020 due to hot-button issues like the election and Brexit, which still aren't 100% clear now.
I also said it was possible we'd see new record lows this year, which we did. At last count, 14 new record lows.
So what do I think 2021 has in store? Well, I certainly think there are plenty of potential catalysts that could drive mortgage rates even lower than they are today.
While it does get tougher to break new record lows these days, with rates running out of room to fall, it's still possible things could get even better.
Of course, most of these recent record lows have been mere basis points, including one literal one-basis point move from 2.72% to 2.71%. That wouldn't even register for most mortgage lenders.
Still, that doesn't mean more substantial interest rate improvements aren't in the cards.
If my data regarding a Democrat challenger winning the presidential election holds true, we could see lower mortgage rates both in February after the inauguration and at year-end.
However, as I've said in past years, I expect rates to ebb and flow as they always do. That means depending on what time of the year you look, rates could be higher, lower, or just plain flat compared to 2020.
All in all, I don't expect nearly as much movement this year as last, but I do see one or two new record lows at some point.
There's just too much unsettled business out there still, including Brexit, COVID-19, and the U.S. presidential election.
All that uncertainty and potential bad news has the ability to push mortgage rates to new all-time lows.
And remember, when mortgage lenders aren't as busy they have a tendency to lower rates to attract more business.
When they inevitably see loan volume drop from record levels in 2020, that exact scenario could play out.
Read more: 2023 Mortgage Rate Predictions!
Photo: (Marco Verch under Creative Commons 2.0)