In a rather surprising turn, Zillow has suspended new home purchases via its Zillow Offers unit through the end of 2021.
It's actually the second time they've suspended iBuying this year, the first coming back in March due to "market uncertainty" related to COVID-19.
This time, it's for reasons more loosely associated with COVID, namely a backlog in renovation and operational capacity.
Similar to many other industries feeling the brunt of supply chain issues, Zillow is apparently having a difficult time finding folks to repair the many homes they buy and flip.
Is this no big deal, or a sign of trouble ahead for the hot housing market?
Why Is Zillow Completely Pausing Home Buying?
In a press release, Zillow chief operating officer Jeremy Wacksman said the company is dealing "within a labor- and supply-constrained economy" during a time when the housing market is ultra-competitive.
He added that Zillow hasn't been exempt from market/capacity issues that others are experiencing in different sectors, and that they've now got "an operational backlog for renovations and closings."
By pausing new home purchase contracts, they'll be able to focus attention on home sellers who are already under contract with the company, along with existing housing inventory.
In other words, they own too many homes and don't have enough contract labor to fix them up and get them back on the market in a reasonable timeframe.
Of course, with the way the housing market is going, what's the rush to put them on the market over the next few months?
Why not wait until next spring when home prices are even higher and demand likely stronger?
What is somewhat odd, which an analyst pointed out, is why they completely paused the business, as opposed to simply slowing down.
Did Zillow Buy Too Many Homes?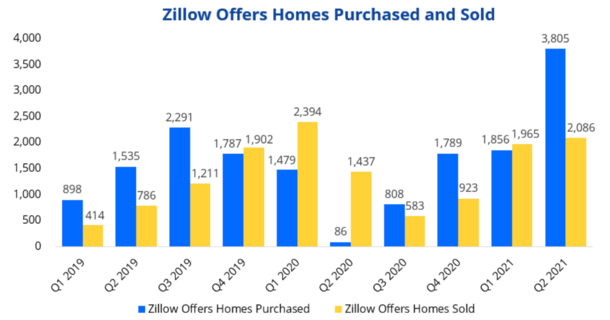 If we look at their 2021 second quarter earnings report, they appeared to buy a ton of homes relative to prior quarters.
At the same time, they didn't sell a proportionately higher number, which speaks to the backlog mentioned by their COO.
In Q2, they purchased 3,805 homes and sold 2,086 homes. The increase was apparently driven by "strong customer demand for Zillow Offers."
It was more than double the 1,479 homes purchased in Q1 of 2020, at a time when 2,394 homes were sold.
Zillow Offers gross profit was $71 million in the second quarter, and the average gross profit per home sold was $33,849.
The average home had about $10,000 in renovation costs, $2,200 in holding costs, and $14,000 in selling costs.
The average price of a home was around $325,000, which tells you the target market for the platform.
It could just be a combination of growing pains, compounded by the supply chain and labor issues affecting nearly all industries at the moment.
And as Jefferies analyst Brent Thill pointed out, you can scale via technology and automation, but you still need humans for things like repairs and inspections. At least for now…
What Does It Say About the Current State of the Housing Market?
You would think that with the way things are going, it'd be foolish to stop buying homes, even if you can't resell them right away.
Why not deploy your capital, especially if inflation is surging and the value of the dollar is rapidly eroding?
When you consider the latest forecast of 2022 home prices rising another 16% by the end of next year, it'd be prudent to just buy, buy, buy.
And even Zillow itself expects home values to rise 4.4% from September through the end of this year, and to increase 13.6% through September 2022.
But they do note that some downside risks are present, including the end of mortgage forbearance, which could increase supply, and higher mortgage rates, driven by inflation.
So maybe Zillow's pause has nothing to do with the strength of the housing market, and is purely a labor shortage.
After all, other iBuyers such as Opendoor and Offerpad haven't announced anything similar.
And Offerpad actually bucked the Zillow news by announcing a first quarter 2022 expansion into California, initially focusing on Riverside, Sacramento, and San Bernardino.
It is somewhat odd though to completely halt business, as that usually portends bigger, badder things.
But don't expect any less competition as a result of their pause – their competitors are likely already taking full advantage.
Read more: Should I use an iBuyer to sell my home?
(photo: Annie Roi)