If you're a prospective home buyer, life isn't fun right now. The real estate market remains red hot (despite those headlines about it cooling) and quality properties are few and far between.
Adding to this frustration is the notion that with every passing day, mortgage interest rates are inching higher and higher, putting further strain on eroding affordability.
Meanwhile, existing homeowners are having a field day, getting top dollar for homes that just a few years ago may have been underwater and worth half as much.
The Home Search Is Often Taking 3 Months or Longer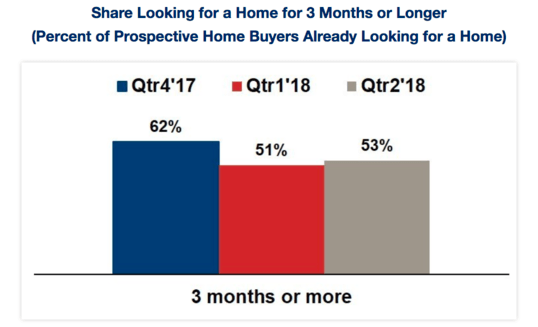 While 90 days isn't necessarily such a long time to find a home
Today's buyers are spending a good amount of time house hunting
And it's often ending with either few or no prospects
Or concessions such as paying more than budgeted or buying outside the desired locale
A new poll from the National Association of Home Builders (NAHB) found that the home search isn't a quick one these days, even though homes seem to get scooped up instantly once they're listed.
Some 14% of adults who responded to their prior poll in the second quarter of 2018 said they planned to purchase a home in the next 12 months, with 49% "actively engaged" in the search.
More than half of those who indicated that they had started the home searching process said they've been spending three months or longer attempting to find the right home.
This has been the case for the past three quarters in a row, with a lack of the right home features (45%) the number one roadblock.
It was followed very closely by price, with some 43% of respondents saying they weren't able to find a home they could afford to purchase.
In other words, the homes that are in their budget aren't all that desirable, and those that do have everything they want are simply too expensive.
This latter issue could also be exacerbated by a lack of supply and a large number of buyers fighting over the same property, thereby driving up the final sales price.
There definitely seem to be certain price points that are much more competitive than others, such as those that appeal to first-time home buyers.
Whereas the higher price points for move-up buyers aren't as hot, partially because existing owners aren't moving up like they typically do.
Part of the reason being a lack of equity to put toward a down payment, the other being a low mortgage rate they don't want to relinquish.
What Are These Exhausted Home Buyers Doing
While more than half of would-be buyers are staying the course
Some are expanding their search area or buying smaller homes
Others are simply paying more to get what they want
Or simply giving up until some point in the future
Staying the Course
The most common approach after 90 days of wheel spinning is simply to keep on keeping on. Some 55% of respondents are digging their heels and staying the course.
Personally, I don't feel that three months is a long time to find a home, though it does depend how intense the search is during those three months.
These days, it's pretty easy to casually eyeball properties with a smartphone app for months or even years on end. It doesn't take much work.
One should reasonably expect to spend six months to a year or longer searching for a suitable property. That's just kind of how it goes, even if and when you find that right property, everything happens really quickly.
It's a process, and it always seem to play out over a long period of time, like anything else.
Expanding the Search Area
The next most common move after three months is to expand the search area (34% of responses).
In other words, driving until you qualify, or at least making some concessions in terms of location.
Just remember that location is everything in real estate…so maybe it's a sign to hold off until more inventory makes its way to market.
Going Smaller or Older
Third on the list was accepting a smaller/older home than originally planned, with 24% making this decision after 90 days of disappointment.
Be careful if this is you because it's pretty easy to outgrow a place, especially if you're planning on starting a family.
And if you go old, your cash reverses might get depleted in a hurry thanks to costly repairs and renovations.
All homes need work, old ones especially. So don't forget to budget accordingly and earmark some money for repairs.
Paying More
But some folks (19%) went the opposite direction, buying a more expensive home than planned after failing to find something at their original price point.
This is a pretty common outcome, just make sure you can qualify for the larger mortgage.
All the more reason to get pre-approved for a mortgage early on so you know exactly how much wiggle room there is if you do want to go up in price.
Just like all homes need repairs, it's fairly inevitable to go above budget when purchasing a home unless you're super disciplined and patient.
Putting Things on Hold
The fifth most common response from active home buyers (16%) was simply to shelve it and look for a home at a later date.
There's nothing wrong with that assuming you're current housing situation is satisfactory. And no, you're probably not "throwing away money on rent." It's okay to wait until you find what you really want.
It's better to be prudent and keep a level head, as opposed to getting impulsive and caught up in all the hoopla.
Rushing into things, settling, or worse, buying a home sight unseen probably isn't a great strategy for most people. And this aggressive, yet sometimes slow real estate market, seems to be leading to a lot of regrets.
Why overpay for something you don't actually want just because you don't want to miss out?
In the end, it might be better to remain patient and only make the ever-important decision to buy a home when you truly find something you like, that's in your budget, and in your desired neighborhood.
By the way, the NAHB recently noted that more than half of all U.S. homes were built before 1980, and the median age now stands at 37 years.
In other words, it's probably going to need work…so factor that in as well.
Read more: Tips for buying a home in 2018.