How's this for a dramatic headline: "Home prices are falling!"
But before you get too excited, assuming you're a prospective home buyer, there are some strings.
What was almost unthinkable a month or two ago is now apparently becoming reality.
A new analysis from Realtor.com found that asking prices are actually down year-over-year in several large metropolitan areas nationwide.
Does this mean the seller's market is finally coming to an end, driven by markedly higher mortgage rates? Let's find out.
Where Home Prices Are Down the Most
The Realtor.com data team analyzed year-over-year median list prices in the 100 largest metros nationwide in the month of March.
They then limited their list to just one metro per state as a means to ensuring "geographic diversity."
The result is a top-10 list of metros "where home prices are falling the most."
The list is as follows:
1. Toledo, Ohio (-18.7%)
2. Rochester, New York (-17%)
3. Detroit, Michigan (-15.4%)
4. Pittsburgh, Pennsylvania (-13.7%)
5. Springfield, Massachusetts (-5.8%)
6. Tulsa, Oklahoma (-5%)
7. Los Angeles, California (-5%)
8. Memphis, Tennessee (-4.6%)
9. Chicago, Illinois (-3.7%)
10. Richmond, Virginia (-3.4%)
As you can see, there is quite a range in listing price drops among the top ten, with a high of -18.7% in hard-hit Toledo, to a mere 3.4% drop in Richmond, VA.
So what exactly is going on here? Weren't home prices expected to keep rising, despite significantly higher mortgage rates?
Well, in Toledo specifically, the issue has been an elevated unemployment rate, coupled with an overheated housing market.
This has put a big strain on affordability as mortgage rates jumped from sub-3% levels in late 2021 to their current mid-5% range.
The same is largely true of the other four metros in the top five, which all happen to be located in the Rust Belt as well.
In these communities, home prices may have simply gotten way too ahead of themselves, and are simply falling back down to earth.
Of course, earth is relative because they're likely still up tremendously from their lows seen a decade ago.
Is the Housing Market Simply Evolving?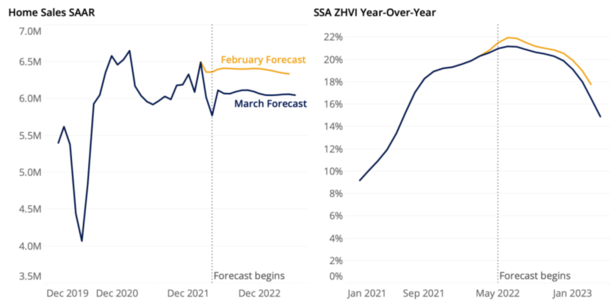 They say real estate is local, in that you shouldn't worry about the national trend as much as the neighborhood in which you're looking to buy a home.
In other words, who cares if home prices are down in Toledo if you're attempting to purchase a property in Phoenix?
That being said, there appears to be an emerging trend in the remaining five metros on the list that is more indicative of an evolving housing market.
In places like Chicago, Los Angeles, and Tulsa, it appears smaller properties are making their way to market.
As such, the median listing price is "down" from a year ago, but often times the price per square foot is up.
This is somewhat similar to your bag of Doritos still costing 99 cents but containing a few less chips.
For example, a prospective home buyer in Los Angeles may now be settling for a 1,500-square-foot cottage instead of say a 2,500-square foot home.
And in Chicago, there are apparently 6,000 condominium units on the market, which also drags the median list price lower.
Condos are always cheaper than single-family homes, so the -3.7% reduction in median listing price might be a bit deceiving.
Often times, condos begin to creep higher in price during the latter stages of a seller's market as buyers look for more affordable options.
That could explain some of what we're seeing in this early, seemingly negative data.
The other reason listing prices might be down is simply a marketing tactic. Real estate agents are listing lower to garner interest, instead of taking the risk of having to make a price cut.
This means the homes may sell for more than what they sold for a year ago when all is said and done.
On a national basis, home prices are still expected to rise a whopping 14.9% through March 2023, per Zillow.
That's down slightly from the 16.5% year-over-year forecast made in February, as seen in the image above.
What's incredible is this would be the highest home price growth ever recorded by Zillow prior to June 2021.
And the 6.09 million in expected existing home sales would be the second best calendar year since 2006.
So while there might be some signs of a slowdown in certain markets, don't get your hopes up.
Home prices likely aren't falling just yet, despite some cracks starting to show.
Lastly, if mortgage rates peak and begin to recover, we could see a new surge in buyer interest…